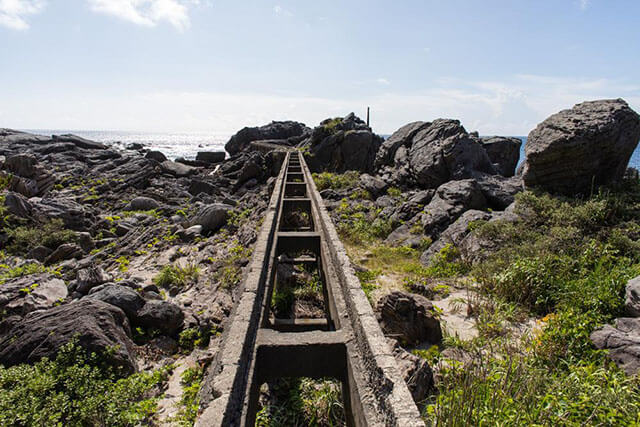 Just 45 minutes away from Tokyo by airplane or roughly four hours by jet boat, the island of Kozushima feels an entire world away from the concrete jungle of Japan's megacities. Still a bit of a well-kept local secret, the island's untouched beauty is arguably its biggest attraction, boasting clear, deep-blue water, pristine white beaches, scenic hot spring baths, and incredible night skies. Action, adventure, relaxation, parties, and incredible natural views—Kozushima has it all, and here are some of its not-to-be-missed activities.

02

Go Cliff Jumping at Akasaki Promenade

Akasaki Promenade is without a doubt one of the most popular sightseeing spots in the area, and it's obvious why. Its network of sightseeing platforms and bridges that wrap around the rocky cliffs looks at first glance like something straight out of a steampunk comic book. With open platforms hanging over the deep emerald waters, you can take a meters-high leap of faith into the clear deep water below if you're feeling brave; just keep an eye out for the area's abundant marine life (other swimmers included). Even if it's not swimming weather, a stroll on its long rope bridges provides excellent oceanic sightseeing.

The island's other major attraction is Mount Tenjo, which, at 572 meters tall, is Kozushima island's highest point. Relatively easy to scale for non-hikers, the mountain peak offers an unparalleled 360-degree panoramic view of the island's beauty below and the Izu island chain beyond. It's especially stunning in the warmer spring months, when the island is carpeted in wildflowers of all shades and colors. The area is covered in a network of walking and hiking trails for those who wish to continue exploring.

04

Enjoy the Sunset at Maehama Beach's Come Ring Beach Bar

There's nothing quite as magnificent as watching the sun set on the ocean horizon, except for maybe watching the sun set on the sea surrounded by good company and with a cool refreshing drink in hand at Come Ring Beach Bar. The bar is located on the white sands of Maehama Beach, one of the shining jewels of Kozushima.
Crawling along the ocean edge for about a kilometer, Maehama Beach is a popular weekend escape for city dwellers from Tokyo and Yokohama, but somehow feels rather untouched with its pristine water and sand. Come Ring Beach Bar is cleverly minimalist in its design, allowing you to make the most of the beach's undeniable beauty.

COMERING

Tokyo Kozushima Mura Maehama Kaigan

07044123340

View All

05

Take a Dip in Sabisaki Onsen

Kozushima's coastal and rocky landscape makes the ideal backdrop for a scenic and soothing soak, and there's only one place to do it—Sabisaki Onsen. Built in 1991, Sabisaki Onsen is one of the biggest onsens in Japan in terms of its hot spring water capacity. The best time to visit is just before sunset, when you can watch from the "tenbo-buro" (bath with the best view) as the waning sunlight stains the evening sky shades of pink, orange, and purple. Because the bath is open to both men and women, and very much in public view, wearing a bathing suit is required.

5.0

1 Reviews

Tokyo Kozushimamura

0499281376

10:00-21:00(Last entry20:00)

View All

Living in or near a major city, you take for granted the magnificent beauty that is the evening night sky. Kozushima's sky, covered in a smattering of tiny twinkling lights and painted with the otherworldly beauty of the Milky Way, is arguably one of the best light shows in the world, and the project, Kozushima Marugoto Planetarium, guides to see it.
Make your way to the Miura Bay Observation Deck to get a clear, unobstructed, unpolluted view of the stars. If you're around in winter, you may also be able to spot Canopus, which is the brightest star in the southern constellation of Carina.