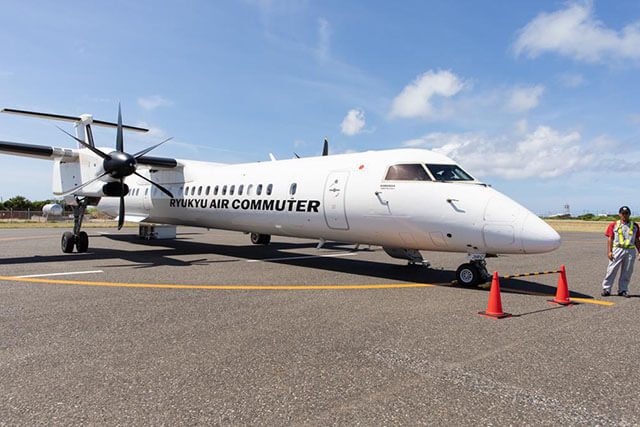 For such a small island Yoron boasts an impressive collection of sightseeing opportunities, including mysteriously disappearing islands, picturesque cruises, and perfect snorkeling beaches. The key to maximizing your Yoron vacation is to figure out exactly how to get around. Given that it's the southernmost island of Kagoshima prefecture, Yoron may not be the most connected beach hideaway in Japan, but it's well worth the effort. Here's a guide to all the best ways to get to, and around Yoron Island.
The quickest way to reach Yoron is a domestic flight to Yoron Airport. Japan Air Commuter (JAC) runs direct flights from Kagoshima, Amami Oshima and Ryukyu Air Commuter (RAC) regularly runs flights from Naha (Okinawa). From Okinawa, a direct flight takes around 40 minutes and prices vary according to the season. If you're traveling from Tokyo, be aware that most flights taking this route will have a stop off either at Kagoshima Airport or Okinawa Airport along the way. Once you arrive in Yoron getting to your accommodation from the airport by taxi is the best option.

02

Aline Ferry and Marix Line Ferries

If you have a little extra time and want to make the most of your journey to Yoron, a ferry is a more scenic option. Two ferry companies; A-Line Ferries and Marix Line Ferries both serve the Kagoshima to Okinawa route making stops at Yoron along the way. The companies alternate the days in which they sail, but both offer essentially the same experience. They operate just once per day, so it's important to get to the port with plenty of time to spare. The departure point of Kagoshima Port is approximately 20 minutes by bus from the Kagoshima central station, while Naha Port Terminal is about seven minutes by car from Naha Airport, 15 minutes from the bus terminal by foot. The journey between Kagoshima and Yoron takes about 20 hours each way, and if you're traveling from Naha, it will take about five.

Yoron is home to a surreal oasis known as Yurigahama, an island sandbar that literally vanishes with the passing tides. If you make it to Yoron this is one spot you well and truly can't miss. The way you can get there, however, is by boat or jet ski as it's located about one and a half kilometers off the coast of Okaneku Beach. There's no need to plan too far in advance because once you get to Okaneku Beach you'll find a small cluster of small boats ready to take you out the mysterious island. The best time to visit the island is generally between April and October, but it can vary from year to year. To avoid disappointment it's highly recommended you look up the appearance forecast before heading out.

百合ケ浜

鹿児島県大島郡与論町大金久海岸沖合

0997975151

View All

Only a little over 20 square kilometers in size and with a population of just over 5,000, it's unnecessary for Yoron to have a comprehensive public transport network beyond the local bus service. But if you're planning to cover a lot of ground in a short period of time it's worth looking into renting a car. Yoron Rental Car is an excellent choice. Affordable and convenient, the company offers airport pick up and once you're done with the car you can leave it at the airport parking lot.

If you don't have a driver's license then there's always a rental bike. With stunning coastal roads, it's arguably the best way to explore the island up close, especially when the sun is shining and the skies are clear. Part of Yoron's landscape is little hilly so be prepared for the occasional workout. If you're not too interested in getting around by bicycle, scooter rental is available too. For more details visit or call the Yoron Sightseeing Center (ph: 0997-97-5151), it's located right by the Yoron Town Office.