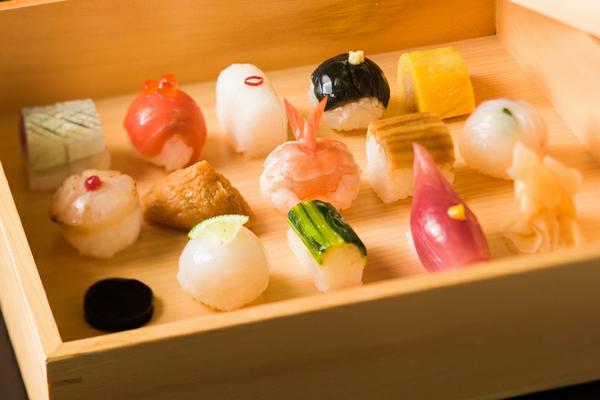 Kyoto is a city of rich cultural tradition, full of ancient temples and ornate gardens.
But perhaps one of the best ways to experience the cultural heritage is through your stomach.
Kyoto is home to a variety of delicacies and delights, and everything from the presentation of colorful sweets to the particular way you slurp ramen is a window into the culture of Japan's former capital.

This article will go over the 11 best types of cuisine Kyoto has to offer and recommend the top restaurants where you can find them.
Kaiseki Ryori

Kaiseki is the type of cuisine that is served with tea ceremonies in Japan, and it is a small, meticulously prepared meal that is usually meant to complement the tea being served. The traditional arrangement of the cuisine includes one soup and three side dishes, and it is designed to be pleasing to the eye as well as the palate. Many kaiseki restaurants can be found in Gion, the classical entertainment district of Kyoto.

Nikenchaya Nakamuraro

Nikenchaya Nakamuraro (二軒茶屋 中村楼) is an upscale restaurant that sits within the grounds of Yasaka Shrine. The kaiseki served here is top quality, and it has a price tag to match, though kaiseki is generally a more expensive experience. The chic interior has modern touches in a classic style, adding to the restaurant's popularity. Reservations are recommended.

Giro Giro Hitoshina

Giro Giro Hitoshina (枝魯枝魯ひとしな) is an interesting restaurant that serves a fusion of "Kaiseki ryori", Japanese course dinner, and French modern cuisine. The chef calls this style "punk kaiseki", and we can see why – it's an interesting mix between new and old, with a few edgy details thrown into the mix. The restaurant itself is located in a cozy Japanese wooden house with windows facing the Takesagawa Canal.
If you're lucky you might be able to walk in and get a table, but we highly recommend booking in advance – especially if you want one of the desirable counter seats where you can have a chat with the chefs. Giro Giro (sometimes transliterated "Guilo Guilo") also has branches in Paris, Hawaii and in the Kagurazaka neighborhood in Tokyo.

4.0

33 Reviews

Kyoto prefecture Kyoto shi Higashiyama ku Gion Yasaka Shrine Torii inside

0755610016

[Daytime] 11:00-14:00 (enter…

View All

枝魯枝魯 ひとしな

京都府京都市下京区西木屋町通松原下る難波町420-7

075-343-7070

View All

Gion Mametora

Gion Mametora

Gion Mametora (祇をん豆寅) is a classy establishment where compact is the keyword. They offer small plates, or mamezara, that will dazzle you with their bright arrangements of kaiseki dishes. But the sushi is the rare sight, indeed. Designed with geisha and maiko in mind, the nigiri sushi is pressed into adorable spheres that are easy to pop into your mouth. It does get busy, though, so be sure to make a reservation.

Awomb Nishi-Kiyamachi

Awomb Nishi-Kiyamachi

Awomb Nishi-Kiyamachi (西木屋町) offers the gorgeous teori style of sushi, which is a variety of colorful ingredients and spices artfully presented. You actually hand roll the sushi yourself into a temaki, but pictures will obviously need to be taken before you indulge in the decadence of flavor.

Kyoto Kyoutoshi Higashiyama-ku Gionmachiminamigawa 570-235

0755323955

11:30-15:00 (LO14:00)/17:00-…

View All

Kyoto Kyoutoshi Shimogyou-ku Nambachou 405

05031775277

12:00-15:00(L.O.14:00)/17:00…

View All

Hisago

When you inevitably end up around Kiyomizu-dera and Kodai-ji, try stopping in Hisago (ひさご) for a piping hot bowl of oyako-don, a filling dish of chicken, onion, and runny egg all cooked together and served over rice. Hisago is very well known in the area for its rendition of oyako-don, but they also have noodle dishes that hit the spot should you be craving something different, like green tea soba. The restaurant itself is a laid-back atmosphere with soft lighting that offers you a chance to relax over a meal before heading back out into the city—stomach full, ready to explore.

No Name Ramen (Namae No Nai Ramenya)

Sometimes you need a good bowl of ramen. Don't worry. Kyoto has you covered.
No Name Ramen (名前のないラーメン屋) takes their name, or lack thereof, very seriously; they don't even have a sign in front of the shop. Once you find this underground eatery, then you'll be delighted by their fresh ingredients and selection of spices. Forget about the name; the ramen speaks for itself.

Muraji

Muraji (むらじ) is located on the second floor of an unassuming wooden house next to Shirakawa-dori in northern Gion. Their signature dish is noodles topped with plenty of sliced lemon. According to the menu, this was invented by the owner, as a healthy alternative to the more traditional kinds of Ramen. The stock is chicken-based and not at all as greasy as pork-based ramen. Apart from the enjoyment brought by enjoying a bowl of Ramen without having to worry too much about it expanding your waist, it also tastes really good.

Ippudo

Ippudo (一風堂) is the old standby for ramen lovers, and there's a reason they have shops all across the country. Kyoto has its own location around Kyoto Station, and the taste is exactly what you're looking for, regardless of which style of broth you choose.

Tenkaippin

Tenkaippin (天下一品) has gone on to open shops across Japan, but the first branch opened right here in Kyoto, complete with menu items you won't find anywhere else. Their thick broth leaves a surprisingly fresh aftertaste, meaning the bowl will be gone before you know it.

Kyoto Kyoutoshi Nakagyou-ku Ebisuchou 534 - 31 CEO Kiya-machi Building B1F

View All

4.5

212 Reviews

Kyoto Kyoutoshi Higashiyama-ku Kiyomotochou 373-3

0757441144

[Monday-Friday] 11:30-15:00 …

View All

一風堂 京都ポルタ店

京都府京都市下京区東塩小路町902 京都駅前地下街 ポルタ

0757085300

View All

4.0

100 Reviews

Kyoto Kyoutoshi Sakyou-ku Ichijoujitsukudachou Maison Shirakawa 1F

0757220955

11:00-3:00 the next day

View All

Obanzai

Kyoto's home cooking is called obanzai, and it's a collection of simply prepared dishes using seasonal ingredients that usually come from within Kyoto. Expect lots of vegetables and seafood on the menu, many of which aren't normally used in dishes. But that's what makes obanzai unique among Japanese cuisine.

Izama

Izama (居様) offers a contemporary interpretation of classic Japanese design, and the dishes themselves also follow the same stylings, with the tableware and cuisine making for elegant, and delectable, displays. Stop by for their lunch special, the 9 Kinds of Obanzai Platter, which gives you a range of tastes that do Kyoto justice. This is the place for obanzai done right.

居様/IZAMA

京都府京都市中京区六角下る六角町361番 三井ガーデンホテル 京都新町 別邸

05031843722

View All

Niomon Uneno

Niomon Uneno (仁王門うね乃) is getting a lot of attention for its udon, and the main attraction is the Shippoku Udon. Uneno specializes in making the savory dashi broth, and the Shippoku Udon is full of veggies and has tofu skin, or yuba, floating along the top of the bowl for a tasty little something extra. The Negi Udon, another Kyoto specialty, is also on the menu at Uneno, so you can try both if you bring a friend.

Fumiya

Fumiya (冨美家) is famous for their Fumiya Nabe, which is a variation of nabe-yaki udon, or udon cooked in a clay pot. Fumiya Nabe has shrimp tempura, egg, and negi onion in their namesake dish, for a soothing combination of flavors and textures to fill you up right.

Kyoto Shijo-kuon

Kyoto Shijo-kuon

In the Kyoto Shijo-kuon (京都四条くをん) restaurant, you can try their specialty - the Keema Curry Udon.
In this peaceful atmosphere, dine on this harmonious mix of aromatic spices and roasted wheat germ-based noodles.
Once you have tried the noodles, put some of the curry on the egg rice that comes with the set and give it a try!
This restaurant is very popular and there is often a queue, so either get there early or make sure you have some time to spare.

Niomon Uneno

Kyoto Kyoutoshi Sakyou-ku Shinmarutachou 41

0757511188

View All

Kyoto Prefecture Kyoto City Nakagyo-ku Sakaicho Mitsu Tyu Pharmacist Shuru Kikuya cho 519

0752220006

11:00-16:30(L.O.16:30)

View All

京都四条 くをん

京都府京都市中京区新町通四条上ル小結棚町420

0752516661

View All

Hafuu

Loosen up the belt and the pocketbook for this one.
Hafuu (はふう) is a stylish space that serves up wagyu almost any way you like it, and the food is prepared right in front of your seat at the counter. If you're looking for the real deal, then order the Wagyu Steak, which comes in a few different cuts, depending on your preference. Or, if you're in a hurry, then you can get a Fried Beef Cutlet Sandwich to take away. While the items are on the expensive side, the quality is never in question at Hafuu. You won't be disappointed.

Kyoto Prefecture Kyoto City Chukyo-ku Ashiya-cho Tosugawaue

0752571581

11:30-13:30(L.O.)/17:30-21:3…

【URL】http://hafuu.com/

View All

08

Buddhist Vegetarian Meal

Buddhist vegetarian meal in Shigetsu

Buddhist vegetarian meal, or shojin ryori (精進料理), is the type of food that is eaten by those who are undergoing Buddhist instruction, and, as such, it is completely vegetarian. The flavors are light, and soybeans and vegetables are the staples of the cuisine. It is also thought to be the origin of the macrobiotic diet. While the food is definitely healthy, it is also carefully prepared with a variety of cooking methods and colors, so you won't get bored.

Buddhist vegetarian meal in Shigetsu

Shigetsu

Shigetsu (篩月) is the restaurant of Tenryu-ji, situated in the temple gardens. The shōjin-ryōri is more of an experience than a meal, as you get comfortable on mats laid on tatami floors and enjoy dining in harmony with the season. It's open for lunch from 11 a.m. to 2 p.m., and reservations are required.


Read more
Experience Vegetarian Shojin Ryori in Kyoto
Originating from the 13th century, shojin ryori is a type of vegetarian cuisine eaten by Zen Buddhist monks made from…

Kyoto Kyoutoshi Ukyou-ku Sagatenryujisusukinobabachou 68

0758829725

11:00-14:00(L.O.)

View All

Yudofu

Okabeya

Just up the street from Kiyomizu-dera lies Okabeya (おかべ家), a relaxed restaurant with a dining area that is open and airy; they also manufacture their own tofu. Yudofu is a simple food consisting of tofu blocks cooked in broth and then lightly braised in a mixture of soy sauce and spices. So when you combine the two, you get an especially tasty yudofu that will warm you right up. Take your time with the subtle flavor of the dish or pair it with some tempura for a crunchy complement to the soft tofu.

Kyoto Kyoutoshi Higashiyama-ku Kiyomizu Temple Mae Shimizu 2

0755417111

10:30-17:00

View All

Cha Soba

Morishige

Chasoba, or green tea soba, is another delicacy of Kyoto, but if you go a little outside the city itself to the town of Miyama, then you're in for a pleasant surprise at Morishige (もりしげ) , a restaurant housed in a thatched-roof building that's over 140 years old. Sure, there are shops that sell green tea soba within Kyoto city, but the classic atmosphere of Miyama coupled with the dining at Morishige make for more lasting memories. If the weather is nice, then take a seat by the window and watch the breeze blow through the garden.


Read more
Where to Eat in Miyama
Eating your way though Miyama is one of the best ways to really understand the true beauty of the area. Many of the town's culinary hotspots offer unique…

Craft Beer

Spring Valley Brewery

Okay, this isn't technically cuisine, but it is worth mentioning due to the recent uprising of craft beer across Japan. Since this is Kyoto, then Spring Valley Brewery is the playful fusion of classic and modern that will give you both the vibe and the beer that you're looking for. Spring Valley offers a clean, contemporary interior in a renovated wooden townhouse over 100 years old, and they have a full food menu and a solid list of Japanese craft beer to choose from. The suggested pairings and course menus are deep and easy to decipher, making it a great pick for both newcomers and experts alike.



Read more
Craft Beer Kyoto: six of the best spots
Although there's no danger that microbrews, milk stouts and pungent IPAs will ever supplant the national love of cold…

スプリングバレーブルワリー京都

京都府京都市中京区富小路通錦小路上る高宮町587-2

075-231-4960

View All