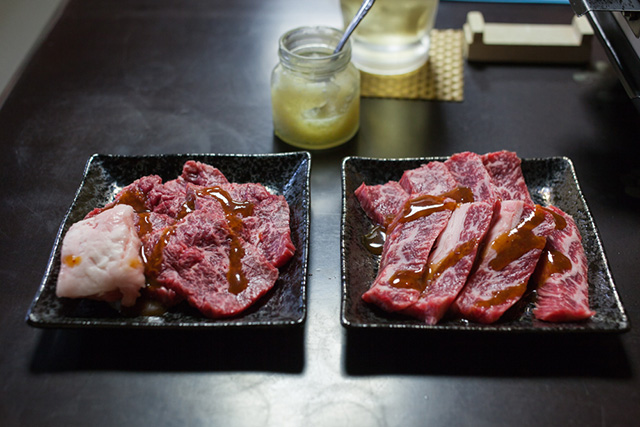 When you're exploring the Shimanami Kaido by bike or by car, you're bound to get hungry. Your ride won't go well on an empty stomach, so here are a few places to check out along the way when you need a quick energy boost.
Cafe Terrace Nanohana

There are a lot of rest areas along the way, but Cafe Terrace Nanohana is a favorite destination among cyclists for its convenience and its light, but satisfying, food; it's also an official "cyclist oasis" along the Shimanami Kaido. Salad and seafood options are available for those looking for healthy snacks, as well as carbb-heavy options for cyclists who need the energy. This restaurant is located on the southwestern coast of Innoshima Island, right along the road to Ikuchi Island to the south. Serving food at less than 1,000 yen per meal, this place is sure to be packed at almost any time of day.

Shokudo Mitsubachi

Shokudo Mitsubachi on Oshima Island is renowned forits now-famous blue cafe area. Since it opened in 2011, this cafe and restaurant has charmed visitors with its carefully designed interior and decadent food. The most popular offering is their daily fish special, but because it's prepared fresh every day, you need to get there early before it sells out. Other than their fish, they also have more typical Japanese fare, like omurice, curry, and cafe desserts.

5.0

1 Reviews

Ehime Pref. Imabarishi Yoshiumichounie 1876-1

0897728345

11:00-15:00

View All

Okonomiyaki Fu

A trip to Japan wouldn't be the same without trying some okonomiyaki, a savory pancake. So you're in luck, because it's one of the specialties of this area. Okonomiyaki Fu next to Hakata Beach has a reputation for making mouth-watering food for hungry travelers. They serve up traditional seafood okonomiyaki, but also offer variants like Korean-style okonomiyaki with kimchi and pork. This is also one of the officially recommended stops along the Shimanami Kaido.

お好み焼 風

愛媛県今治市伯方町叶浦甲1667-5

0897740053

View All

04

Patisserie T's Cafe Tamaya

Patisserie T's Cafe Tamaya

Another spot worth checking out while you're on Hakata is Patisserie T's Cafe Tamaya. This stylish coffee shop and bakery gives you a chance to look out over the sea while munching on delicious French inspired cuisine. Their menu features Croque Monsieur, quiche, and tarts made with fresh fruit, but they also have curry and pizza if you feel like something a little less French. Their chestnut cake and chestnut creme brulee are incredibly popular options for people with a sweet tooth. For cyclists on the go, the offerings may be too indulgent, but it's definitely a good stop for people who are looking to relax.

4.0

9 Reviews

Ehime Pref. Imabarishi Hakatachouaroudu Instep 2328

0897720343

10:00-19:00

View All

Yakiniku Chigusa

Yakiniku Chigusa is a small, family-owned restaurant near the Oyamazumi Shrine on Omishima Island. Yakiniku is a favorite among meat lovers because it allows diners to enjoy the main attractions with no frills. The owners are really friendly and take a lot of pride in their restaurant. Each table comes equipped with its own grill, so you just order the cuts of meat and cook it according to your taste. It comes with veggies, rice, and miso soup on the side, but the main attraction is the meat, marinated with this shop's own secret recipe marinade.