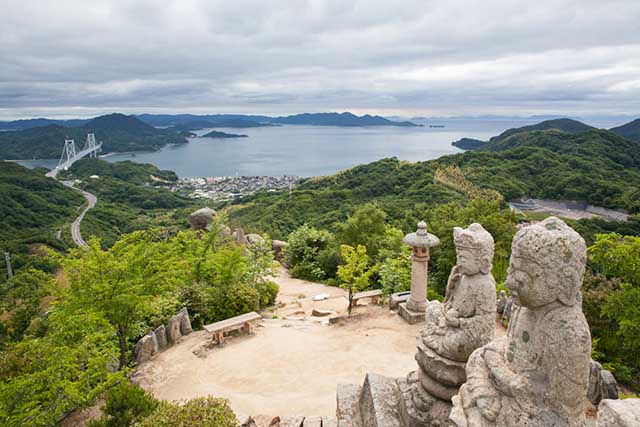 If you have any interest in Buddhism or Shintoism, then Japan is the place for you. There are thousands of temples all around the country; some are located in the centers of metropolises and others are only accessible after a long hike. If you want a cultural experience as you travel along the Shimanami Kaido, there are plenty of opportunities to see some amazing gardens, sculptures, and architecture.
01

The 500 Buddhist Disciples of Shiratakiyama

The 500 Buddhist Disciples of Shiratakiyama

Shiratakiyama is a mountain on Innoshima and is home not only to an amazing view of the Seto Inland Sea and the Innoshima Bridge but also around 700 sculptures of Buddha's disciples. The area is at the top of the 230 meter tall mountain, so it may be a challenging bike ride, but you'll be rewarded with a really cool photo opportunity. The area is called the 500 Buddhist Disciples but it actually has many more than 500. It was once controlled by pirates known as the Murakami Kaizoku and you can find more information on them in the area.

Kosanji Temple

Kosanji Temple on Ikuchi Island was founded only in 1936, but it quickly gained fame due to its size and the breadth of its collection. This Buddhist temple was constructed to emulate other famous temple sights in Japan, and many of them are like exact copies. There is a lot to see in the grounds of this colorful temple. The museum area is home to many works of art and important cultural artifacts collected over the lifetime of the temple's patron.

Kosanji Temple

In 2000, the Hill of Hope, a beautiful garden constructed from marble, was opened to the public. It can be found behind all the other buildings at the top of the hill. There is a lot to see here, so it's worth the admission price of 1,400 yen. It's open from 9am to 5pm, all year long.

4.0

155 Reviews

Hiroshima Pref. Onomichishi Setodachousetoda 553-2

0845270800

9:00-17:00

View All

Oyama Shrine

Oyama Shrine on Innoshima has earned a nickname as the "bicycle shrine." Built in the 8th century, this shrine is a regular destination for cyclists in the area. This Shinto shrine is dedicated to the deity of agriculture, but it's become very popular among cyclists due to its bicycle shrine, which is said to house the deity of transportation. It's a convenient stop along the way and has a lot of neat souvenirs you can pick up to remember your visit.

4.5

12 Reviews

Hiroshima Pref. Onomichishi Innoshimahabuchou 1424-2

0845236000

8:30-17:00

View All

Oyamazumi Shrine

If you have any interest in Japan's samurai history, Oyamazumi Shrine is the place for you. It's home to one of the most important collections of samurai artifacts in all of Japan, with many of the weapons and armor having actually been used in battle. Typically, swords on display in museums are in pristine condition because they've never been used, so this collection really stands out.

Oyamazumi Shrine

This shrine is located inside a grove of several hundred trees, with one tree in particular being 2,600-3,000 years old. You'll see that the tree has a large rope tied around it; this designates it as an object of veneration among Shinto followers. Entry to Oyamazumi Shrine itself is completely free, but entry to the museum costs 1,000 yen for adults, 800 yen for high school students, and 400 yen for younger children. The museum is open from 8:30am to 5pm.