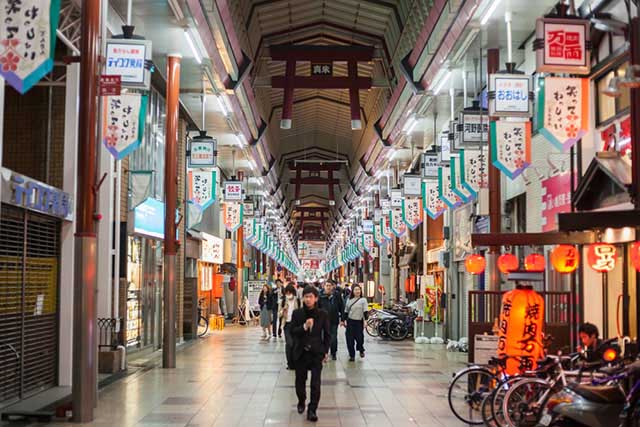 Osaka is a big, bustling city that is a must see for anyone travelling to Japan. It's full of great sights to see, food to eat and culture to absorb. Osaka is tourist friendly with plenty of options for getting around, like walking, cycling, subways and trains. It's also well connected to Kansai airport, as well as other cities such as Kyoto and Kobe.
If you are coming from Kansai airport, you can hop on the airport limousine bus. A one way ticket is around 1,550 yen and the drive to Osaka takes nearly an hour. No reservations are required, and buses depart every half hour. However, the buses run on a first come first served system, and there may be a wait involved if the bus fills up before you've got on board. If you want to avoid waiting at the airport, you can reserve seats on the Rapi:t Limited Express. This train line runs between Kansai airport and Namba station in Osaka, and seats must be reserved in advance. Two categories of seats are available: Super Seats, which cost 1,340 yen for adults and 770 yen for children; and Regular seats, which are 1,130 yen for adults and 570 yen for kids. The ride takes forty minutes and is one of the fastest, and most cost effective, ways to reach Osaka city.

Getting Around Osaka

Once in Osaka, there's a multitude of things to do and see. Fortunately, you can get the Kansai Thru Pass, which lets you travel on the subways, railways and buses not only in Osaka, but also throughout the Kansai district in cities like Kyoto, Kobe and Nara. You can purchase either a two day pass for 4,000 yen or a three day pass for 5,200 yen. If you're staying just in Osaka, buy an Osaka Amazing Pass, which will give you unlimited travel on the subways and buses as well as entry to 35 tourist destinations. These are available as a day pass for 2,500 yen, or a two day pass for 3,300 yen.

Getting Around Osaka

While you can use the bus system in Osaka, the subway is both cheaper and more convenient. You can also indulge in some old school nostalgia by taking a tram ride. The trams have been part of Osaka for over 100 years and you can take them to explore the historic port town of Sakai, which is just a little more than 30 minutes away.

Getting Around Osaka

Osaka City has two main city centres: the northern Umeda area and the southern Namba/Tennoji area. Tourists can also check out the Umegle bus. These bright green buses are easily spotted on the street and a great option for exploring the Umeda area. The buses run from 8am and leave at 30 minute intervals until 8pm. The fare is a mere 100 yen, or you can buy an all day pass for 200 yen.

Getting Around Osaka

To venture beyond Umeda, grab a rental bike, called an 'Umegle Chari', from the same company. Cycle tours are booming in Osaka right now, with many options available. What makes them so attractive is that Osaka is relatively flat with wide pavements, has English language signposts and uninterrupted cycle friendly stretches within the city and along the Yodo River. Umegle has a computerized system in English that lets you rent the bicycles with your credit card, making it an easy to use alternative for visitors.

Getting Around Osaka

Getting Around Osaka

Even though Osaka has plenty of convenient options to get around, nothing beats seeing the city on foot. Discover the hidden treasures as you amble around the beautiful city.