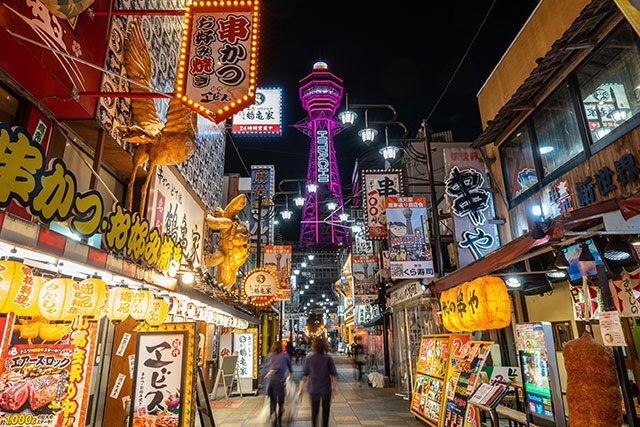 The Shinsekai district represents the side of Osaka (and the Kansai region in general) that locals and outsiders alike think of as emblematic of the city – that is garish, raucous and blue collar. A network of back alleys, filled with retro bars, marketplaces and other hangouts sit side by side with independent enterprises, game-halls from a distant past and seedy side-streets.
Shinsekai is as dazzling by day as it is by night. Walls of bright colours and interesting shapes surround you on all sides as you wonder the streets.There are plenty of options for lunch, coffee, a beer or a snack!

Shinsekai, which translates literally as "new world," was conceived as an urban renewal project to showcase Japan's 20th century modernity, modeled on New York and Paris during the 1930s, before WW2 ravaged the area. The Shinsekai neighborhood and its surroundings was a target for Allied bombing during the war, meaning many of the redevelopment projects were shelved. Work on the area picked up again during the fifties and sixties, but the socioeconomic makeup of the area had shifted, and Shinsekai started to develop a reputation as a tough neighborhood. In the past two decades, Shinsekai has seen a rebirth of sorts, with travelers developing an interest in its history, grittiness and retro culture.

Tsutenkaku Tower was originally constructed in 1912 after Paris' Eiffel Tower. Although it was scrapped during the war, it was rebuilt during the 1950s. This version has become somewhat a symbol for both the Shinsekai district and the greater city of Osaka. There is an open-air deck complete with observatory allowing visitors to see the city from high up.

When Shinsekai was under construction in the early 20th century, a tower was erected over it that stood as the tallest in all of Asia at the time. The original tower was damaged by fire in the 1940s and its bones were melted down to support the war effort, but the rebuilt Tsutenkaku Tower has become somewhat of a symbol of the city and the Shinsekai district. Like the rival Tokyo Tower, Tsutenkaku is lit up at night according to the season or related to special events happening at the time.

A Billiken outside a small shrine in Shinsekai

The story of Billiken is a confusing one: created by an American illustrator around the turn of the 20th century, Billiken was imagined as the "god of things as they ought to be" and sold as a charm doll, and could perhaps be likened to later crazes like pet rocks and Furby. Somewhere along the line, effigies of Billiken began to be enshrined in Japan's Kansai region, including Shinsekai. Although the Billiken on the fifth floor of the Tsutenkaku Tower might be more famous, there are several other shrines to the deity around the neighborhood. If one stumbles across a Billiken, it's good luck to rub its feet.

Jan Jan Yokocho in Shinsekai. It has managed to retain a feeling of old Japan. This is not only a great place to try local foods and do a spot of shopping, but also an interesting insight into how the locals live

Jan Jan Yokocho is a covered "shotengai" shopping arcade right in the heart of Shinsekai, it has a curious range of shops appealing to a range of visitors, many of which popped up in recent years, but it still retains a feeling of authenticity, remaining home to amusement games centers, bars, and the omnipresent kushiyaki shops.

Follow Jan Jan Yokocho far enough and you will slowly exit the Shinsekai area and enter the Tobita Shinchi district. This is another part of town with a colouful past, known mainly for its red-light district. By all means take a wonder around and see the sights for yourself, but keep your wits about you and step carefully, as it's that little bit more gritty than Shinsekai, and perhaps not everybody is as friendly towards visitors as those in Shinsekai.

Osaka Osakashi Naniwa-ku Ebisuhigashi 3

0666322313

Depends on establishment

View All

Locals enjoying food and drinks at Kadoya

In the heart of Shinsekai, Kadoya is representative of local dive bars: great, simple food in a sometimes-raucous atmosphere. Kadoya serves kushiage, a preparation of battered and deep-fried skewers of vegetables and meat that has its origins in the very neighborhood that Shinsekai still operates. Various takes on kushiage are found across Japan, now, but there is nothing quite like enjoying the local blue collar snack on the streets that gave birth to it.

New Star Smart Ball - an old-style games center in the backstreets of Shinsekai

Although Shinsekai is no longer the den of vice that it once claimed to be, places like New Star Smart Ball are something of a safe lens to look back at a more profane time. The game at New Star Smart Ball is something like the analog precursor of the modern pachinko with its blinking lights and animated idols. Pop in a coin, pull the plunger back, and hope that your ball ends up in the prize slots it's as simple as that.

大衆酒場カドヤ

大阪府大阪市浪速区恵美須東3-5-3

06-6630-8484

View All

As the district has been revitalized and increasingly attracts visitors from further afield, the rickshaw men with their powerful haunches are an increasingly common site in Shinsekai. The district is just a bit too big to comfortably cover completely on foot; a rickshaw tour is a great way to see more of Shinsekai, and pick up some historical tidbits and local lore from the men that draw them through the streets.

When night falls in Shinsekai the streets come alive with a mix of revelers from all walks of life rubbing shoulders with visitors to the area

Exploring Shinsekai by night is a feast for the eyes!

The hustle and bustle of Shinsekai at night

Shinsekai's lanes and alleys are busy during the day, and it is certainly worth a visit before the sun sets, but the area is most photogenic and lively as dusk approaches and local office workers rub shoulders with visitors in the kushiage bars. Shinsekai is a taste of in your face Kansai hospitality in the heart of Japan's second city.