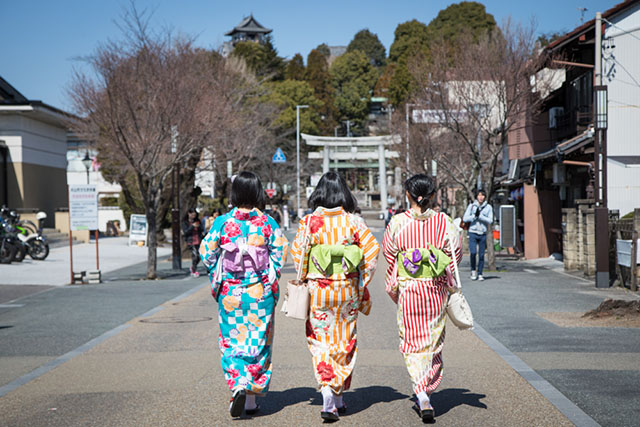 Inuyama is located on the Nobi Plain, roughly between Gifu City and Nagoya City—Inuyama can be reached from either city in about thirty or forty minutes on trains operated by Nagoya Railroad (also known as Meitetsu)—on a section of the Kiso River known as the "Japan Rhine."

Unlike other cities in Aichi Prefecture, like nearby Nagoya, or Toyota and Toyohashi further south, Inuyama was never developed as a major industrial and manufacturing center, sparing it from bombardment during the Second World War or aggressive redevelopment as the economy rebounded. Local history was preserved in the winding alleys of the Shitamachi, "low city," and in the traditions of local artisans, as well as the city's many shrines, temples and gardens.

The showpiece of Inuyama's heritage is the Inuyama Castle which looks down on the Kiso River and offers views of the city and the surrounding countryside. The castle at Inuyama is one of only a dozen in the entire country that can be considered original. For a castle to have survived political chaos, warfare and natural disaster up until the present is exceedingly rare. The castle is an exceptional chance to catch a glimpse at how local gentry lived during the Tokugawa shogunate.

A stroll through the Inuyama Shitamachi is not to be missed and is a good jumping off point for visiting local sites like the Sanko Inari Shrine, Narita-san Temple, Shiro-to-Machi Museum, and the castle itself. Local artisans and craftspeople still make a living in the lanes and alleys of the former castle town. Jump a century forward in time at the Showa Yokocho, a taste of life in the postwar boom that so many are still nostalgic for, and make sure to sample the local riff on Aichi Prefecture's hearty favorite, miso katsu don.

Not far from the city center, Meiji Mura is one of the world's best open-air architectural museums. The natural disasters and turmoil of the last century, as well as, more recently, aggressive urban renewal schemes, reduced to rubble much of the architectural heritage of the nation. At Meiji Mura, a valiant effort has been made to preserve architecture from the Meiji, Taisho and early-Showa Eras, a time when the country was opening itself up to influences from the West and syncretizing them with traditional and vernacular styles. Buildings on site include elaborate palace structures, local bathhouses, and even a portion of the Frank Lloyd Wright-designed Imperial Hotel.