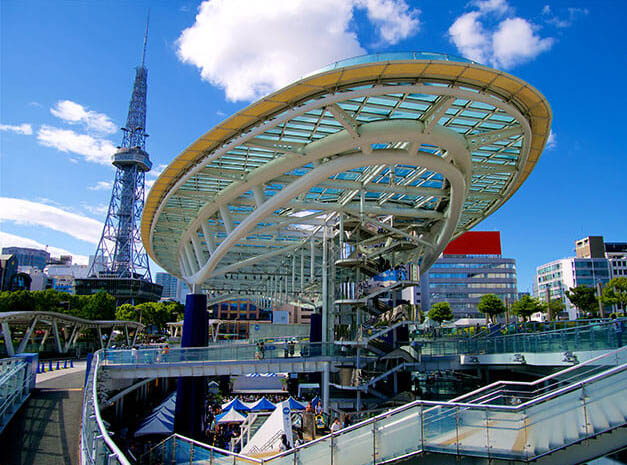 One of Japan's historic centers during the Edo period, Nagoya now thrives as an industrial hub, as well as being a popular tourist destination.
In addition to its great number of sightseeing spots, Nagoya's rich and diverse culinary culture never ceases to amaze tourists.
Here's a list of things you can do to make the most of your Nagoya trip.
01

How to plan your Nagoya trip

Nagoya Station

Nagoya's subway and bus routes span the entire city, making it possible to cover what is the largest city in the Chubu Region in two days.
Those who want to rely on public transportation might find the one-day ticket useful, as it enables you to get around the city using subway and bus, and only costs 850 yen for adults.

If you are planning your trip for the summer, try to coincide it with the Atsuta Festival in June.
Aside from many food and entertainment stands, this festival also features religious events and cultural performances, including tea ceremonies, kyudo 弓道 (Japanese archery) demonstrations, and Japanese drumming.


However, the best time to visit Nagoya is during the spring and autumn when mild temperatures will ensure a more comfortable outing.
The Nagoya Festival in October is the highlight of autumn, with three big local heroes (Oda Nobunaga, Toyotomi Hideyoshi, and Tokugawa Ieyasu) leading a long procession through the city.

Aichi Pref

View All

02

Chubu Centrair International Airport and Flight of Dreams

Chubu Centrair International Airport

Located about 40km south of Nagoya city, the Chubu Centrair International Airport has plenty of restaurants, shops and entertainment facilities.
If you want to enjoy a quick soak before your long flight, go to the bathhouse "Fu no Yu" on the 4th floor.
Some of the bathtubs are facing the airport apron, so you might be able to have your bath while watching the planes taking off and landing.

Flight of Dreams

Flight of Dreams

Flight of Dreams

Airplane fans or those with children can check out the Flight of Dreams, an aviation-themed park that's situated right outside the airport building.
This four-story building features shops and restaurants, as well as interactive exhibitions where you can learn about the first Boeing 787 model.

The easiest way to get to Nagoya City from the airport is by train.
Using the MU-SKY Limited Express, it only takes 28 minutes to Meitetsu Nagoya Station. Other limited and semi-limited express trains are also operated by Meitetsu Railways.


URL:https://flightofdreams.jp/en/

Aichi Pref. Tokonameshi Centrair 1-chome

0569381195

Depends on establishment

View All

03

Try the morning service breakfast at Cafe de Lyon

Cafe de Lyon

Cafe de Lyon

The cheapest way to have breakfast in Nagoya is by visiting a cafe and ordering a drink. Known as a hotspot for cafes, many shops in Nagoya compete with one another by offering free breakfast for the price of a drink.

Cafe de Lyon has three locations in Nagoya, they offer a breakfast set on weekends and holidays.
Their generous breakfast set serving features a thick piece of toast with jam, a fluffy sandwich, and fruit yogurt.
They change the fillings of their sandwiches and jam flavors daily.


Read more
Standard Nagoya Breakfasts
Nagoya coffee shops are famous for their breakfast specials. Here are few where you can get a hearty breakfast to start the day.…

Oasis 21

Oasis 21

Oasis 21 is a multifaceted, modern landmark that comprises shopping areas, tourist information, and green parks.
Directly connected to Sakae Station, this complex also serves as a bus terminal for traveling in and out of the city.
The spaceship-inspired rooftop features a relaxing boardwalk space that provides great views of the city.

Oasis 21 at Nighttime

At nighttime, seasonal lighting displays cover the entire space, offering a romantic experience for visitors.
There are plenty of lockers and resting areas in Oasis 21, so you can depend on them when you have to travel with heavy luggage.

4.0

487 Reviews

Aichi Pref. Nagoyashi Higashi-ku Higashisakura 1-11-1

0529621011

[Sales of goods] 10:00-21:00…

View All

05

Savor the artistic sweets at nokos à l'étage

Crepe Cakes (Takeaway)

Crepe Cakes (Takeaway)

Tucked away in a multiple-tenant building near Kokusai Center Station, nokos à l'étage is probably one of the most sought-after cafes in Nagoya.
Their signature sweet, a fruit crepe cake, features a beautiful layer of various seasonal fruits and attracts many Instagrammers.

They open from 11 am but you will have to go to the cafe more than an hour earlier to secure your spot on the waiting list.
However, due to their immense popularity, there's no guarantee that you will be served before the cake runs out.

Aichi Nagoya-shi Nakamura-ku

0525817550

View All

06

Marvel at the size and history of Nagoya Castle

Nagoya Castle

Honmaru Palace

Originally built by Tokugawa Ieyasu in 1610, Nagoya Castle is a proud icon of Nagoya City.
The Honmaru Palace, a former residence and administrative office of the feudal government, is now open to the public and where decorative decor meets the eye.

Golden Shachihoko

The great tower keep is a famous photo spot that features golden shachihoko (Japanese mythological tiger-fish ornaments) on the rooftop.
Those who are looking for a resting space can head to the Tonarino commercial facility in Meijo Park where you can grab a cup of coffee and chill out on the terrace.


Read more
Nagoya Castle
Standing tall, a proud icon of Nagoya City, Nagoya Castle and the history that comes with it has influenced the city unlike any other structure that came before. …

4.5

11 Reviews

Aichi Pref. Nagoyashi Naka-ku Honmaru 1-1

0522311700

9:00-16:30[Honmaru Palace, N…

View All

07

Smack your lips with Nagoya's specialties at Kinshachi Yokocho

Kinshachi Yokocho

Kinshachi Yokocho

Situated adjacent to Nagoya Castle, Kinshachi Yokocho is a dining complex that opened in March 2018.
Inspired by the castle town from the Edo period, the complex consists of two separate areas with different themes.

Yabaton

The Yoshinao Zone by the main gate of the castle offers traditional Nagoya cuisine such as hitsumabushi (grilled eel on rice), misokatsu (fried pork with miso sauce), and miso udon.
The Muneharu Zone by the east gate offers a variety of emerging local dishes, including ankake pasta (spaghetti with spicy, starchy sauce), Taiwan mazesoba (soup-less spicy noodles), and many other dishes featuring local ingredients.

Aichi Pref. Nagoyashi Naka-ku Sannomaru 1-2

052-973-9011

View All

Bic Camera

Around the Nagoya Station

In and around the Nagoya station you'll find JR Nagoya Takashimaya department store, Esca underground shopping center and a monolithic Bic Camera ready to fulfill all your retail desires.

Home to one of the biggest train stations in Japan, here you'll find a huge selection of commercial outlets selling everything from high-end designer goods to local souvenirs.

Aichi Nagoya-shi Nakamura-ku Tsubakicho 6-9

0524591111

View All

09

Experience the wonder of science at Nagoya City Science Museum

Nagoya City Science Museum

Planetarium

Nagoya City Science Museum is an interactive science museum filled with spectacular exhibitions, including a -30 ºC room featuring aurora images and a nine-meter tall artificial tornado.

The highlight of the museum is the world's largest planetarium, which boasts a diameter of 35 meters and features seasonal star patterns.
It perfectly combines a panoramic view of the starry sky, a laser projection, and calming music to make your stargazing experience truly exceptional.

4.0

1010 Reviews

Aichi Pref. Nagoyashi Naka-ku Sakae 2-17-1 Forest of art and science/In Shirakawa park

0522014486

9:30-17:00(Last entry16:30)

View All

10

Visit Toyota Commemorative Museum of Industry and Technology

Toyota Commemorative Museum of Industry and Technology

Toyota Commemorative Museum of Industry and Technology

Located three minutes' walk from Sako Station, the Toyota Commemorative Museum of Industry and Technology is an educational museum for Japan's biggest and most successful automobile company.
Visitors can learn the full history of the company, which started as a textile company before transforming into an automobile and robot manufacturer.

Toyota Commemorative Museum of Industry and Technology

The Textile Machinery Pavilion showcases approximately 100 machines, including spinning and weaving tools.
The Automotive Pavilion displays an extensive collection of Toyota motor vehicles, along with fascinating exhibitions about the company's technological development.
English guided tours, live demos, kids' workshops and seasonal exhibitions are also available.


Read more
Toyota Commemorative Museum of Industry and Technology
The Toyota Commemorative Museum of Industry and Technology is located close to Nagoya Station, it is considered one of the best attractions in the city.…

4.5

1521 Reviews

Aichi Pref. Nagoyashi Nishi-ku Noritakeshinmachi 4-1-35

0525516115

9:30-17:00 (Last entry16:30)…

View All

11

Stroll around Osu Shotengai

Osu Shotengai

Osu Shotengai

Osu Shotengai is a vibrant shopping district that's packed with traditional food outlets, izakaya, live performance spots, cafes, clothing stores, secondhand stores and more.
It's the perfect place to deep dive into local culture and also a good rainy-day destination, as many parts of the district are covered.

The district also has plenty of shrines and temples to explore.
If you have a soft spot for antiques, check out the flea market in Osu Kannon, which takes place on the 18th and 28th of every month.

12

Stuff yourself at Togokusan Fruit Park

Togokusan Fruit Park

Togokusan Fruit Park (image)

Situated near Mt. Togoku, the highest mountain in Nagoya, Togokusan Fruit Park is a spacious agriculture park that houses 15 orchards and 100 kinds of tropical fruits.
They often have harvesting events where visitors can pick seasonal fruits, including Japanese pears, blueberries, kiwis, and apples.
This spacious park also features fishing ponds, a flower garden, hiking trail, restaurants and shops, which make it a perfect family trip destination.

Aichi Pref. Nagoyashi Moriyama-ku Kamishidami Tougoku 2110

0527363344

9:00-16:30

View All

13

Meet the handsome gorilla at Higashiyama Zoo and Botanical Gardens

Shabani

Higashiyama Zoo and Botanical Gardens is a popular tourist destination that boasts the largest number of animals (more than 500 species) in Japan.
The star of this zoo is a male gorilla named Shabani who attracts many female visitors with his well-defined facial features.
Also within the compound are botanical gardens, an amusement park, and the more than100-meter Sky Tower.

Higashiyama Zoo and Botanical Gardens

4.0

760 Reviews

Aichi Pref. Nagoyashi Chikusa-ku Higashiyamamotomachi 3-70

0527822111

9:00-16:50(Last entry16:30)

View All

14

Admire the beautiful collection of ceramics at Noritake Garden

Collection of Ceramics

Noritake Garden

Noritake Garden is a recreational complex built on the former factory grounds of the renowned ceramic company Noritake.
The Craft Center offers a factory tour while Noritake Museum showcases an intricate collection of Noritake's ceramic products, attracting tourists from in and outside of Japan.

You can purchase their ceramics at the souvenir shop and at the restaurant, Kiln, where you can also enjoy a French multi-course meal served with Noritake's tableware.

Aichi Pref. Nagoyashi Nishi-ku Noritakeshinmachi 3-1-36

0525617114

[Craft Center/Museum] 10:00-…

View All

15

Sekai no Yamachan: Nagoya originated izakaya famous for chicken wings

Tebasaki

Sekai no Yamachan

Tebasaki 手羽先 (a fried chicken wing glazed with soy sauce) is a famous izakaya dish from Nagoya.
This mouthwatering dish was invented as a cheap snack to take advantage of the chicken wings that were mostly used for chicken broth.

Sekai no Yamachan 世界の山ちゃん is an izakaya chain that originated in Nagoya and a good place to try this local specialty.
Their tebasaki is heavily seasoned with pepper and combined with sweet soy sauce, leaving you wanting more.
There are more than 20 branches in the city and you can't miss the surreal chicken-man logo.

4.0

100 Reviews

Aichi Pref. Nagoyashi Naka-ku Sakae 4-9-6

0522421342

[Monday-Saturday]17:30-24:45…

View All

16

Hitsumabushi at Atsuta Houraiken

Hitsumabushi

Atsuta Houraiken

Atsuta Houraiken あつた蓬莱軒 is a long-standing restaurant that invented hitsumabushi (grilled eel served with rice) that's renowned as one of Nagoya's specialties.
They take special pride in delivering the finest eel, which is then grilled with high-quality charcoal and seasoned with secret sauce.

They suggest that patrons savor the dish as follows:

1.Enjoy the flavor of eel with no toppings.
2.Taste the eel with garnish (spring onion and shredded seaweed).
3.Eat with dashi broth over it.
4.Finish the meal whichever way you please.

The tender, aromatic eel is prepared with more than 140 years of family tradition and will never disappoint.

4.5

658 Reviews

Aichi Pref. Nagoyashi Atsuta-ku Goudochou 503

0526718686

[Daytime]11:30-14:00(L.O.)[E…

View All

17

Miso katsu at Tonpachi

Miso Tonkatsu Set

Tonpachi

One outstanding feature of Nagoya's cuisine is its abundant use of hacho miso 八丁味噌, a type of red miso paste made solely from soybean and salt.
Among all the miso dishes in Nagoya including udon, oden, and doteyaki (stewed beef tendon), miso katsu is the one you really shouldn't miss.

Miso Katsu

Tonpachi's signature dish, the Miso Tonkatsu set meal, is the best of its kind, using only carefully selected ingredients.
Freshly deep-fried pork cutlets, covered with thick and sweet miso sauce make a scrumptious combination that pleases any foodie's palate.

Aichi Pref. Nagoyashi Naka-ku Chiyoda 3-17-15

0523310546

11:00-14:00 (LO13:45)/17:00-…

【URL】http://tonpachi.jp/

View All

18

Oyako-don at Rokugyotei

Oyako-don Set

Oyako-don

Nagoya Cochin is a special breed of chicken that has been produced in Aichi prefecture for more than 100 years.
Its meat and eggs are rich in flavor and a fundamental way to enjoy them together is oyako-don.

Rokugyo-tei 六行亭 is a popular restaurant specializing in various Nagoya Cochin dishes. Using bonito and cochin broth as a base, their oyako-don is served with fluffy scrambled eggs and flavorful chicken.
This eatery is located in the Esca underground shopping center that's connected to Nagoya Station, making it convenient for busy travelers.

Rokugyo-tei

六行亭エスカ店

愛知県名古屋市中村区椿町6-9先 新幹線地下街エスカ

0524535666

View All

19

Bring out your inner child at Legoland Japan

Legoland Japan

Legoland Japan is a great theme park for families with young children and is located near Kinjofuto Station.
The theme park consists of eight areas that are filled with various rides and attractions.

The Factory offers a factory tour where guests can learn how Lego blocks are made, along with the history of Lego.
Miniland is a miniature town built with millions of Lego blocks, with iconic Japanese attractions recreated, such as Shibuya Crossing, Kyoto's Kinkakuji Temple and Nagoya Castle.

Lego® Ninjago World

Opening on July 1, Lego® Ninjago World is the eighth area and features various attractions that prepare guests to become ninjas.

3.5

608 Reviews

Aichi Nagoya-shi Minato-ku Kinjofuto 2-2-1

0570058605

10:00- (Closed Hours depends…

View All

18% OFF LEGOLAND® Japan Nagoya E-Tickets

¥5,000

Update date:2022/09/28

20

Unleash your creativity at Maker's Pier

Maker's Pier

Situated adjacent to Legoland Japan, Maker's Pier is not a regular shopping complex. Under the theme of "Makertainment", the complex represents the idea of entertainment through the act of creating something.
There are a lot of food outlets and shops in the compound, with many of them offering "try it yourself" experiences.

Saijoen Matcha Café

At Saijoen Matcha Café 西条園抹茶カフェ, you can enjoy flavorful tea by grinding your own matcha and preparing it afterwards.
At Sample Kobo, you can learn how to make intricate food samples, the kinds you often see in Japanese restaurants.
The facility consists of a well-kept garden and a central park with a large water fountain, which make it an action-packed spot.

Aichi Pref. Nagoyashi Minato-ku Kinjoufutou 2-7-1

0523048722

Depending on the store

View All

21

Geek out at SCMAGLEV and Railway Park

SCMAGLEV and Railway Park

The Linear Railway Museum is two minutes' walk from Kinjofuto Station and a great place to learn the ins and outs of Japan's reliable bullet train, the Shinkansen.
The exhibition explains the technological development of the Shinkansen through interactive displays, as well as its impact on Japan's society and economy.

SCMAGLEV and Railway Park

The museum showcases a wide collection of trains, ranging from old locomotives to the cutting-edge Maglev, the fastest train technology on earth.
A highlight of the museum are the simulators where visitors get to drive Shinkansen and conventional train mock-ups.
Due to significant demand, visitors have to enter a lottery for the chance to experience them.

Aichi Pref. Nagoyashi Minato-ku Kinjoufutou 3-2-2

0523896100

[Hours] 10:00-17:30 (Last en…

View All

22

Cleanse your soul at Atsuta Shrine

Atsuta Shrine

Surrounded by Thousands of Trees

Atsuta Shrine 熱田神宮 is considered one of the most prestigious shrines in Japan and houses one of the three Imperial Regalia of Japan, namely the Kusanagi sword.
Although this treasure isn't available for public display, it is believed that Yamato Takeru used this sword to defend himself.

Surrounded by thousands of trees, this large shrine compound offers a sense of spiritual tranquility for visitors, away from the busy concrete jungle.

Shimizu Shrine

The Shimizu Shrine at the back of the main shrine has a small, sacred spring and worshippers come here to wash their skin in the belief that it will rejuvenate them.

4.0

1752 Reviews

Aichi Pref. Nagoyashi Atsuta-ku Jingu 1-1-1

0526714151

Open 24 hours

View All

Kiyosu Castle

Southern end of the city you'll find Nagoya, the towering Kiyosu Castle sitting just outside the city center in the northern pocket of Nagoya.
Originally built sometime between the late 1300s and early 1400s, the building you see today is largely a recreation built from the Meiji period onwards, a majority of which was actually built as recently as 1989.

Inside the castle you'll find a fascinating local history museum worth exploring to get a little more context on the city.
Once you're done and you head outside to explore the grounds you'll find Kiyosu Armor Factory located next door.
Here you can learn all about the history of medieval armor and learn a few trade skills from local artisans.

The most picturesque time to visit is during dusk when the sky transforms into shades of orange, blue and purple.

Aichi Pref. Kiyosushi Asahi Shiroyashiki 1-1

0524097330

9:00-16:30(Last entry16:15)

View All