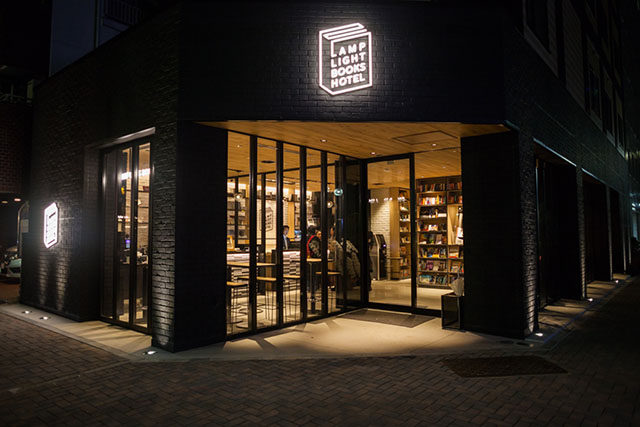 Located in the city of Nagoya sits a book lover's ultimate dream, Lamplight Books Hotel Nagoya, it's a hotel, 24-hour bookstore and café (which is also open to non-staying guests). If you've ever dreamed of living inside a bookstore here's your chance.
Stay at Lamplight Books Hotel Nagoya

The hotel and store were born from the concept that the act of reading is in itself like a journey. Losing yourself in new worlds, meeting new characters and coming out the other side a slightly changed person, reading and travelling are essentially two different although very similar life-affirming actions.

Stay at Lamplight Books Hotel Nagoya

Even if you've already booked accommodation for your stay in Nagoya, be sure to put aside a little time to visit this incredible store. However, if you haven't planned on a place to stay, it's definitely worth considering a night or two here, curled up, surrounded by endless shelves of stories waiting to be discovered.

Stay at Lamplight Books Hotel Nagoya

Upon arrival, you can choose a book from the store's large selection of multilingual offerings, before heading up to the guest rooms, which have been specifically designed for reading. Inside the specially crafted reading-focused rooms you'll find dimmable lighting, stylish reading lamps, and sofas with ottomans, all combining to create the ultimate in literary comfort. The hotel offers single, double, and twin rooms in both standard and 'moderate' versions, the latter of which are slightly bigger.

Stay at Lamplight Books Hotel Nagoya

Although the hotel is located in the center of the city, the hotel's location overlooking the verdant Shimozono Park offers a naturally peaceful atmosphere, while still being close to all the nearby action. It's a 10 minute walk from Fushimi Station on one side and a 15 minute walk to central Nagoya and Nagoya Station on the other, making it a perfect place to set up home base while spending a few days exploring everything this vibrant city has to offer.

Stay at Lamplight Books Hotel Nagoya

After spending the day trekking through the city, or if you're up early and have a little time to spare before you catch your train, be sure to make your way here to peruse the selection, and flick through your latest purchase over a coffee, tea, or quick snack. On the menu you'll find a variety of different western influenced, café style offerings like toasted sandwiches and salads as well as cakes and other cute desserts. A great place to unwind after a long day of travelling, Lamplight Books Hotel is the literary home away from home.