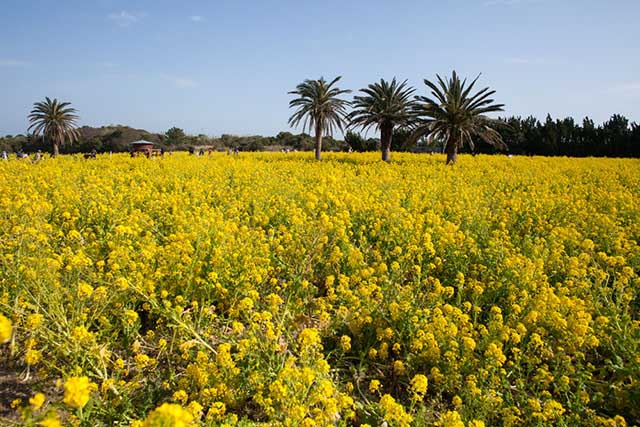 On the other side of the Ise Bay from Mie Prefecture, Aichi Prefecture is a melting pot of cultural sights and outdoor activities. This geographically diverse area has rolling hills, craggy mountains, luscious forests, and sandy beaches, so it's a unique area with a lot of options for adventurous travelers.

For visitors interested in the natural sights of Aichi, there are a lot of places to see. Mt. Horaiji is designated as a precious natural monument of Japan. Dense forests of cypress and cedar trees cover the area around Horaiji temple halfway up the mountain. The temple was built in the early 8th century and visitors can enjoy a hike through the beautiful forest and walk up 1425 steps to reach the temple.

Aichi Prefecture also has some of Japan's most beautiful castles. Nagoya Castle was built in the early 17th century and remained largely undamaged until the allied bombings of Nagoya in 1945. Inuyama Castle is a beautiful structure that overlooks a river lined with cherry blossoms. This castle has been well preserved and restorations have strived to maintain authenticity. Just north of Nagoya, Kiyosu Castle was rebuilt in 1989 as a recreation of a classic 15th century castle that was destroyed in the 17th century. Its stones were actually removed and used for the construction of Nagoya Castle.

To enjoy a day on the beach, there are plenty of options. From Kowa Station, travelers can take a boat to Himakajima, an island off the coast of Nagoya that has quickly become a hot destination for people wanting to get away for the weekend. This area is known for its delicious seafood, cycling, and scenic beachfronts. For a quieter beach, Koijigahama is a great place to visit. Surrounded by tree-covered hills, this stretch of beach is located at the tip of the Tahara Peninsula. This beach is perfect for enjoying the crashing waves in near silence, since it's quite out of the way.

There are plenty of interesting museums in the area as well. The Meiji-mura Museum is an outdoor museum that preserves buildings from the Meiji Period. The buildings in this open-air museum were actually relocated to this location in order to preserve the unique architecture from the period, when Western architecture first began to influence Japanese architecture. Many of the buildings from this period were destroyed, so this is a unique opportunity to see a snapshot of Japan from the late 19th to the early 20th century. Another interesting museum worth visiting is the Toyota Commemorative Museum of Industry and Technology. Along with classic Toyota models, this museum also has classic cars from around the world on display.