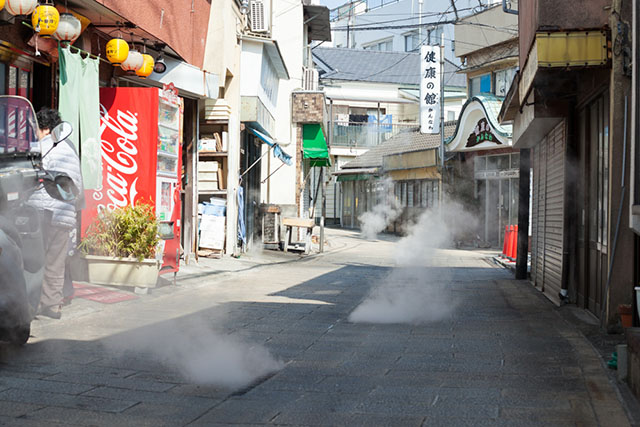 Oita Prefecture is particularly famous for its many hot springs, and Beppu is a great place to see what the prefecture has to offer. Beppu's Kannawa Onsen is one of the most popular areas thanks to its many affordable onsen houses. This unforgettable neighborhood is a series of winding alleys covered with thick clouds of white steam rising from the drains that channel the water to the nearby onsen houses. This is an ideal spot to start your morning or relax after a day of exploring.

Kannawa Onsen - The Hottest Place in Beppu

The history of the Kannawa Onsen area started in the 13th century, when a Buddhist monk cultivated the area. Since the water in this area runs relatively close to the surface of the ground, this was a particularly dangerous place to walk around and a misstep could result in a rather painful death. It took years to create the foundations of what now stands as a thriving onsen destination.

Kannawa Onsen - The Hottest Place in Beppu

Kannawa Onsen refers to the source of the water, not to an individual bathhouse. The neighborhood above the onsen has multiple bathhouses to choose from that vary in style and price. Many of the onsen houses in the area don't actually have attendants. If you should visit one of the bathhouses with no attendant, they usually have a box where you can deposit money. These kinds of places are usually very cheap and only ask that you leave 100-200 yen. Keep in mind that not every place you visit will have lockers or even a place to leave stuff while you're bathing, so it's best to leave valuables at the place you're staying.

Kannawa Onsen - The Hottest Place in Beppu

There are a lot of ways to enjoy the Kannawa Onsen neighborhood. You can opt for one of the cheap bathhouses for a communal bathing experience, but you can also rent private baths for a relatively low price. Most of the baths will be separated by gender unless you choose to rent a private area. One popular place among tourists is the Hyotan Hot Springs, which has received 3 Michelin stars for its outstanding facilities. Their beautiful, private baths are a little expensive, at 2,150 yen for up to three adults, but there are many places that will rent out private baths for less.

Kannawa Onsen - The Hottest Place in Beppu

There are also some unique dining options available in the area. With all the steam generated by the hot springs, it's no wonder that people developed a way to cook with it. This style of cooking is called "jigokumushi," which literally translates to "hell steaming." There are several restaurants that specialize in this style of cooking. For example, jigokumushi Kobo lets you buy food and steam it at your table. There are street vendors that sell other steamed treats, like pork dumplings, sweet potatoes, and pudding.

Kannawa Onsen - The Hottest Place in Beppu

To get to Kannawa Onsen, you can either walk toward the steam, which can be seen from a distance, or it's probably just faster to take a bus from Beppu Station to the Kannawa bus stop. The Kamenoi Bus from Beppu Station takes about 25 minutes on bus lines 2, 5, and 7. The neighborhood generally gets pretty quiet after the buses stop running; so unless you're staying in the area, it's best to head back to your hotel by 9pm.