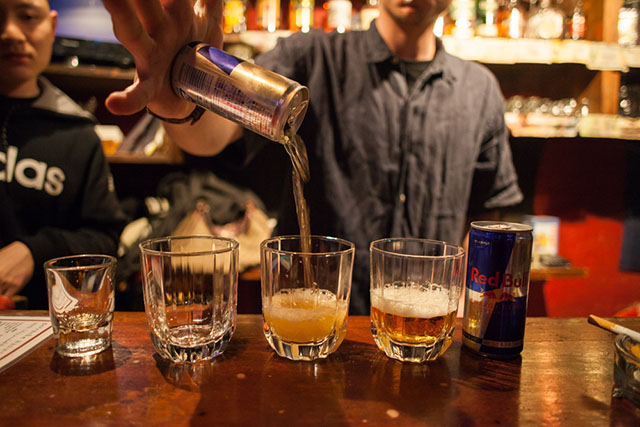 Beppu often gets the reputation of being a sleepy town, but you just need to look in the right places. There are a lot of great bars and dining experiences to be had after hours if you know where to go.
Bepperz

Before heading out for a night on the town, Bepperz is great place to grab dinner and drink. They have a few different menu items to choose from. Their specialty is their reimen noodles, which are served in a cold broth, similar to Korean naengmyeon. The noodles are topped with an egg, slices of pork belly, and a little bit of kimchi. Bepperz also specializes in toriten, a fried chicken dish prepared in the tempura style.

02

Izakaya Pubs on Yasaka Street

Izakaya Pubs on Yasaka Street

Izakaya pubs are an integral part of Japanese nightlife. Not only do they offer cheap beer, whisky, and sake, they are also known for their expansive menus that contain just about any kind of dish you can imagine. Yasaka Street in Beppu is home to many izakaya pubs, so you can try a few to find the right atmosphere for you.

One of the most popular dishes served in izakaya restaurants is yakitori, a chicken dish cooked on a stick over hot coals while being brushed with various sauces. Izakaya pubs usually have things like yakitori, sushi, pizza, pasta, and salad on their menus, but they also tend to have a few interesting (or "challenging") items as well, such as cartilage and tendon, for those with more adventurous tastes.

P.E.I. Pub

While this bar isn't technically located in Beppu, it's worth mentioning and it's close enough to visit. P.E.I. Pub is easily the most popular expat bar in the area thanks to its lively environment and activities. If you're in town, you could stop by for their trivia night, Salsa dancing, or DJ dance club night. This is the place to go if you're looking for a Western-style bar where you can just order a beer without needing to buy food on the side, as is common in most Japanese bars.

Sol Paseo Ginza

Most neighborhoods in Japan have a "ginza" area, which is usually a covered street packed with shops and restaurants; they're often some of the liveliest places around. Sol Paseo Ginza is unique because of its vintage style. Many of the shops look like they were transported from 60 years ago. You can find restaurants for ramen, toriten, yakitori, and more. There are also a ton of izakaya pubs for you if you feel like having a drink. Sol Paseo Ginza is located just a short walk from Beppu Station.

Motomachi

Sol Paseo Ginza is inside the larger Motomachi area. This is the center of nightlife around Beppu Station, with dozens of restaurants and bars. If you're not sure where to spend a night out in Beppu, you can just walk around this area and you'll be sure to find something interesting. From izakaya pubs to Western-style cocktail bars, this neighborhood is a great place to go for a drink with friends.