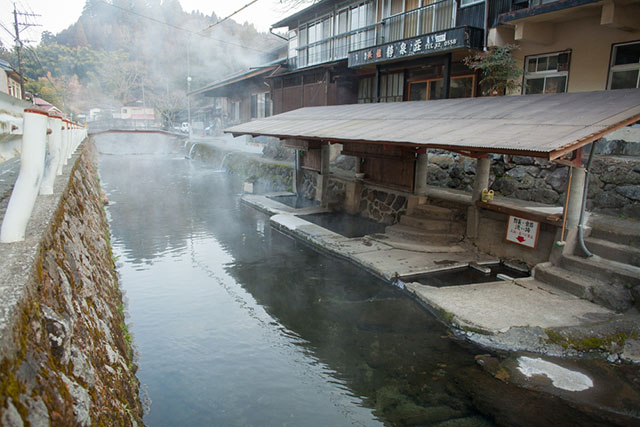 Nestled tight in one of the northernmost corners of Kumamoto Prefecture sits Minamioguni, a humble pocket of Japan that's well and truly punching above its weight in terms of history, culture, and stunning natural beauty. Although you may not find a lot of information about the place online, that's part of its charm. Like a well-kept local secret the best way to learn about this laid-back onsen-populated town is to get out there and discover it for yourself.

Since the beginning of Minamioguni's history, it's long been a popular local hot spring hotspot. The most famous in the area is Kurokawa Onsen, home to a number of ryokan inns, and a selection of atmospheric traditional baths. For something a little more unique, make a beeline to Kawayu Onsen, located along the Oto River. Sitting on the north side of the river you'll find a selection of traditional ryokans (inns), minshukus (bed and breakfasts), and more contemporary hotels.

While in the area, keep an eye out for the very special, Kyodoyu and Kawayu onsens located along the Manganji River. Run by the local community, these baths are not for the bashful. Sitting right on the river, the open air baths offer incredible scenic views, but be warned, they are completely open, meaning you can also be spotted bathing from the other side of the river. If you're feeling confident, just throw 200 yen into the into the coin collection box and enjoy the natural hot spring water that flows from the bottom of the tub.

Beyond the baths, head to Minamioguni's highland to discover the natural power and beauty of the place. Also colloquially known as the 'husband and wife' waterfalls, the legendary Meoto Falls are located just outside Kurokawa Onsen. Here you'll find two adjacent waterfalls facing each other, meeting together in the river. The locals say that these falls are symbolic of true love, making the area a popular place for couples, and those looking for a little extra romantic luck.

Located not too far away you'll find Mazeno Gorge, an untouched natural reserve with a gushing river and lush overgrown foliage creating an almost ceiling like barrier between you and the sky. Filled with local flora and fauna this little pocket of Minamioguni completely transforms with the passing seasonal colors.

Minamioguni also has its own unique traditional art forms including Yoshiwara Kagura, which is a sacred music and dance performance that's been passed down from generation to generation. For a real 'taste' of Minamioguni, you have to try 'doburoku' a local home-brewed version of sake the locals once called 'kusu' or in English 'medicine'. A yeasty brew rich in enzymes, it's claimed to be a very nutritious, unless you drink too much. Whether you're making a day trip from Kumamoto City, or planning a weekend retreat, you'll find plenty to keep you amazed, entertained and inspired here in this still relatively secret town of Minamioguni.

The most direct way to get to the area from Kumamoto Station via public transport is to catch the bus heading to Beppu Station (別府駅前本町行) and get off at Kurokawa Onsen (黒川温泉), the bus takes around three house and costs 2,500 yen each way. Alternatively you can take the JR Hohi Line heading to Higo-Ozu and switch to the Beppu bus at Higo-Ozu Station, if your times like up this will take about two and half hours. If travelling by car from Kumamoto head out on Industrial Road, Route 57, the trip will take around two hours.