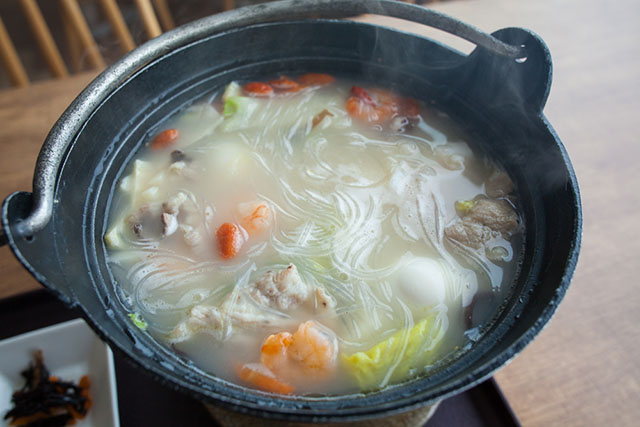 Kumamoto prefecture definitely doesn't lack culinary diversity. With its friendly climate, it's home to a broad selection of fruits, and vegetables like the popular karashi renkon and sweet mikan. If you're chasing something a little more unique then you can't go wrong with a little basashi (raw) horsemeat sushi, or thick, chewy kikurage mushrooms. Here's a guide to getting a real taste of Kumamoto.
Karashi Renkon

A popular Kyushu specialty, karashi renkon is a textually interesting and powerful tasting fried lotus root filled with mustard and miso paste. Typically eaten with rice, it's said the origins of the dish go back to the Edo-era. When the powerful Japanese samurai Hosokawa Tadatoshi was suffering from illness, a monk by the name of Gentaku presented the dish as a way to help the lord overcome his sickness. The cross section of the lotus root looks a lot like the Hosokawas' family crest.

02

Kikurage from Kamata Miso and Soy Sauce Brewery

Kikurage from Kamata Miso and Soy Sauce Brewery

Although its name translates to 'rough-hair-tree-jellyfish' kikurage is a large Japanese mushroom, typically known as a wood ear mushroom in English. A popular staple of many Japanese and Chinese dishes, these mountain-grown mushrooms are as delicious as they are ugly. Thick and velvety, they're typically sold in dry form, then rehydrated and added to soups and stir-fries. It's said the mushrooms are jam packed with health benefits including iron, and fiber, so if you visit the Kamata Miso and Soy Sauce Brewery, be sure to pick up a bag.

Ikinari Dango

For something a little sweeter, be sure to sample Kumamoto's most iconic local snack, the anko (red bean paste) and sweet potato filled ikinari dango, a sweet, chunky, comfort food style desert dumpling. Easily made, though incredibly delicious, these dumplings can be picked up (hot in winter) from number of food vendors and omiyage stores that are dotted around Kumamoto's streets.

Fruits

Kumamoto's favorable climate lends itself to the production of a broad selection of diverse fruits and vegetables you have to try when you're in the area. There are a number of fruit picking farms dotted across the prefecture offering strawberries, grapes, pears, peaches and everything in between. One local favorite is the mikan, a Japanese orange that's sweet, juicy and easy to peel. The best time to try them is in the earlier winter months.

Basashi Horse Meat

One for the slightly more adventurous diner, basashi (raw) horsemeat, also known as sakura nikku (cherry blossom meat) is a Kumamoto delicacy you have to add to your culinary itinerary. There are a number of theories speculating on how the meat became popular. Some say it was originally eaten by samurai who were trapped inside a castle during a battle, while other suspect that the improvement in transportation meant that horses were no longer as useful, one thing is certain is that Kumamoto's basashi is world class, so if you're going to taste it anywhere, it should be here. Typically enjoyed with soy sauce, ginger and garlic, this marbled meat is also commonly served as sushi. It's low in fat and high in protein, zinc, and iron making it a healthier alternative to pork and beef.

Kumamoto Ramen

Don't leave Kumamoto without trying the rich, hearty local ramen that is Kumamoto ramen. The origins of the popular noodle soup are said to have connections to Fukuoka Prefecture, the home of tonkotsu (pork bone) ramen. A little different to its predecessor however, Kumamoto ramen is typically a pork-based, garlic heavy, thick noodle dish featuring chewy kikurage, fried garlic and slick garlic oil.