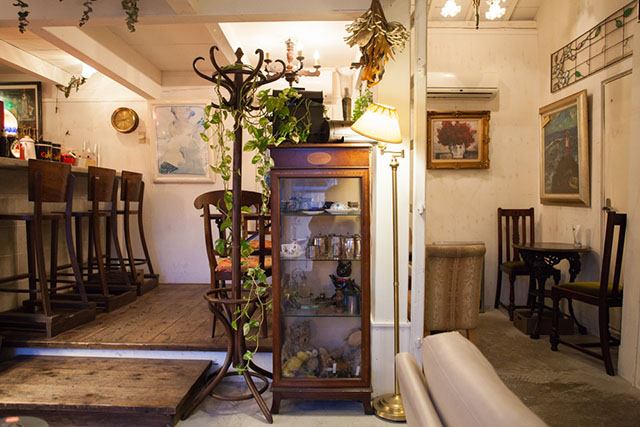 After taking a nice long look at the beauty of Wakaura Bay from the top of Takozurushi Mountain, it's time to settle down in a cafe. Lucky for you and I, Wakayama's Wakaura Bay has plenty of quiet and nonchalant cafes for you to rest. In this article, we'll be going over a few of these cafes oozing with charm.
Lierre

If you enjoy eating in nature, Lierre awaits. This cafe draws visitors solely for it's serene Japanese garden outside its window. While you bite in to your crispy waffle and sip your rich coffee, you'll be able to relax knowing you made the right choice.

Lierre

Inside this 120-year old villa that's persisted in a neighborhood hailing from the Meiji Period, you'll find an array of different waffles. Created from a blend of five different wheat varieties from Hokkaido, Lierre's crispy waffles are topped with locally picked fruit, candied plum, and a variety of Japanese confectionaries. Do yourself a favor and drop by Cafe Lierre to scoop up some crispy delights and fine green viewing.

純喫茶リエール

和歌山県和歌山市和歌浦中3-5-5

0734998698

View All

Suhanefu Café

Inside Suhanefu Cafe, besides your typical pastries and coffee options, you will notice a model train making its way around the inside of the shop. Complete with train-themed walls and plates, if you're a train fan, you'll feel right at home.

In addition to the cafe food, their menu is focused on pork donburi. Including at least ten different types of pork donburi they also have kimchi options. The wasabi shoyu prok donburi is a particular favorite. With a perfect amount of saltiness, you leave this cafe with a full stomach.

Suhanefu Café

But not only full on a physical level, but also, full with the views. Outside on the terrace, you can get a great view of the harbor. What's not to like about a comfy cafe that fills your stomach and spirit?

4.5

6 Reviews

Wakayama Wakayama-shi Saikazaki 1827-1

0734887223

12:00-23:00

View All

Le Vogue 1008

When you're itching for some European themed cafe life, then head on over to Le Vogue 1008. Their French-inspired setting plunges you deep inside a pool of European elegance. With plenty of lunch time teas and cakes, you'll find plenty of options for that mid-day stomach pang. Their regular cake set is a hit.

Le Vogue 1008

They also offer non-alcoholic cocktails at night. And if you're feeling hungry, they have many a dinner option ready to fill you your gut, including tapas, pasta and pizza. No matter the shame of eating dinner at a cafe. Le Vogue 1008 is hidden away next to the bay emboding a quaintness and quiet unlike any Starbucks in the city.



When you're in Wakaura Bay, you'll find the scenery and nature goregous. And what's better than enjoying magnificent surroundings with some organ-warming coffee and delicious pasteries? The cafes we recommended in this article are worth your time. Because we all know we don't go out to eat just for the food! Atmosphere matters and these cafes don't disappoint. Whether you're looking for a traditional Japanese garden or the swirling waters of a fishing harbor, Wakaura Bay beckons.