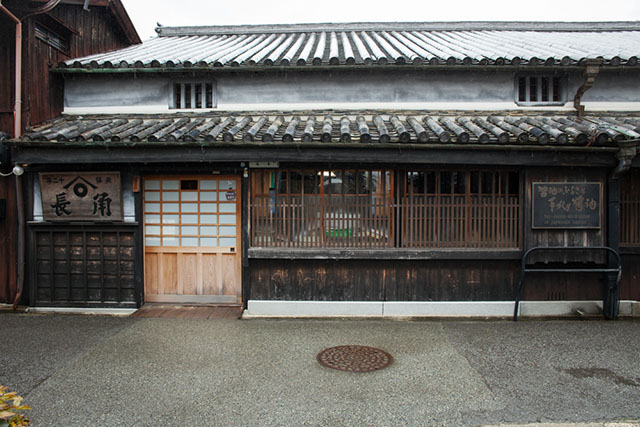 Shoyu, or soy sauce, the rich brown condiment essential to Japanese cuisine and now consumed the world over, has its origins in Yuasa, a small town on the eastern coast of Wakayama Prefecture. Legend has it that the 13th century Zen Buddhist monk Shinichi Kakushin discovered soy sauce by accident while making kinzanji miso, a type of bean paste. Yuasa was chosen for its water, which has a mineral content ideally suited to the manufacture of soy sauce.
Kadocho Soy Sauce Factory

Soon, Yuasa was pioneering methods solely for the manufacture of soy sauce, with mass production the eventual outcome. The industry boomed in the 17th century with over 90 factories in operation throughout the town.

Today, Yuasa is a shell of its former self, with charming streets of timeworn houses, factories and warehouses but only four surviving soy sauce producers. One of these is Kadocho, which still manufactures its sauce using traditional techniques.

Kadocho Soy Sauce Factory

Since it began production in 1841, the Kadocho soy sauce factory has used the same Yoshino cedar barrels and the same labor-intensive process to mix and ferment its soy sauce. Although visitors are not allowed into the factory itself, there is a museum housed in an old building next door that shows how the soy sauce was and is still made. There is an extensive display of equipment and tools used in this process as well as records dating back well over a century.

Kadocho Soy Sauce Factory

Visitors are also encouraged to visit Kadocho's shiryokan, a new building close by that contains a wide array of authentic implements as well as dioramas that show the soy sauce brewing process. The museums are free of charge but close for lunch between 12 noon and 1pm.

Kadocho Soy Sauce Factory

At the shiryokan there is an accompanying 10-minute video that explains the process. It is of some interest even if you don't speak Japanese. The process of making soy sauce is relatively simple as there are few ingredients: beans, wheat, salt, water and a fermentation starter known as koji. The soybeans are boiled and then mixed with equal amounts of roasted wheat. The koji and salt are then added to begin the brewing process. Once the mixture has full fermented, it is placed in cloth-lined containers and pressed. The resulting soy sauce is pasteurized and then bottled or left to age.

Kadocho Soy Sauce Factory

No visit to an artisanal factory is complete without some souvenir shopping. Kadocho boasts two stores, both of which sell a variety of beautifully packaged handmade soy sauce. Kadocho sauce is a perfect match for sushi, sashimi, grilled fish and cooked vegetables. However, it can also be added to salad dressing or soup to deepen the flavor. Gift sets start at around 1,500 yen for a 300ml bottle of three-year-old sauce. Both stores are open from 9am to 5pm.

Kadocho Soy Sauce Factory

With your newly acquired knowledge of soy sauce, you can spend the rest of the day wandering through old shoyu factory district, which is lined with exquisite wooden buildings dating back to the Edo era and now designated protected cultural properties. Don't forget your camera.

By train, Yuasa is less than an hour's ride from Wakayama Station on the JR Kinokuni Line. The Kadocho soy sauce factory is a 15-minute walk from the station. Taxis are readily available.