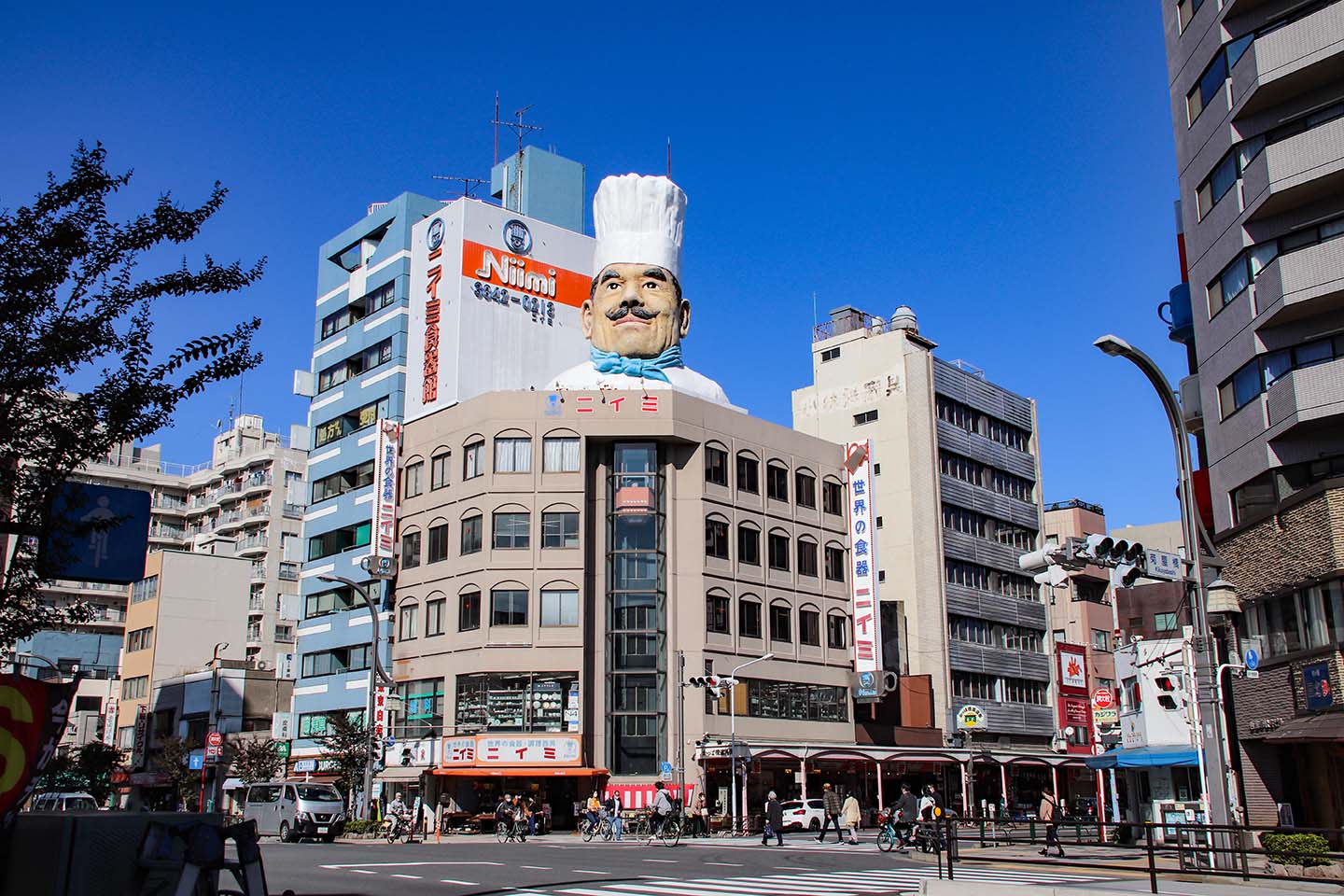 Tucked between Ueno and Asakusa at the foot of Sky Tree is the century old Kappabashi Street, or popularly known as Kitchenware Town. This street full of downtown vibes is a place that is almost entirely dedicated to shops with dishes, pots, pans, cooking utensils, tables, chairs, signs, lanterns and more. About 170 stores line the street for 800 meters and have been attracting not just the chefs and restaurant owners but also locals and tourists who come to stock up on artisan kitchenware.
Kappabashi is said to have been named after Kihachi Kappaya, who maintained the canals in this area during the Bunka era (1804-1818). His grave is located at Sogenji Temple (commonly known as Kappadera) along Kappabashi Hondori Street. And Kappabashi Street was said to have begun around 1912, when several merchants opened their shops here selling old tools and a wide range of implements and hardwares. In the fall of 2003, to commemorate the 90th anniversary of Kappabashi Street, a statue of Kappa Taro was set up at pocket park, a park sandwiched between two buildings on the corner of an Kappabashi intersection.

Seeing the slow progress of the maintenance of the canals due to frequent flooding from rainfalls, there is a theory that Kawataro Kappa (whose real name is Kihachi Kappaya) who was working on the maintenance was helped by kappa (mythical "river child", an aquatic reptilian humanoids who inhabit the rivers and streams found all over Japan). And for some reason, people who saw the kappa got lucky and their business prospered. To believe this theory or not depends on one's thinking, but seeing this golden statue of kappa may bring such good luck.

02

What are they selling ?

Kappabashi street sells almost everything related to kitchen and food industry from both personal to professional use and includes both Japanese and Western styles and some even Chinese styles. Some are unfamiliar to many of the visitors and locals alike and just watching and guessing what they are is quite fun while strolling around on this street.

Walls and shelves full of plates

Renowned for their sharpness and resilience, many locals and tourists take a visit to find their perfect Japanese knives ranging in different brands to prices. Because there are dozens of knife shops, it's hard to find the perfect match in just a day. Some stores like Tsubaya, Kamata and Kamaasa who are used to dealing with foreign customers are a shop to consider to take a visit. From stainless to carbon to different blade shapes, to buy or not, by looking at all these different knives at one place is mesmerizing.

Knives kneatly sorted by category

Trained staff sharpening the knife

Top quality knives on display

Knives, dishes and other kitchenware are just part of what attracts the visitors. There are countless food samples and each of these shops has its own specialities and unique features. From the standard sushi to more complicated dishes that you see in front of the restaurants and cafes, there are infinite kinds of food samples that can be found on this Kappabashi street.

Standard food samples of sushi

Different sample dishes on display

Aside from kitchenware, Kappabashi Street is also home to seasonings of different cuisines. However, these seasonings are targeted for restaurants owners and chefs and so the container is huge in terms of volume.

Alley of shelves filled with different seasonings from different brands

The street has been going through changes with more openings of new shops that are more modern looking from its exterior. And it's getting harder to distinguish a shop with great history. One would be Majimaya, the branch shop of Japan's oldest confectionery tool shop, located around Mansei Bridge in Kanda dedicated to selling confectionery tools. Its tower of 1000 cookie cutters in the middle of the shop is one breathtaking view. In addition to their original line, they sell products made in collaboration with chefs and major brands.

Tower of 1000 cookie cutters

Cookie cutter in a shape of a weasel

Majimaya

There are many more goods that can make good souvenirs like chopstick rests in a variety of unique shapes to Japanese cheap snacks called "dagashi" to tawashi scrubbing brushes. These tawashi scrubbing brushes, for example the ones sold at Kanaya Brush are especially handcrafted by craftsmen and have a great quality. The ones shaped in turtle, rabbit and crocodile which are on display are not for sale, because they are one of the last ones left in the world due to the passing of the craftsman.

Turtle shaped tawashi scrubbing brush (not for sale) at Kanaya Brush

Shelves filled with snacks at Kawara Shoten

03

Unique Photo Spot & Sky Tree

Many who visit Kappabashi Street are too busy to look down for an alley of kitchenware that is attractive. However, starting with the big statute of a chef on the roof at the entrance of Kappabashi Street, visitors will encounter many interesting statues and signboards if you look up more. Plus, from one alley, the whole view of Sky Tree can be seen. From shopping to photo opportunities, this street can be enjoyed in many ways.

The closest station to Kappbabashi Street is Tawaramachi Station on the Exit3 Ginza Line (subway). Once you get up the stair, turn back and its just a few minutes walk.