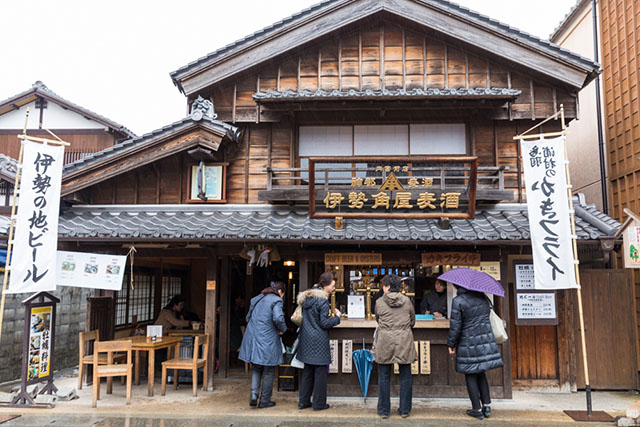 Ise City is most typically known for being home to one of Japan's most sacred Shinto shrines, however when it comes to culinary efforts, this pocket of Mie is an excellent place to explore some of the area's most traditional and eclectic culinary delights. From classic mochi sweets to internationally influenced cuisine, you'll never run out of things to eat in Ise.
Misuzu Gyoza

Though it originated in China, gyoza has become a comfort food staple for many people in Japan and of course internationally. If you find yourself in Mie, be sure to check out the Misuzu Gyoza, a local Ise establishment that's been serving up gyoza since 1965. The dumplings are handmade in-store and deciding to focus on substance over style, the menu here is elegantly simple. On offer, you'll find crab croquettes, fried chicken, oden, onigiri and the two main drawcards: fried gyoza and dumpling soup. The store is open from 5pm to midnight every day except Monday. If you do plan to visit, prepare to go early as it packs out pretty fast.

Misuzu Gyoza

ぎょうざの美鈴

三重県伊勢市宮町1-2-17

0596288602

View All

Fukusuke: Ise udon

It'd be a crime to visit Ise without making a stop off at Fukusuke, home to some of Ise's most popular udon, made in the Ise style with very little broth and thick noodles. The dishes here feature thick, perfectly chewy noodles covered with a variety of classic toppings like taro and tempura shrimp, but it's their sauce that draws the crowds. Fukusuke's dipping sauce has been perfected, with a dark broth crafted with natural soy sauce and infused with bonito flakes to create a well-balanced taste that's both complex but not overpowering. Located just a few minutes from Ise Grand Shrine and sitting by the Isuzu River, it's a great place to stop off for lunch when you're exploring the area.

Fukusuke: Ise udon

4.0

191 Reviews

Mie Pref. Iseshi Ujinakanokirichou 52 (Okage Yokochi inside)

0596238807

10:00-17:30(L.O.17:00)※Depe…

View All

03

Bondi-ya International Restaurant

Bondi-ya International Restaurant

If you're after something a little more international and want to get some tips from an imported local, check out Bondi-ya. This is a restaurant serving up self-described "multi-national" dishes with a local Mie touch. The restaurant is named after Sydney's Bondi beach, whose laid-back atmosphere and mix of local and international cultures is what inspired the chef and Bondi-ya owner Pim Wamelink to create this diverse restaurant. The food on offer here is a reflection of Wamelink's culinary career including his time spent here in Japan. Having studied cuisines all over the world, you can expect to see everything from the more exotic Bondi Beach salad to nasi goreng, as well as dishes from closer to home.

ボンダイ屋

三重県伊勢市御薗町新開33-2

0596366667

View All

Akafuku Honten

Akafuku Mochi is one of Ise's most iconic local delicacies. A mochi (rice cake) topped with red bean paste, its unique shape is meant to resemble the Isuzu River which flows through the heart of Ise. The Akafuku Honten teahouse, founded in 1707, was once a popular stop-off for pilgrims making their way to the area to pray to the sun goddess Amaterasu at the Grand Ise Shrine. Today the tea-house is populated by pilgrims of a different kind; tourists and travelers make their way to Akafuku Honten to try Akafuku Mochi, drink tea, and immerse themselves in the history of this impressive classic Japanese building.

Akafuku Honten

4.5

960 Reviews

Mie Pref. Iseshi Ujinakanokirichou 26

0596227000

5:00-17:00 (Hours changed du…

View All

05

Ise Kadoya: Kadoya Brewery

For a taste of more contemporary Ise, be sure to check out the Ise Kadoya microbrewery. Established in 1997, this brewery is small in size, but not in reputation. In 2003, just six years after opening, they won their first international beer award. Since then, the company has continued to craft a diverse selection of both seasonal and regular brews. The brewery also has an onsite beer hall style restaurant, named Biyagura, where guests can sample a selection of beers accompanied with snacks like German sausages and caesar salad, as well as a number of classic Japanese dishes such as edamame and yudofu, an organic silken tofu.