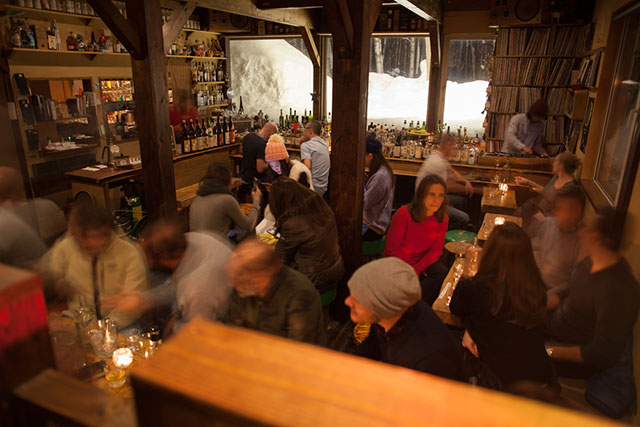 What's a ski vacation without the party? Niseko flips the stereotype of the family-friendly ski slope, with plenty of options in the Hirafu area to spend the night on a post-snow day. There are plenty of options for different nights out. From a laid back mulled wine to all you can drink deals, Niseko has plenty to offer for visitors willing to brave the snow and party into the small hours.
01

Bar Gyu+ (aka The Fridge Door Bar)

Bar Gyu+ (aka The Fridge Door Bar)

Bar Gyu+, also known as The Fridge, is notoriously hard to find but visitors are rewarded with original drinks and chill jazz music. The drinks range from standard cocktails to housemade recipes and rare Japanese whiskies. The bartenders are friendly and happy to give recommendations. The bar is instantly recognizable from their front door, a repurposed refrigerator door. Luckily, the bar is much warmer than a fridge in both temperature and ambiance.
The hours are from 5pm to midnight every day. Bar Gyu is only open in the winter season, from December 1 to March 31. Despite its hidden location, the bar is immensely popular. The best time to grab a seat is before 7pm.

Bar gyu+

北海道虻田郡倶知安町山田167-21

0136-23-1432

View All

Latino Splash

For a more wild night out be sure to party at Latino Splash. Latino Splash is infamous for hosting some of the biggest parties on the slopes. Deals range from 2,500 yen "drink the bar dry" deals to free shots for costumed patrons on St. Patrick's Day. On non-event days the dive bar has pool, darts and club music perfect for partying the night away. The bar is very foreigner friendly with English menus and English-speaking bartenders.

Wild Bill's

Large groups are perfect for the two floor Wild Bill's restaurant and bar. The second floor houses a sit-down restaurant serving local Hokkaido fare, such as sashimi and hot pot, while the bar on the first floor is a large venue providing live music and a livelier crowd. The drinks are affordable with 400 yen beers at happy hour from 4pm to 6pm daily. DJs and bands play after 10pm. Wild Bill's is the most popular bar in Niseko best known for its parties and and drinking deals.

Wild Bill's

Wild Bill's is open daily from 4pm to 2am only in the winter season, and the restaurant is open from 5:30pm to 9:30pm.

Tamashii

Tamashii, or Soul in Japanese, has fare and entertainment for everyone regardless of age. The pub serves breakfast, lunch, dinner and drinks from 8am to midnight. The drinks start in the evening and they provide original concoctions like an espresso martini. The staff is friendly and happy to provide recommendations. Tamashii, like all good Niseko bars, has parties and drink deals ranging from an eighties disco night with a 2 for 1 drink deal to an Australia-themed party, serving Australian beer and hosting a Melbourne-based DJ.

Tamashii

In need of some post alcohol snacks? Food stands and trucks scatter the surrounding area opposite of Tamashii. Quickly grab a cheap snack or dinner before returning to the club or skittering off to the next drinking destination.