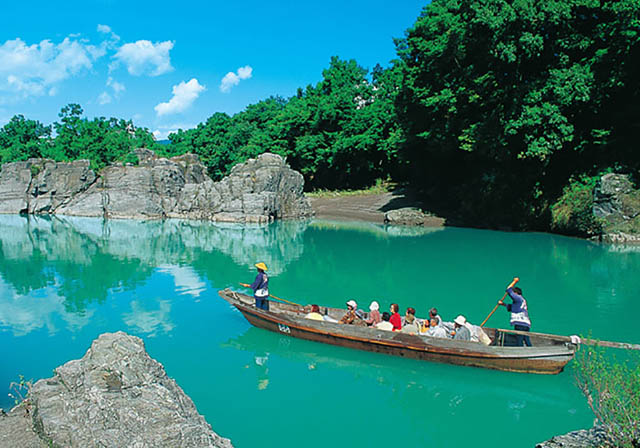 An easy two-hour train trip from central Tokyo lies the tranquil town of Nagatoro, which nestles in the picturesque mountains of Saitama near Chichibu.

It's been designated as a natural park, with a scenic river carving through its heart and the rugged peak of Mount Hodosan rising above, as well as beautiful cherry blossoms and autumn leaves.

So why not jump aboard the Paleo Express, the closest operational steam locomotive to the Tokyo metropolitan area, to discover its rich history and unique culture, as well as some of the region's gourmet specialties.
01

Take advantage of the excellent access from Tokyo

From Ikebukuro to Nagatoro

Nagatoro Station is the gateway to Nagatoro and is located along the Chichibu Main Line, which is served by the Chichibu Railway. It's easily accessible from Tokyo as a day trip, with direct trains departing from Ikebukuro Station along the Chichibu Line at 7:05 am and 8:05 am on weekends and holidays.

Alternatively, you can travel from Ikebukuro Station to Yorii Station on the Tobu Tojo Line (80 minutes), then transfer to the Chichibu Railway and connect to Nagatoro Station (20 minutes).
It's important to be aware that IC cards such as Suica and Pasmo cannot be used on the Chichibu Railway Line.

Japan Journey Planner / Transit Map

02

Arrive at the nostalgic Nagatoro Station

Nagatoro Station

Nagatoro Station has been serving commuters for more than 100 years, with a charming, wooden building and original windows giving it a distinctly retro feel.
It was one of the first stations selected for the "Top 100 Stations in the Kanto Region" list, making it a tourist destination in its own right.
Unique double doors dominate the entrance to the station building while a columnar red post box stands adjacent.

As you exit the station, stop in at the Nagatoro Tourist Information Center on the right-hand side where you can pick up brochures about what to see in Nagatoro and rent bicycles. Also, you can bring your bicycle with you on the Chichibu Railway on weekdays, without having to fold it.
Please check the website for more details.

URL:http://www.chichibu-railway.co.jp/information/cycletrain.html

03

Soak up the valley views on a Nagatoro River rafting trip

Nagatoro River rafting

Nagatoro River rafting

Those looking for a taste of adventure can join a river rafting trip down the Nagatoro River. Operated by skilled boatmen, these fun trips include cruising down calm sections of the river surrounded by beautiful scenery, as well as thrilling sections of river rapids.

If you select Course A, you'll encounter the popular torrent spot of "Kotaki no se", which has been published in various media resources and is also a photogenic rapid to capture.

Nagatoro River Rafting trips operate from early March through to December while heated kotatsu boat cruises are held during the winter months for a more warming experience.

Reservations can be made online or you can purchase tickets at rafting offices near Nagatoro Station on the day.

Nagatoro River White Water Rafting

Saitama Pref. Chichibugunnagatoromachi Nagatoro 489-2

0494660950

View All

04

Enjoy a variety of river activities

River activities

River activities

Aside from rafting down the Natagoro River, there are plenty of other ways you can enjoy this natural waterway, including canoeing, kayaking, and SUP (stand up paddleboarding).

Rentals and guided trips can all be organized at the various operators in Nagatoro, with the option to book online or on the day of arrival.

アムスハウス長瀞ラフティング

埼玉県秩父郡長瀞町中野上560

0494-26-6906

View All

05

Walk, shop and eat in the Nagatoro Iwadatami Dori Shopping District

Iwadatami Dori

Iwadatami Dori

Stretching from Nagatoro Station to the banks of the Arakawa River, the Nagatoro Iwadatami Dori Shopping District centers around a one-kilometer-long street. It's clustered with souvenir stalls and handicraft stores that you can browse, accompanied by the atmosphere of an old-world townscape.

Aside from the shopping opportunities, the district is also home to numerous cafes and eateries, including a soba restaurant where you can dine comfortably inside.
A highlight is Chichibu Local B-class gourmet "miso potato", which features tempura steamed potato with a sweet miso sauce.

Saitama Pref. Chichibugunnagatoromachi Nagatoro

0494660307

Depends on establishment

View All

はやし

埼玉県秩父郡長瀞町長瀞454-1

0494-66-0222

View All

06

Sample Nagatoro's gourmet treats

Teyaki senbei

Marubutsu Nagatoro Raijindo

In addition to sit-down eateries, there are also plenty of places selling local snacks, such as Fukuroya whose specialty is sumanju, a large manju (steamed bun) that's around the size of your palm. It's filled with plenty of anko (red bean paste) that's moderately sweet and complements the saltiness of the steamed bun. Be sure to visit early as it sometimes sells out!

Also not to miss are the teyaki senbei at Marubutsu Nagatoro Raijindo. Their hand-baked senbei (rice crackers) are made by skilled artisans, with a variety of flavors to select from.

4.0

4 Reviews

Saitama Pref. Chichibugunnagatoromachi Nagatoro 806-2

0494660017

9:00-17:00 (until sunset dep…

View All

07

Admire the natural rock formations of Nagatoro Iwadatami

Nagatoro Iwadatami

Nagatoro Iwadatami

Just five minutes on foot from Nagatoro Station takes you to one of Saitama's most spectacular natural wonders - Nagatoro Iwadatami. This beautiful gorge features layers of rocks that are reminiscent of stacks of ancient Japanese tatami mats, hence the name Iwadatami ("rock tatami mat").

They were formed by the large scale movement of the Earth's crust and are visited by scholars from across Japan, with Nagatoro sometimes referred to as "The window of the Earth".

Enjoy a walk along the river banks to admire these layers of flat rock, which have formed natural paths and steps.

Saitama Pref. Chichibugunnagatoromachi Nagatoro

0494663311

View All

Nagatoro et Galet

Nagatoro et Galet

If you need to rest and refuel while exploring Nagatoro, there are numerous cafes where you can grab hot drinks and snacks.

Enjoy some quiet reading time at the Book Cafe Gallery PNB-1253 or head to Otofudokoro Umedaya, which specializes in okara doughnuts made from soy pulp (a byproduct of tofu production).

For something savory, don't miss Nagatoro et Galet, a French-inspired cafe that's famed for its galettes featuring miso-preserved pork sausage.

NAGATORO et GALET

Saitama Pref. Chichibugunnagatoromachi Nagatoro 447

0494-66-0637

View All

Omamefudokoro Umedaya

Saitama Pref. Chichibugunnagatoromachi Nagatoro 268

0494-66-4883

View All

4.5

5 Reviews

Saitama Chichibu-gun Minanomachi Shimotano 1253-1

0494626323

View All

09

Coincide your visit with the changing autumn leaves or cherry blossoms

Autumn leaves

Cherry blossoms

As its name suggests, admiring the autumn leaves is the main activity in Momiji Park, which is just five minutes' walk from Nagatoro Station. It's the most famous "momijigari" spot in Nagatoro and during the autumn season, the leaves are beautifully illuminated at night.

Nagatoro has also been selected as one of Japan's "Top 100 Cherry Blossom Viewing Sites", with over 3,000 cherry trees planted around the town. They bloom between late March and late April, with three peak times for viewing throughout the season due to the different varieties.

Highlights include the 2.5-kilometer-long Kita Sakura Dori and Minami Sakura Dori, which is a popular location for photographing the steam locomotive framed by cherry blossom trees along the approach to Hodosan Shrine.

10

Ride the Paleo Express steam locomotive

Paleo Express steam locomotive

Paleo Express steam locomotive

The Paleo Express is the closest operational steam locomotive to the Tokyo metropolitan area and has been selected as one of Japan's "100 Local Lines" .

It offers magnificent views of the Chichibu Mountains as it makes the journey from Kumagaya Station, with large windows so passengers can enjoy the passing countryside.

The Paleo Express only runs on weekends and holidays, so check the schedule to make sure it's operating during your visit.

We recommend that you opt for one of the non-reserved seats in the car behind the locomotive for the best views of its top.

If you're not riding the Paleo Express, you can photograph the train as it makes its way over the Oyahanabashi Bridge.

URL:http://www.chichibu-railway.co.jp/en/#paleo

Paleo Express steam locomotive

Stream Locomotive the Paleo Express (Chichibu Railway)

Saitama kumagaya city

View All

11

Photograph the Michelin-one-star Hodosan Shrine

Hodosan Shrine

Hodosan Shrine

Awarded one star in the Michelin Green Guide Japan, the Hodosan Chichibu is one of the Chichibu Sansha ("Three Famous Shrines of Chichibu") and is just a 10-minute walk from the station. It's fronted by a large torii gate and framed by beautiful cherry blossom trees that ignite during the spring.

Aside from 20 architectural highlights, visitors come to admire its elaborate sculptures designed to ward off troubles from fire and theft, protect the home, as well as to seek prosperity in business.

If you visit during the autumn (particularly from mid-late November), you can experience the autumn illuminated leaf color.

Hodosan-jinja Shrine

Saitama Pref. Chichibugunnagatoromachi Nagatoro 1828

0494660084

View All

12

Try Japan's best shaved ice shop - Asamireizou

Asamireizou

If you're a fan of shaved ice or visiting during the hot, summer months, then make a point of visiting Asamireizou.

This long-established shaved ice shop uses only natural ice and has garnered a reputation amongst shaved ice fans for being the best in Japan!

Many people travel from outside the prefecture just to try this sweet treat, with its delicious taste and homemade syrups having been commented on by many media sources.
While Asamireizou's shaved ices are not to be missed, you should be prepared for long queues if you're here in the summer!

Asami Reizo Hodosan Trail Shop

Saitama Pref. Chichibugunnagatoromachi Nagatoro 781-4

0494661885

View All

13

Marvel at the starry sky

Marvel at the starry sky

Far from the light pollution of Tokyo, the region surrounding Nagatoro is renowned for its stargazing, particularly during the winter months.
Once the sun sets, you can gaze up at millions of stars shining brightly above, with a clear view of the Milky Way also common.

14

Experience Nagatoro's traditional festivals

Nagatoro's traditional festivals

Nagatoro's traditional festivals

Like many of Japan's towns and cities, Nagatoro loves festivals and numerous celebrations take place throughout the year.

The most famous of these is the Chichibu Yomatsuri ("Chichibu Night Festival"), which is one of the top three float festivals in Japan and has been designated as National Important Intangible Folk Cultural Property.

Other highlights on the yearly calendar include the Nagatoro Fire Festival and the Daruma Ichi ("Daruma Doll Festival"). Also worth visiting is the summer Funadama Festival when around 1,000 lanterns float down the Arakawa River and fireworks are released from the bank opposite Nagatoro Iwadatami.

Read more
Chichibu Matsuri
Japan is famous for its festivals, with almost every town, city and district holding events for all the community to participate in every year. " …

Nagatoro's traditional festivals

Saitama Pref. Chichibugunnagatoromachi Nagatoro

0494663311

View All

15

Camp surrounded by nature

Camp surrounded

Camp surrounded

If you love being immersed in the great outdoors, then why not camp during your stay in Nagatoro.

Around 20 minutes by car from the Kanetsu Expressway and Hanazono Interchange is the Nagatoro Auto Camp, a family-friendly campground that offers a perfect retreat from the hustle and bustle of city life. It's situated on the banks of the Arakawa River, with tent sites, cabins, and popular train carriage cabins available, as well as scenic views of Houraijima Park.

Nagatoro Auto Camping Ground

Saitama Chichibu-gun Nagatoromachi Ido 559-1

0494660640

View All

16

Make your own soba noodles

Make your own soba noodles

Tempura Soba

Nagatoro's restaurants are famed for their use of local produce, including delicious soba noodles made in Chichibu. But if you're not satisfied with just eating them, why not participate in a traditional soba-making experience to create your own.

These thin, brown noodles are made from buckwheat and served in a variety of ways. Nagatoro specializes in soba; a set will typically come with deep-fried vegetables or fresh fish served with soba noodles.

4.0

1 Reviews

Saitama Pref. Chichibugunnagatoromachi Ido 511-1

0494663511

10:00-17:00 (Reservations re…

View All

17

Enjoy the superb views on the Hodosan Ropeway

Enjoy the superb views on the Hodosan Ropeway

Enjoy the superb views on the Hodosan Ropeway

For some of the best views in Nagatoro, ride the Hodosan Ropeway to the Hodosan Shrine Okumiya on the summit of Mount Hodo, with the main shrine located at its base. The journey takes around five minutes and the ropeway is famed for having the oldest aerial lift cabins still in use in the Kanto region.

Only two access the summit every hour but the wait is worth it, with outstanding views during all four seasons.

Aside from the shrine, the summit is also home to a plum garden, a wintersweet garden, and a small zoo.

URL:http://www.chichibu-railway.co.jp/en/nagatoro.html#n02

18

Explore the mysterious, scarecrow-filled village of Kakashi no Sato

Filled village of Kakashi no Sato

Filled village of Kakashi no Sato

Near the terminus of the Chichibu Railway at Mitsumineguchi Station is the historic post town of Kakashi no Sato ("Scarecrow Village").

The first scarecrow was erected around 15 years ago to protect Ayano Tsukimi's vegetable garden. Now there are dozens of scarecrows dotted throughout the village, many of which are based on current or former residents.

While the living population of Kakashi no Sato has declined since the local school was closed a few years ago, the scarecrows are effectively re-populating it…and making it a somewhat quirky tourist attraction!

19

Visit the Former Arai Family Residence

Former Arai Family Residence

History buffs should make a point of visiting this National Important Cultural Property, which is just eight minutes' walk from Nagatoro Station.

Take a step back in time to the Edo period to explore what was once the residence of the village headman, with the building comprising layers of chestnut boards and a shingled roof.

It now operates as a museum detailing the local history and lifestyle of local sericulture (silkworm) farmers.

Former Arai Family Residence

Saitama Pref. Chichibugunnagatoromachi Nagatoro 1164

0494-66-0297

View All

20

Take a step back in time at the Saitama Museum of Natural History

Saitama Museum of Natural History

Saitama Museum of Natural History

Just a four-minute walk from the Chichibu Railway's Kami-Nagatoro Station is the Saitama Museum of Natural History, which details the 300 million year history of the region.
Aside from precious fossils and a large diorama of Saitama's prehistoric forests, the museum also features exhibitions showcasing the living creatures and minerals found in the Saitama Chichibu area.

URL:http://www.shizen.spec.ed.jp/?page_id=477

Saitama Museum of Natural History

Saitama Pref. Chichibugunnagatoromachi Nagatoro 1417-1

0494-66-0404

View All

21

Enjoy a soak at the Matsuri no Yu onsen

Matsuri no Yu onsen

Matsuri no Yu onsen

Before leaving the Nagatoro region, head to Chichibu to bathe in the Matsuri no Yu onsen, which is situated adjacent to Seibu Chichibu Station.
It's been described as an "onsen theme park", with a large number of different hot spring baths, as well as a shopping area where you can purchase local specialties and souvenirs, plus a food court.

Relax in one of the male or female-only baths that are supplied with natural water that's infused with sodium chloride.
A highlight is the second-floor hanamiyu ("flower viewing baths"), which are popular during the cherry blossom season.


Read more
Seibu Chichibu Eki Mae Onsen – Matsuri no Yu
For visitors arriving at Seibu Chichibu station in Saitama Prefecture, there is a new onsen attraction just outside the train station which promises an enjoyable and relaxing day out for people of all ages. " …

Matsuri no Yu onsen

Matsuri no Yu onsen

3.5

85 Reviews

Saitama Pref. Chichibushi Nosakamachi 1-16-15

0494227111

10:00-22:00(Last entry21:30)…

View All