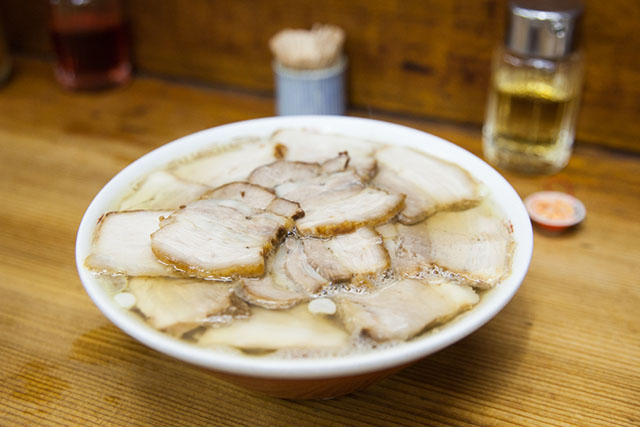 Begin a journey with food. That's how we see it anyway. Fukushima hosts a number of meals you can't find elsewhere. The soft, yet thick ramen noodles and peanut-based sweets are truly one-of-a-kind. Here, we aim to bring you the restaurants and spots that not only fulfilled our hunger but also quenched our thirst for cultural experience.
01

Okuya Peanut Factory Shop

Okuya Peanut Factory Shop

One of the most famous shops in Kitakata, Okuya Peanut Factory Shop specializes in, you guessed it, peanut-based sweets.

Once a staple of Kitakata, peanut-based foods have fallen off. But Okuya Sweets are working to bring the industry back to life. Their peanut soft serve ice cream is their most popular product known for its delightful creaminess.

Fukushima Pref. Kitakatashi Tenmanmae 8930

0120098101

10:00-18:00

View All

Mitsutaya Restaurant

You know any restaurant is hot when there are lines outside. One of Aizuwakamatsu's traditional restaurants, Mitsutaya Restaurant is full on the weekends. And rightly so considering the unique skewers they have.

Established in the Edo period, this restaurant offers skewers donned with dango, mochi, konnyaku, daikon, and many more. These old-fashion snacks are covered with miso paste and cooked in equally old-fashioned coal-fired pits that give a special intimate feel to dining here. It's almost like flying back in time to the artistic and peaceful Edo period.

Make a reservation to ensure you get to experience this time capsule of a restaurant. You can also enjoy tofu, vegetables and fish if the unique skewers don't do it for you.

4.5

88 Reviews

Fukushima Pref. Aiduwakamatsushi Omachi 1-1-25

0242271345

10:30-16:30(L.O.16:20)

View All

Kura Cafe

Speaking of time travel, Kura Cafe offers a journey back to the Showa Era. The owner of this Aizuwakamatsu cafe also runs Natsukashi Antiques, which displays collections of Showa Era pieces. Although heavily decorated, this never feels overwhelming. In fact, the log cabin remains absolutely cozy. Which is important when warming your muscles with their delicious curry.

Inawashiro beer hall

Across from the Noguchi Hideyo Museum, the Inawashiro Beer Hall is waiting for you to sit down with a beer and chill. With Mt. Bandai in the distance beckoning you to contemplate your journey thus far, you'll enjoy the German-style beer hall with visitors from around the world. Just remember to get there with enough time to spare as they close earlier than most drinking establishments, most days at 18:00.

Fukushima Pref. Yamaguninawashiromachi Mitsuwa Murahigashi 85

0120727472

10:00-16:00(depending on the…

View All

Bannai Ramen

Kitakata city prides itself on its dedication to ramen. Bannai Ramen, too, takes this responsibility seriously. Above you can see that their bowl of ramen is covered in chashu or pork belly. This heavy bowl is our recommendation when dropping by. Especially considering Kitakata's unique thick and wavy noodles that seemingly melt down your throat.

With staff members showing love to any and all nationalities, it's no wonder that there are long lines on the weekends. Get here early to dig into their hunger-crushing bowls of ramen.

We've brought you some of our favorite spots around Fukushima to delve into food culture. From thick and wavy ramen to a slow beer while watching the subtle power of a mountain, you'll find yourself indulging in not only the food but also the atmosphere of each respective establishment. Don't hesitate to chat to the locals and find out more about what makes these meals so special to the region. Enjoy your food journey.