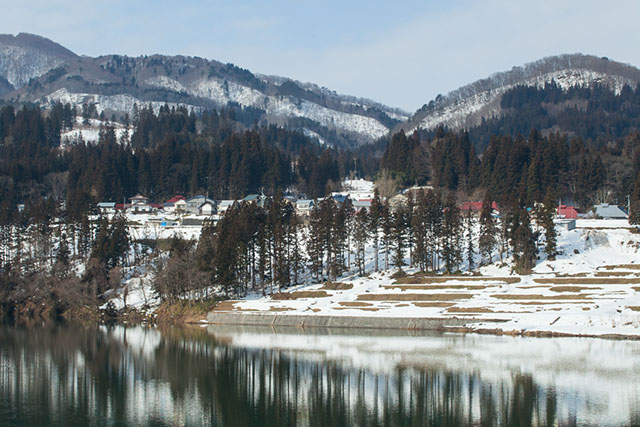 Fukushima has more than what the news portrays it as. There is boundless nature awaiting. And inside these nature spots sit wonderful massive lakes like Inawashiro Lake and economic epicenters like Koriyama City. Whatever you're looking for, Fukushima is sure to deliver.
Are you looking for a mountainous escape? Then Yanaizu Town is for you. Located in the western area of Fukushima prefecture, Yanaizu Town is surrounded by mountains with the Tadami River running directly through it. You will feel completely in tune with nature in this town.

While inhaling the bountiful nature, you can visit the ancient shrine of Enzoji, that is said to be over 1000 years old. From atop this ancient cliff, you can see the river and take in the rest of the wide landscape. Afterwards, why not treat yourself to some sweets at Koike Manjyu? They'll provide a contrasting, but delightful experience with their elegant sweetness juxtaposed against the natural background.

With Mishima Town and their crafts museum located about a 15 minute drive from Yanaizu Town, you have no reason not to make this scenic trip. Along the way you're sure to run into some great spots to catch the Tadami Line train makes its journey through the mountains.

Ouchijuku

About 30 minutes from Aizuwakamatsu, Ouchijuku is great for a short visit. Known for its thatched roof houses along gravel roads, there is a quaint countryside feel to the town. Add to that the shrine hidden in the woods, and a sense of mystery begins to emerge. You can ride these waves of energy and escape from the cluttered city life that might draw other tourists to its relentless rhythm.

Ouchijuku

As you enjoy your rustic tour, you will pass the Japanese pickles sold in some of the houses as well as a small museum showcasing how life used to be in the area. You are sure to get a taste for the area through these avenues. In a couple of hours you will feel full of a lightness hard to find elsewhere.

Fukushima Pref. Minamiaidugunshimogoumachi Ouchi Yamamoto

0241683611

Free walk

View All

Koriyama City

If you get hungry for culture, we recommend stopping by Koriyama City. As the "economic center of Fukushima" It is the biggest city in Fukushima boasting about 350,000 people. Considering this, they have the most resources to develop and maintain places like the 21st Century Memorial Park, the Kaisekan where one can view the history of infrastructure in the city, and the Space Park.

With a number of festivals throughout the year and nature events focused on mountain climbing and flower appreciation, you will never find yourself idle. Not to mention it is home to the highest planetarium as awarded by Guinness World Records.

Iwaki

It's National Treasure time. Iwaki is the only location in the prefecture to be graced with the title for Shiramizu Amida-do, the temple known for its Heian style design. Home also to the Spa Hawaiians Resort, the area is full of natural beauty ready and waiting for people to appreciate.

Although the number of visitors to the area has declined after the earthquake and tsunami in 2011, the wildlife and natural setting still bring people from all over. You might find other visitors appreciating the environment with bird watching.

Fukushima Pref. Iwakishi Uchigoushiramizumachi Hirohata 219

0246267008

[Apr.- Oct.]8:30-16:00(Last …

View All

Inawashiro Lake

This body of water is the biggest lake in Fukushima prefecture and has a great view of Mount Bandai. Nearby, you can find a craft beer museum, resorts and camping grounds that consistently bring the large summer crowds. If you're looking for some enlightenment, you can get a dose of science at the Noguchi Hideyo Museum.

When you visit Fukushima, you certainly won't run out of places to visit. Especially if you are looking to be inundated with nature. Mount Bandai and Spa Hawaiians Resort are only a couple of the places that await your visit.