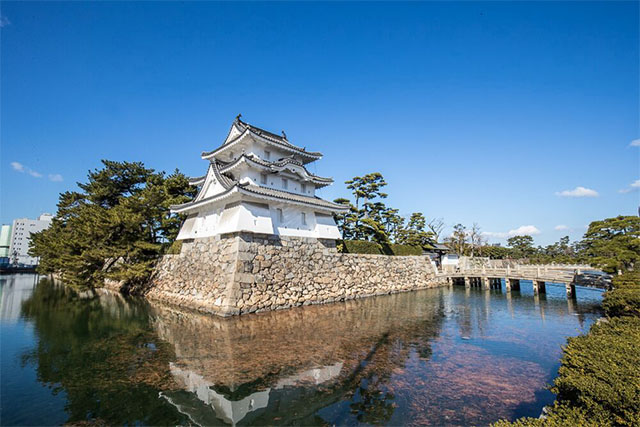 With so much to see and do in Takamatsu, our itinerary begins with the most demanding part first, making the rest of the day quite literally a downhill-all-the-way, leisurely saunter. Start in the morning by walking uphill to the flat, roof-like top of the volcanic Yashima Plateau (its name literally means 'roof island') in the northeast of the city. This takes less than one hour (the ascent is also possible by bus), and you will be rewarded with some of the area's best views over the Seto Inland Sea. Yashima-ji temple, a stop on the sacred 88-temple Shikoku pilgrimage, is also located up here.

Coming back down to earth we head east to Ritsurin Garden, Takamatsu's most famous attraction (the JR Kotoku Line train from Yashima Station to Ritsurinkoen-Kitaguchi Station takes around 11 minutes). Ritsurin is considered to be one of the finest gardens in all of Japan, and while you are here do not miss the opportunity to enjoy some matcha tea at Kikugetu-tei. A traditional tea house located in the heart of the gardens, Kikugetu-tei boasts a view out onto a serene lake and the landscaped greenery beyond.

This takes us to lunchtime, and if you eat but one meal while in the city it should be Kagawa Prefecture's famed Sanuki Udon noodles. Udon Baka Ichidai, located northwest of Ritsurin Garden, is one of Takamatsu's most popular udon spots (the name incidentally means 'Big Idiot').

From here we head further north, back towards the sea. Japan is fond of covered shopping arcades and Takamatsu's Marugame-machi Shopping Street, lined with all manner of stores and cafes, is the country's longest. Following some retail therapy or simple window shopping, the nearby Takamatsu City Museum of Art provides a dose of culture including permanent works by Picasso and Warhol. The blocks immediately east of this museum meanwhile are dotted with historic Buddhist temples.

Continuing northwards, straight along the main Chuo-Dori avenue, we come to Takamatsu-Chikko Station. Just east of the station, and adjacent to the Seto Inland Sea, awaits Tamamo Park. This classic Japanese park dates back to the 17th century and houses the landmark Takamatsu Castle (erected in 1590 and also known as Tamamo Castle). This is one of the country's very few castles to be located right by the sea. Also in the vicinity is the Kagawa Prefectural Museum, which offers a fascinating primer on this culturally-rich region.

We finish up a few blocks further east, with a well-earned drink and bite to eat at one of the cafes or restaurants dotted around Kitahama Alley. In what was once a bustling port district, the Alley consists of rows of beautifully-weathered former warehouses now renovated to house a variety of hip, independently-run galleries, shops, and eateries. End your day here as so many locals do, by watching the sun go down over the Inland Sea.