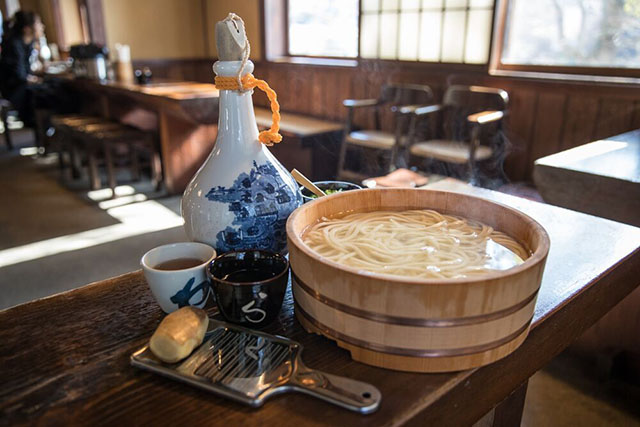 Kagawa Prefecture's abundance of natural resources, including the Seto Inland Sea, have made both its seafood and its flour-based udon noodles (known as Sanuki Udon) revered far and wide. Shikoku is best known for its 88-temple Buddhist pilgrimage, but Kagawa is also a destination for noodle disciples, who travel from all over Japan to enjoy authentic Sanuki Udon at restaurants such as Waraya. For sweet lovers anmochizoni is a must-try for its singular taste, while Shodoshima's status as the olive heartland of Japan has inspired local specialities such as Olive Yellowtail.
Waraya

Any trip to Kagawa would be incomplete with a sampling of the prefecture's famed Sanuki Udon noodles. This dish, strongly associated with Kagawa, differs from other udon varieties not in shape or recipe, but rather in its firmer texture and sheer quality. The simple ingredients that go into udon (flour and salt, along with water) are of a particularly high grade in this prefecture, leading Kagawa's udon (dubbed 'Sanuki' after the region's former name) to be recognized as Japan's finest. One of the best places to enjoy it is Waraya, located inside a historic Edo-era (1603-1868) building close to Shikoku Mura and Yashima-ji temple. Here the esteemed noodles are served in large wooden tubs accompanied by a soy-based dipping sauce.

4.0

176 Reviews

Kagawa Pref. Takamatsushi Yashimanakamachi 91

0878433115

9:30-18:00(L.O.17:30)

View All

Budounoki

Budounoki is a calm, simply decorated sweets parlor specializing in anmochizoni. This is a signature Kagawa recipe consisting of mochi rice cakes pounded with a sweet red bean paste called anko (a key ingredient in Japanese sweets), and served in a white miso soup containing daikon radish and carrots. The mochi are hand made here on the premises, with the other ingredients all locally grown. The result is a simultaneously sweet and salty treat described as a new experience by most who try it.

4.0

13 Reviews

Kagawa Pref. Takamatsushi Hyakkenmachi 2-1

0878222042

10:00-20:00[Sunday]10:00-16:…

View All

03

Setouchi Sengyo Ryoriten

Setouchi Sengyo Ryoriten

So rich in marine life is the Seto Inland Sea (the Setouchi in Japanese), that it is sometimes called a 'natural fish tank'. And since so many Japanese eateries contain actual aquariums, it follows that Kagawa's fish and seafood are some of the most highly rated in all of Japan. This traditional yet resolutely laid-back restaurant serves the freshest locally-caught fish prepared in a variety of ways, including as sashimi and tempura, and charcoal grilled on a hibachi.

Italian Bistro Hirai

This charming Italian restaurant is located inside a renovated traditional minka house, with the interior combining original features with sleek contemporary furniture. Eames-style chairs share space with tatami matting, with the effect feeling entirely natural. Hirai's chef makes use of the finest local produce in his mix of traditional and original recipes, with highlights including grilled wagyu beef from neighboring Tokushima Prefecture, served with a Marsala wine sauce.

4.0

20 Reviews

Kagawa Takamatsu-shi Marugamemachi 6-6

0878114788

[Monday-Thursday/Sunday] 17:…

View All

05

Olive Yellowtail at Cafe Alps

Olive Yellowtail at Cafe Alps

Olive farming in Japan was pioneered on the Kagawa island of Shodoshima over a century ago, and the island still boasts the country's largest annual olive output. This history has led Kagawa's chefs to devise all kinds of original, olive-centric recipes, with Olive Yellowtail being one of the most popular. This consists of the yellowtail amberjack fish, served as sashimi, that has been fed on leftover organic matter created when olives are pressed. Simple yet delectable, Olive Yellowtail can be enjoyed at this log house-style eatery on the Aji Peninsula, and is at its most delicious from September through to mid-January.