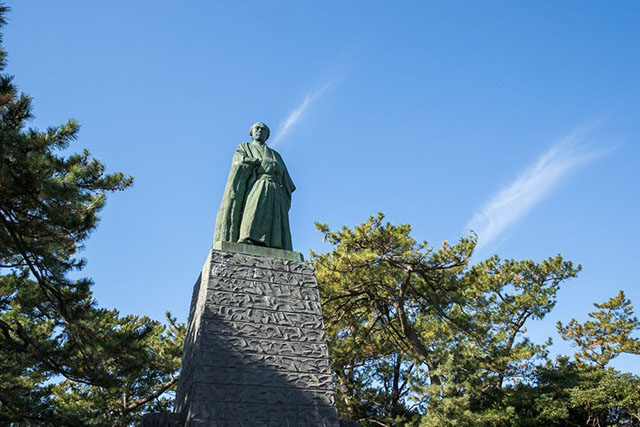 Situated on the picturesque Tosa Bay, Katsurahama is a beachy area in the south of central Kochi. Although the beautiful blue waters are not open to swimmers due to strong currents, the beach is no less beautiful and the golden sand and surrounding attractions offer more than enough to do.

Though the name says it's a beach, the area would be better described as a park, one filled with plenty of history and scenic views. The area on which the beach sits, Tosa Bay takes its name from the old name of the Kochi Prefecture. Thanks to its southern positioning on Shikoku the weather here is quite a bit warmer than many other areas of Japan, and the days often feel as though they run a little longer.

With its towering pine trees, grassed areas and walking tracks which lead onto a high rocky lookout point and a small shrine perched above the beach, the area is often filled with locals, and day trippers enjoying the scenery and longer, warmer days.

If there's one figure who has become the number one icon of Katsurahama bay, it's Kochi's Sakamoto Ryoma. Born in 1836 Sakamoto was a prominent figure in Japan's political history, and before his untimely passing at only 31 years of age, he brought the Choshu and Satsuma clans together, helping them form an alliance which was the beginning of the end of inequality in Japan. His memory and legacy has been kept alive here with the The Sakamoto Ryoma Memorial Museum.

The bay is also home to Katsurahama Aquarium. The marine life hub features penguins, dolphins and sea lions as well as a huge collection of fish including akame (Japanese barramundi), and tosakin (curly fantail goldfish). From the sea to the sky, Katsurahama has garnered a reputation for being one of Kochi's best places to watch the moon. Each year during mid-autumn tourists visit the beach to participate in the famous Katsurahama Moon-Viewing Party.

Many locally run restaurants call the Katsurahama beach area home. Plenty serve Kochi's specialty dish, katsuo no tataki. It's a fresh lightly broiled, sliced bonito tuna dish served on a bed of spring onions, ginger and garlic and topped with a variety of sauces including soy sauce with vinegar and citrus.

The best way to get to the area via public transport is to get to the area via Kochi Station. Visitors can get on the Kochi Prefecture Transportation Bus heading towards Katsurahama. For those travelling by car there are parking options available too.