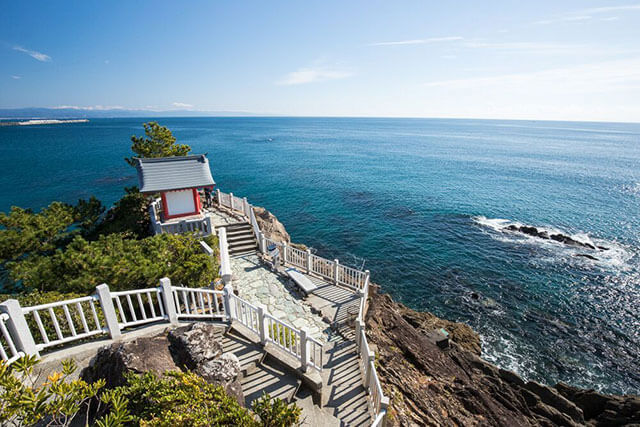 Kochi Prefecture is overflowing with diversity. Whether you're after a beachside adventure, sacred hideouts, or snowman-shaped sunset mirages you'll ever witness in your life, you'll be able to find something to surprise and inspire you here in Kochi.
01

Kongofukuji Temple 金剛福寺

Kongofukuji Temple

On the southern point of Kochi Prefecture is Kongofukuji Temple, number 38 on Shikoku's 88-temple pilgrimage and one of the journey's most impressive. Weaving its way through Shikoku, the 88 temple pilgrimage is Japan's most famous temple walk, making a 1,200 km loop around the island. Even if you know very little about the trek, visitors to Kongofukuji Temple will quickly become familiar with the pilgrims dressed in white and paying their respects en-route to their next destination. Sitting atop a cliff overlooking the sea at Cape Ashizuri, the temple grounds are populated by fascinating stone Buddhist carvings and tributes to the deity Senju Kannon Bosatsu. Though a bit more remote than some of the other temples along the route, it's definitely worth the effort.

4.0

115 Reviews

Kouchi Pref. Tosashimizushi Ashizurimisaki 214-1

0880880038

View All

02

Obiyamachi Shotengai 帯屋町商店街

Obiyamachi Shotengai

Kochi is not a shopping city per se, but if the rain has put a damper on your outdoor sightseeing plans or you just simply cannot avoid buying souvenirs everywhere you go, then the best place to do so is at the Obiyamachi Shotengai. Shotengai are a big part of Japanese culture so it doesn't hurt to add one more to the list.

Kochi Castle

There are only 12 original castles still standing tall in all of Japan, and the famous Kochi Castle is one of them. First constructed between 1601 and 1611, and then mainly reconstructed in 1748 following a devastating fire, the castle was once home to the Yamauchi lords, the rulers of the surrounding region, which was at the time known as Tosa. What's particularly unique about this castle is that its primary tower (known as a donjon) was used both as a residence and for military purposes. While it's not an imposing height, you climb to the upper levels of the castle for impressive views of downtown Kochi.

4.0

1171 Reviews

Kouchi Pref. Kouchishi Marunouchi 1-2-1

0888245701

9:00-17:00(Last entry16:30)

View All

Katsurahama Beach

Head 30 minutes south of central Kochi and you'll stumble upon the scenic Katsurahama Beach. Due to strong and untamed currents swimming is prohibited, but there's still plenty to see, do, and explore along the shoreline. Looking over the sandy bay is a towering statue of Sakamoto Ryoma, one of the most well-loved architects (and unintentional political figures) of modern Japan. If you have time to spare, pay a visit to the area's humble, but popular aquarium or pay respects to the small shrine sitting on the point of Katsurahama. With a network of well-connected walking paths, it's a fantastic way to get out and about and soak up the serenity of Kochi by sea.

Katsurahama Park

Kochi City is rich in history and a big part of that is the life of Sakamoto Ryoma. While getting to know his birthplace, you should visit Katsurahama Park and learn about one of the masterminds behind the fall of the shogunate back in the Edo Era at the Sakamoto Ryoma Museum or at least pose for a photo at the foot of this statue.

Ryugu Shrine

If you haven't gotten your full dose of Kochi by the coast, check out Ryugu Shrine overlooking the water in Tosashimizu. Decorated with dragon tributes, painted a vibrant red, and backdropped by the rich, dark blue ocean it's a real photographer's delight. The climb up the stairs to the shrine offers some pretty incredible ocean views as well.

07

Yosakoi Inari Shrine よさこい稲荷神社

Yosakoi Inari Shrine

On your way to Kochi Castle, make sure to check out Yosakoi Inari Shrine, an inconspicuous shrine that most guidebooks ignore but that will leave a smile on your face. And the reason is not the fox statues that adorn the place like they do at inari shrines around the country but rather the curious roosters and hens roaming freely around the shrine. It is not clear why the roosters are venerated here but it could be a connection with the historic Onagadori or long-tailed chicken which was raised in Kochi Prefecture during the seventeenth century. Whatever the case might be, it is a unique spectacle that adds to the mystic of the old Tosa Region.

Yosakoi Inari Shrine

3.5

27 Reviews

Kochi Kochi-shi Obiyamachi 2-chome 7-2

0888722635

View All

08

Hariyamabashi Shotengai はりやま橋商店街

Hariyamabashi Shotengai

If your visit to Kochi City happens to fall on a Friday, we recommend a morning stroll along the Hariyamabashi Shotengai which holds a farmers/street market and offers travelers a chance both to mingle with the locals and try some serious Japanese street food.

Kochi Kochi-shi Harimayacho 1-chome 5-14

0888824174

View All

Cape Ashizuri

Carpeted by sub-tropical plants, Cape Ashizuri is tucked away on the southernmost point of Shikoku and boasts some seriously impressive 80-meter-high cliffs with incredible views of the deep blue Pacific Ocean. Along the top of the area is a network of walking trails dotted with mysterious hidden dedications to an ancient Japanese Buddhist monk known as Kobo Daishi or Kukai. While you're wandering, you can make stops for panoramic cliffside views at a lighthouse built in 1914 and the Tengu's Nose observation point, both offering some of the best seaside views in all of Kochi.

Kouchi Pref. Tosashimizushi Ashizurimisaki

View All

10

Kanyoto Island Sunsets 咸陽島

Kanyoto Island Sunsets

Sitting 300 meters offshore from Oshima Island in Sukumo City, but accessible on foot during low tide, are the tiny Kanyoto islands. While uninhabited, they're a popular spot between November and March to see the Daruma Sunset mirage. This is a special phenomenon in the area when the setting sun looks like a snowman (yuki-daruma in Japanese) thanks to the reflection of light from the sun and the stream created by the differing temperatures of sea surface and the atmosphere. The Kanyoto are one of the best spots to see the "sunset of happiness," but if the tides don't work in your favor, you can also view it from other places on Oshima or in the area.