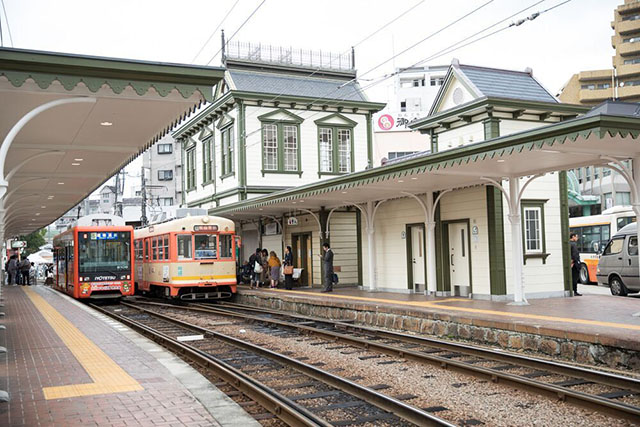 Ehime Prefecture is long and thin, meaning that getting from one side to the next can take time. However, a strong connection of public transport throughout the prefecture as well as access to both car and bike rental makes getting from one place to the next more than feasible. While the rural hidden gems are best visited by car or bike, city breaks are a doddle with efficient inner city transport across the prefecture's cities.

Getting Around Ehime Prefecture

While Japan is world-renowned for its trains, transport on the tracks becomes considerably less frequent once you arrive on Shikoku island. With no bullet train lines reaching as far as the island and even less trains running regularly to Ehime, arriving to the prefecture by train requires a bit more planning to avoid too much waiting around.

Getting Around Ehime Prefecture

For those keen to make the most of the super fast shinkansen, head to Okayama first and catch one of the hourly trains down to Ehime's capital city Matsuyama, which takes around three hours. The JR Yosan Line connects many of Ehime's cities including Uwajima, Yawatahama, Matsuyama, and Imabari. The train's route between Imabari and Matsuyama is particularly recommended as a remarkably picturesque ocean course that runs along Shikoku's west coast.

Getting Around Ehime Prefecture

With a large number of Ehime's attractions condensed into Matsuyama City it's important to know the best way of packing them all in during your visit. Home to two train stations, Matsuyama Station and Matsuyama-shi Station, the latter offers the easiest access to some of the main sights including Dogo Onsen, Dogo Park, and Isaniwa Shrine. However, those arriving into Matsuyama Station can jump on the retro Botchan Ressha replica steam train and follow a sight-filled course around that bends around Matsuyama Castle grounds and all the way up to the Dogo Onsen area.

Getting Around Ehime Prefecture

For those looking for a quick arrival into Ehime Prefecture, a flight into Matsuyama Airport is one of the most efficient ways in at just 15 minutes from the town centre on the limousine bus. This is also one of the easiest places to hire a car for those in possession of either a Japanese or international driver's license. While visiting Ehime by public transport will offer no disappointments, hiring a car opens up a whole world of sights from undiscovered beaches along the far-stretching coast to mountainous temple visits in the most rural parts of the Ehime countryside.