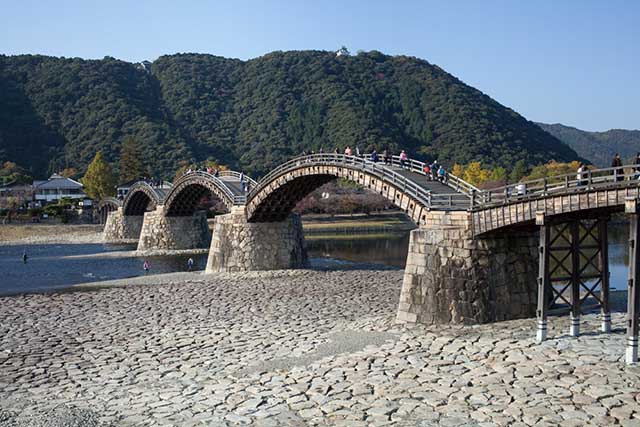 Iwakuni is found in the very east of Yamaguchi Prefecture just a stone's throw from Hiroshima Prefecture. Whether a quick day trip from Hiroshima City or the start of a full Yamaguchi adventure, the relatively quiet seaside city offers pretty landscapes, delicious food, and the chance to cross one of Japan's three great bridges.

The city of Iwakuni is instantly recognisable by its central Kintai Bridge, a five-tiered wooden structure that boasts the title of one of Japan's three great bridges. Set against a backdrop of verdant mountains, the heart of the city lies in this cobbled area where locals and visitors alike stroll along the Nishiki River appreciating the views. On April 29th the annual Kintai Bridge Festival takes place around the bridge and in the nearby Kikko Park. A lively mishmash of parades, taiko drumming, and food stalls, the festival is reminiscent of the last feudal government in Japan, the Tokugawa Shogunate (1603 - 1868), with locals dressing up in the colourful outfits of the daimyo.

A former castle town, the reconstructed Iwakuni Castle sits upon Mt. Shiroyama overlooking the city. The Iwakuni Castle Mountain Ropeway takes visitors one way for 320 yen or on a return trip for 550 yen between 9am and 5pm. Back down the mountain away from the four-storey castle lie a number of temples and other impressive architectural structures open to visitors as well as numerous eateries to try out the seafood which is brought in directly from the neighbouring Seto Inland Sea. Iwakuni's specialities include sweet ayu fish as well as its own take on sushi which is made using a square mold. The region is also known for its lotus roots, or renkon, which can be found in many forms including pickles, tempura, and chips. From the beginning of June to the end of August Iwakuni celebrates its abundant seafood with a cormorant fishing festival where the usual fishing trip is spiced up with the help of a set of sharp-eyed cormorant birds. Visitors can join in the festival by hopping on a cruise along the Nishiki River.

Nestled right alongside Hiroshima Prefecture, Iwakuni Station to Hiroshima Station is less than one hour direct on the JR Sanyo Line. Even closer is the highly celebrated Miyajima Island, famous for its red torii gate planted out at sea, which can be reached by ferry from Miyajimaguchi Station just a 25-minute train ride from Iwakuni Station.