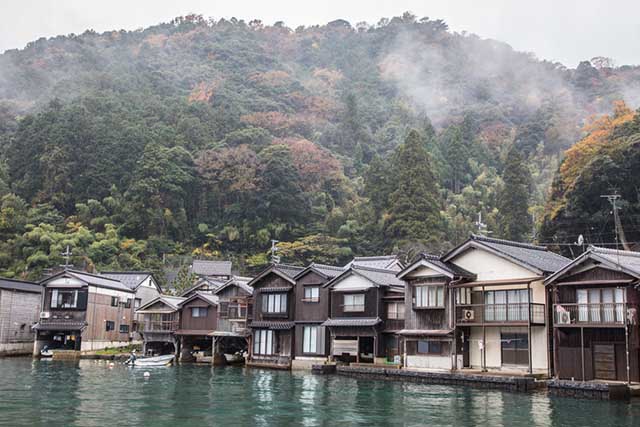 Situated along the northern bays of Kyoto lives Ine, a humble fishing town that's home to a small population of hard working locals and a rich history as one of the country's best fishing locations. Thanks to it untouched beauty and authentic way of life, this hidden village has long been considered one of the most beautiful towns in Japan. Positioned only 15 kilometers to the north of Amanohashidate, a visit to Ine is definitely worth adding to your travel itinerary if you're considering a serene and unique escape away from the tourist hustle and bustle of central Kyoto. Long considered a local favorite, this quaint town is still a relatively well kept secret outside of Japan.

While the wider areas of Kyoto are home to countless temples and shrines, the town of Ine offers something very different. Located along the curving bay of Ine sits a large collection of traditional style fishermen houses known as funaya, literally the name translates to 'boat houses'. Because of their historical and cultural significance, these buildings have been marked as of Japan's Important Preservation Districts for Groups of Traditional Buildings. Containing the waterfront equivalent of a garage below and housing on the second and above levels, these waterfront houses are nothing like you've seen anywhere else before. Today many people still reside in the houses and some are also used as guesthouses.

The best way to really explore this aquatic town and its impressive funaya is of course by traveling through the area by boat. There are a variety of different tours on offer depending on how you want to explore. Large sightseeing style boats depart the bay on a regular basis, taking guests on a 25-minute journey along the area. For a more intimate experience, it may be worth considering hiring a small sea taxi. Operated by the local fishermen, these taxis are the best way to really immerse yourself in Ine's culture and get a local perspective on the town. While larger tours don't require bookings, the taxi experiences require guests to make a reservation beforehand at the tourism office at Funaya no Sato Park.

While in the area be sure to pay a visit to Urashima Shrine, one of the town's most popular spiritual destinations. The story of the shrine's namesake Urashima Taro is one famous in Japanese folklore. Urashima Taro the story's protagonist is a young fisherman who saves a turtle from being hurt by a group of children, grateful for his help, the turtle carries Urashima to an underwater palace known as Dragon Palace. After feeling homesick Urashima returned to his town to find he'd mysteriously been transported hundreds of years into the future. These days people visit the shrine in the hope of being blessed with health, longevity, and of course prosperous fishing.

The area is home to a number of different guesthouses and hotels as well, making it the perfect, scenic weekend retreat. To get to Ine it's best to catch a one hour bus from Amanohashidate Station. Buses run once per hour and the journey costs 400 yen each way. You can also catch a bus from Motoise Kono Shrine or at the lower cable car station, getting off at Kasamatsu Park. This trip takes around 30 minutes and costs 200 yen each way.