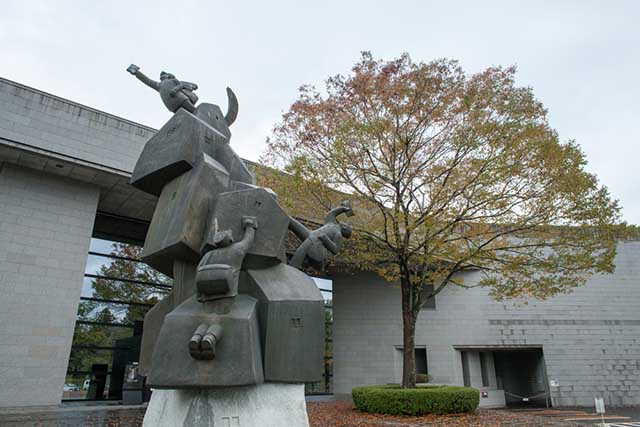 No matter whether it's art, history, or anime, Sendai has everything you need for a day of gallery and museum hopping. Home to a world class gallery hosting a plethora of new and old art, and a historic museum that will teach you everything you need to know about the area. If you're travelling with kids it's worth visiting the Anpanman museum for an afternoon of fun and entertainment.
Museums of Sendai

For those wanting to explore the scientific world, head to the Sendai City Science Museum. Home to three major exhibits, the Natural History Exhibition, Science and Engineering Exhibition and a Life System Exhibition this fascinating museum covers every facet of the science world and provides hours of entertainment for both young and old. It's open from 9am until 4:45pm every day except Monday and admission is 540 yen for adults. Those heading from Sendai Station can hop on the Sendai City Subway for just 15 minutes to Asahigaoka Station which is found just a five-minute walk from the museum.

Museums of Sendai

Opening in 1981 the Miyagi Museum of Art has become Sendai's hub of contemporary and historical art and is one of the most revered galleries in the entire Tōhoku region. With a keen focus on supporting local art, the museum is a great way to fully immerse yourself in the artistic communities of Miyagi Prefecture and the wider Tohoku region spanning all the way from the Meiji period up until the present day. The gallery is home to both a permanent collection and a rotating cast of temporary exhibitions that are span a variety of artists, styles and mediums. As well as iconic Japanese names like Sato Churyo, Takahashi Yuichi and Matsumoto Shunsuke there are a few masters of western art in the permanent display too, including Kandinsky, Klee and sculptor Barry Flanagan.

Museums of Sendai

The gallery is open from 9:30 am until 5 pm daily, with the ticket office shutting 30 minutes before closing time. To explore the permanent exhibition entry is pretty cheap, for adults tickets are only 300 yen and for college age students they're 150 yen. The price of the temporary exhibits varieties depending on what's being show so it's best to check online or call ahead if you want to know the entry fees before visiting. The gallery is open every day of the week except Mondays, or the day after Monday if a public holiday falls on that Monday. The best way to get to there via public transport is by catching the Sendai Subway Tozai Line. From International Center Station take the West 1 exit of and make the easy seven minute walk. If you're on the Sightseeing Loop Bus, get off at the Miyagi Museum of Art bus stop.

When it comes to Japanese characters there's arguably nobody more iconic than Anpanman. Originally created in 1973, the superhero with an anpan (a red-bean filled pastry) head has become one of the country's most loved figures, starring in countless comics and television programs over the past 40 plus years. If you're in Sendai, there's no better opportunity to really understand the Anpanman phenomenon by visiting the city's popular Anpanman museum. Though it's mainly aimed at children, there's no reason adults can't enjoy the exhibit too. The museum is an interactive, participatory museum with live performances daily.

Museums of Sendai

Admission to the first floor of the museum is free, however if you want to explore the other exhibits you'll have to pay the 1,000 yen ticket fee. Anyone over the age of one year old needs a ticket to enter the second floor which is filled with play areas, a theatre screening non-stop Anpanman anime, an artistic corner, art workshops and finally super cute dance performances. Once you're done exploring spend some time browsing the restaurants and shopping malls, to fully soak up the Anpanman experience.

Museums of Sendai

If you want something a little more adult, then make your way to the Sendai City Museum. Originally opened at the ruin of Sendai Castle San-no-maru, then reconstructed in 1986, the museum has everything you want to know about the rich history of Sendai and the Date family. With over 1,000 items constantly on exhibition, it's impossible to run out of things to see, do and learn here. The museum is open from 9am until 4:45pm daily, and like the Miyagi museum of Art is open every day of the week except Mondays, or the day after Monday if a public holiday falls on that Monday. Admission is 460 yen, and if you're travelling by public transport you can get there in under 10 minutes by Sendai City Bus from Sendai Station.