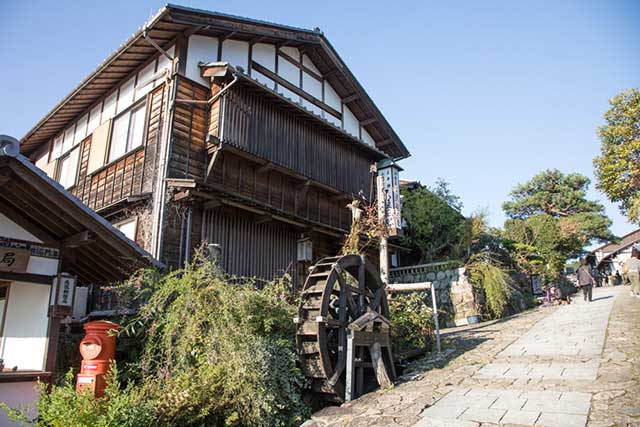 The southernmost of the Kiso Valley post towns is Magome, found a 30-minute bus journey from JR Nakatsugawa Station. While the majority of Kiso Valley sits in Nagano Prefecture, this one little town crosses just over the border into southern Gifu Prefecture on a commanding position overlooking Mt. Ena. As one of the principal towns that has been restored along the Nakasendo route, the main street running through the town is adorned with traditional wooden Edo period buildings which today are home to souvenir shops, cafés, and museums.

A Guide to Magome

A Guide to Magome

Found at one end of the Kiso Valley's picturesque post towns, Magome is one of the most popular of the towns to visit. Shops, eateries, and ryokan hidden behind every wooden shop front draw in a crowd of both local and international visitors whether they are walking the Nakasendo route or travelling in by public transport. If you're lucky enough to visit the Kiso Valley in autumn, hot roasted Japanese chestnuts are on the menu with their sweet, nutty aroma wafting down the main street. As well as traditional Japanese snacks aplenty, souvenir shops sell everything from lacquerware crockery to cone-shaped straw kasa hats.

A Guide to Magome

One of the most famous things to come out of the little town of Magome is literary genius Shimazaki Toson. Born and raised in Magome Honjin where travellers were security checked on their way through the town, Toson later became a nationally acclaimed romantic poet and novelist. After the old honjin was destroyed in a fire in 1895 local residents reconstructed the building as memorial museum dedicated to Toson and his work. A 500-yen entrance fee grants you entrance to the reconstructions of his study room as well as displays of his writings and achievements. Although Toson spent much of his life studying and working in Tokyo, many of his literary works refer to rural life in the Kiso Valley.

A Guide to Magome

Although quiet during the early morning and evenings, the main street through Magome comes alive in the day. The town's coffee shops are a must-visit with a couple of trendy spots perfecting an unlikely fusion of traditional Edo Japan and hipster cool. Hillbilly Coffee at the start of the ascent through the sloped post town serves up delicious Magome Blend coffees whether you're looking for a hot steaming americano to warm you up on a chilly winter's day or an iced latte when the temperatures spike in August. Restaurants in the area include soba and sandwiches, however, it's worth booking a table to skip the queues. Like much of Kiso Valley, after the afternoon rush Magome becomes ghostly quiet with very little remaining open past 5pm. For those planning to spend a night in Magome, choose your accommodation wisely as the lack of restaurants serving dinner means you'll be eating at your ryokan.

A Guide to Magome

With the neighbouring post town Tsumago just an 8-kilometer scenic walk north of Magome, this is a common part of the Nakasendo to try out. As you follow the stone paved path out of Magome, don't forget to take a look back for views over the Kiso Mountains with the 2,191-meter Mt. Ena poking its head into the clouds. Magome Tourist Information Centre in the middle of town houses lockers which are a good spot to leave luggage for those hiking to Tsumago.