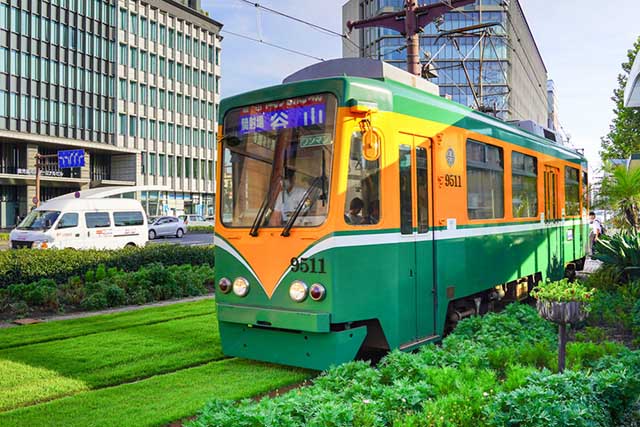 With the scenic Sakurajima Volcano in the distance of the tropical blue bay, Kagoshima City attracts tourists all year round. With a population of around 200,000, Kagoshima is a fairly small, beautiful city with many convenient transport options available for tourists.
Getting Around Kagoshima City

Two major train stations are located on opposite sides of the city, with JR Kagoshima Chuo Station being the main one. The most popular way that people get around Kagoshima is by the street trams that run from east to west of the city. These connect the two stations and are useful for transferring to other buses and ferries.

Getting Around Kagoshima City

Both the Kagoshima City View Bus and Machi-Meguri Bus do a round trip starting and ending at Kagoshima Chuo Station. Kagoshima City has a special pass for foreign tourists called the 'Welcome Cute' pass that will cost 1,000 yen for one day or 1,500 yen for a two day pass. Do keep in mind that you will need your passport when purchasing it and the pass can be used on the trams, City View Buses, and ferries, but not the Machi-Meguri Buses.

Getting Around Kagoshima City

The public transport system of Kagoshima connects all of the major tourist spots, including Sakurajima and Kagoshima City Aquarium near the port, as well as Senganen Gardens and Shiroyama Park. There are also a number of onsens scattered around town, as well as a large shopping district around Kagoshima Chuo Station to provide more than enough fun activities to ensure there's always something interesting to see and do, and you enjoy your time in Kagoshima.

Getting Around Kagoshima City

One of the simplest ways to enjoy Japanese cities at your own leisurely pace is by renting a bicycle, and lucky for you Kagoshima is well stocked in this regard. The city is home to 20 cycle ports in 20 different locations, known as Kagorin. These cycle ports allow tourists and locals alike to rent bikes from one port and deposit them in another - super convenient!

Getting Around Kagoshima City

Located at the southernmost tip of Kyushu Island, it is possible to travel the full distance of the Tokaido and Kyushu Shinkansen lines from Tokyo - this journey will roughly take seven hours and cost around 30,000 yen and will require a transfer at either Shin-Osaka or Hakata Station. Alternatively, there are domestic flights from both Narita and Haneda airports in Tokyo, as well as flights from Itami airport in Osaka. Flights can cost around 44,000 yen from JAL and ANA but you can get special lower prices from discount airlines. From Kagoshima Airport it is a 40-minute bus ride to Kagoshima Chuo Station in the center of Kagoshima City, costing around 1,250 yen. Alternatively, car rental services are also available.