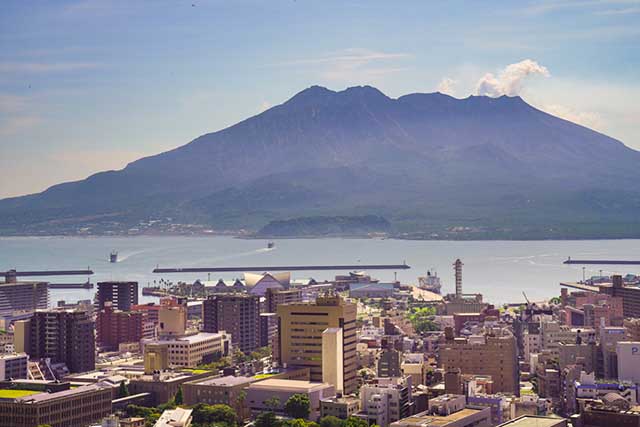 With an abundance of stunning nature, palm trees, and historic culture, Kagoshima City is Japan's southernmost coastal town, situated in the island of Kyushu's Kagoshima prefecture. With a temperate to subtropical climate, Kagoshima city is the cultural capital of the Kagoshima Prefecture.

Japan has around 110 active volcanos with its most active located here off the picturesque Kagoshima Bay, more commonly referred to as Kinko Bay. Named Sakurajima, smoke floats from its peaks with eruptions occurring daily. It sits as the town's most prominent feature, reaching 1,117 meters high with a circumference of 55 kilometers. There are multiple vantage points to see it across the bay from town, including Senganen Gardens and Shiroyama Park.

But the top attraction of Kagoshima is a ferry ride to the island of Sakurajima. Tourists can cruise across the bay from Kagoshima Port to Sakurajima Ferry Terminal. Around the terminal, there are various attractions including an outdoor onsen with views of the bay, sea kayaking, short hiking trails, a Dinosaur Park around a 15 minute walk away, and an information center and Marine Park where tourists can view coral reefs and sea life. Further into the island are several vantage points from which to view the peaks. Arimura, Kurokami, and Yunohira all provide breathtaking views of the smoking volcanic peaks but will require travel by rental car or bus.

Kagoshima holds a deep and proud history. On the top of Mount Shiroyama amid the ruins of Tsurumaru Castle (Kagoshima Castle), the Reimeikan Museum has a series of exhibitions celebrating the local culture and history. Around the building, you'll see the statue of local hero Saigo Takamori who came to fame during the Meiji Restoration of the 1800s. A nice touch paying homage to the fact that Kagoshima prefecture played a large part in seeing the Meiji Restoration come to fruition.

Kagoshima is famous for its sweet potato shochu (imo-jochu). Usually, this is served diluted with hot or cold water to lower the alcohol content to about the same as wine. Some of the common delicacies in Kagoshima Prefecture are tonkotsu, a pork stew with shochu marinated meat, local fish such as kibinago, as well as tropical fruits.

Traveling to Kagoshima can be a delight of beautiful scenery. With one of the most beautiful train trips in Japan, travelers can catch the Sanyo and Kyushu Shinkansen (bullet train) from Tokyo to travel the full length of the Tokaido Line. Travelers can also get the shinkansen from Fukuoka which takes around 80 minutes. There are also flights between both Narita and Haneda Airport in Tokyo to Kagoshima Airport, as well as flights from Itami Airport in Osaka. Around Kagoshima, there are streetcars and bus services to help you make your way around the city, which is also far less complicated than the major cities in Japan.