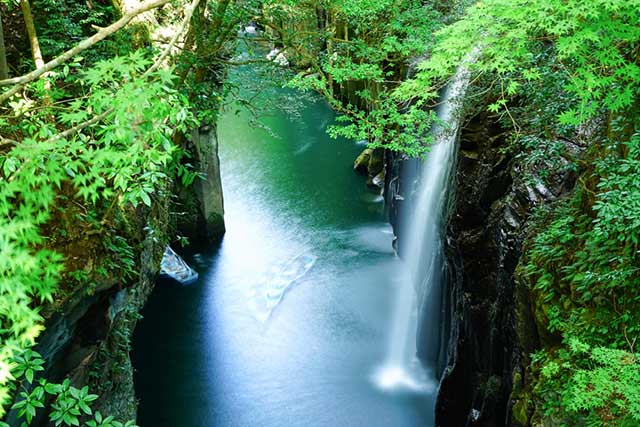 Takachiho Gorge is a popular natural wonder and important religious site in the Miyazaki Prefecture which draws over a million tourists every year. This narrow chasm lies by the Gokase River and features stunning cliffs made of volcanic basalt columns. Waterfalls cascade throughout the length of the gorge, with the most popular being Manainotaki waterfall, which gushes water into the river from its perch 17 meters above the ground amidst a backdrop of a lush green forest. In autumn, the colors of the gorge are particularly spectacular as the leaves change, with many regarding the natural landscapes here amongst the most beautiful in Japan.

Takachiho Gorge

There are two ways to enjoy Takachiho Gorge. The first way is via boat, which offers close views of the cliffs and waterfalls, whilst the second is via the paved path running high along the edge of the gorge, running for a kilometer before reaching a stone bridge where the Takachiho Shrine lies serenely amid the thick forest. Both offer picturesque scenery, with each offering their own unique perspective of the gorge and its waterfalls. It's important to note that during the summer months, the gorge is brilliantly illuminated until 10pm to ensure spectacular late night viewing.

Takachiho Gorge

At the southern end of the gorge, you can find a freshwater aquarium, restaurants, souvenir shops, and even a fishing pond. At the souvenir shops, you'll likely find the image of Miyazaki's mascot, Hideo Higashikokubaru - a comedian and the prefecture's former governor - dressed up like a used car salesperson adorning many of the prefectures mango flavored items.

Takachiho Gorge

The Chiho no le Teahouse, located at Takachiho Gorge's base, is a favorite of both tourists and locals alike with its nagashi somen dishes always a fun addition to the day. Here, you're given chopsticks and dipping sauce, placed in front of a bamboo flume, and encouraged to catch clusters of noodles as they fly past you. Any missed noodles are given to you at the end after being caught in a basket at the end of the bamboo flute.

Takachiho Gorge

The easiest way to reach Takachiho Gorge by public transport is actually from neighboring prefecture Kumamoto in the west. You can take the midday bus, with the gorge a 30 to 40-minute walk from Takachiho Bus Centre.

Takachiho Gorge

On the weekends and even public holidays, there is an infrequent tourist bus connecting Takachiho Gorge with the bus center and other nearby tourist attractions. Renting a car from Kumamoto will be your easiest option, and allows you to see everything Takachiho Gorge has to offer, plus, you'll be able to get around Takachiho more easily too.