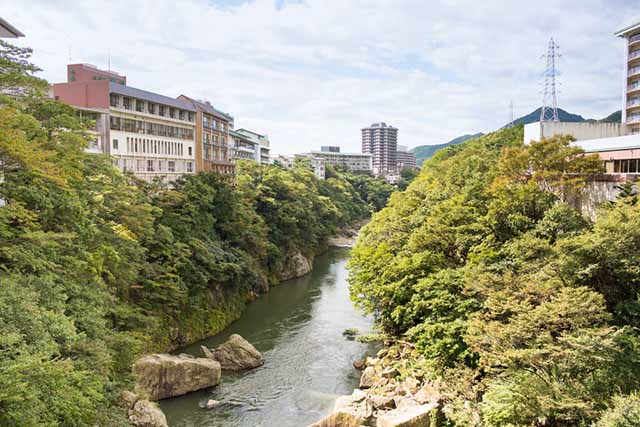 Located not too far from the heart of Nikko sits Kinugawa Onsen, a popular hot spring resort town that sprawls along the Kinugawa River. Thanks to it central location and secluded beauty it's an ideal town to both visit for the day or to set up base while exploring the hidden gems located in this pocket of Tochigi Prefecture. Kinugawa Onsen is home to an impressive collection of onsens and hot springs, with relaxation options complementing the historic culture and outdoor adventure opportunities of neighboring Nikko.
Culturally and socially the town has gone through an interesting cycle in the past few years. After being what many may call over developed a number of decades ago, a few of the area's newer businesses faced hardship and shut down, leaving a town dotted with abandoned buildings in its wake. Since then however local residents have worked hard to re-beautify the area by removing and renovating the abandoned buildings and tending to the area's natural beauty by adding nature trails, parks and footbaths and cleaning up the riverfront. The tireless efforts of the residents have definitely paid off and these days Kinugawa Onsen looks more beautiful than ever.
If you plan on spending some time exploring the area, it's essential to visit Okukinu Onsen which sits tucked away in the far back of a remote valley in the mountains of Tochigi Prefecture and boasts some of the most stunning and atmospheric, rustic outdoor baths in the whole of Japan. Though it is a ryokan, the Okukinu Onsen's baths are also open to the public. There are collection of baths on offer each overflowing with warm mineral filled, sulfuric waters with resplendent views of the mountainside.
Beyond relaxation there are plenty of adventures to be had at Kinugawa Onsen. One local landmark of note is the Tobu World Square, a theme park dedicated to exhibiting 1/25 scale replicas of famous international landmarks including ancient monuments, and cultural treasures. Divided into different regions of the world, guests can explore the world by visiting Europe Zone, America Zone, Asia Zone, Japan Zone and Modern Japan Zone all in one tidy little trip. If world travel isn't enough for you Kinugawa Onsen also houses the Big Maze Palladium, a challenging labyrinth that requires you to visit each of the area's four towers before being able to escape.
Kinugawa Onsen sits about 130 kilometers north of Tokyo and around 30 minutes away from Nikko if you're travelling by train. To get there from Tokyo you can catch the train to Kinugawa Onsen via Tobu Asakusa Station. If you don't have time to waste you can hop on the limited express, which runs every hour hour between Asakusa and Kinugawa Onsen, and costs 2,500 to 3,000 yen one way. The direct journey will take about two hours.