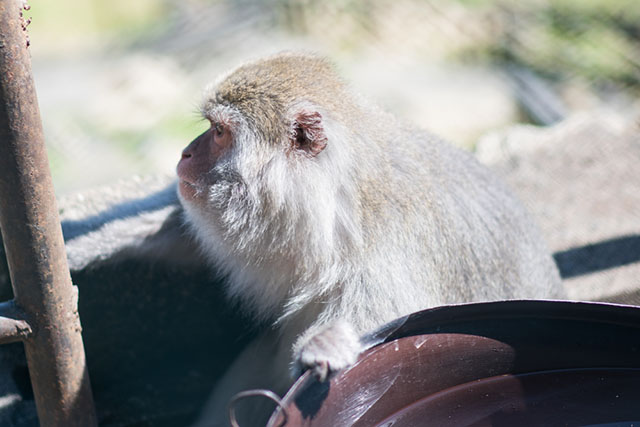 Spend any amount of time here and you'll notice that monkeys play a very important role in Nikko's cultural and spiritual history. The macaques are more commonly known as simply 'snow monkeys' because as you may have guessed they live in cooler areas which are covered in snow during a large portion of the year. Proud of these native creatures, in Japanese they are called Nihonzaru (Nihon which means "Japan" and saru which means "monkey"). Managing to brave the freezing temperatures, their impressive makeup means that they are the most northern-living, nonhuman primates. Culturally they hold a very special position in Japanese folklore and spirituality including the iconic story Momotaro, the tale of a boy who was born in a peach and grows up to defeat the nation's demons.
Monkey Mountain of Nikko

In fact, the legend of the three wise monkeys has its origins here. For those uninitiated the monkeys embody the famous principle of "see no evil, hear no evil, speak no evil" which many believe to represent the qualities of being of good and pure mind, speech and action. The monkeys themselves are Mizaru the one covering his eyes, who sees no evil; Kikazaru, who hears no evil; and Iwazaru, who speaks no evil. If you look closely during your visit to Toshogu shrine you'll see the three figures looking over you as you wander through the grounds. They are Japanese macaques, a common species in Japan and a species you can still see here at Nikko's Monkey mountain.

Monkey Mountain of Nikko

If you want to meet the macaques firsthand you can do so at Osarunoyama Monkey Park and in the wider Nikko area. To visit the park the most scenic way to go is via Kinugawa Onsen, a popular hot spring resort town along the Kinugawa River close to Nikko. Filled with rustic indoor and outdoor baths, a visit to Kinugawa Onsen is worth it regardless of whether you're chasing monkeys or not. However to get up the mountain catch the Kinugawa ropeway which hits an impressive 300 meter altitude after just three and a half minutes.

Monkey Mountain of Nikko

Monkey Mountain of Nikko

Once you make it to the peak of the ropeway you'll be greeted by families of local nihonzaru lazing about. Beyond the monkey park plateau, the area also features a network of stunning walkways and paths lending itself to some seriously beautiful hiking opportunities. When the weather is good and the sky is clear you can soak up the beautiful view of the surrounding mountains and look down onto the lively monkey park.

Monkey Mountain of Nikko

As mentioned, the best and arguably most scenic way to get to the monkey park is via a trip to Kinugawa Onsen. Getting there from Nikko is easy and it's actually included as part of the free travel zone for many of the Tobu rail passes to the area. From Tobu-Nikko Station take the Tobu-Nikko Line to Shin-Tochigi and switch at Shimo-Imaichi Station Train to the Nikko-Kinugawa line. If you don't have a free pass the journey will cost 870 yen each way.