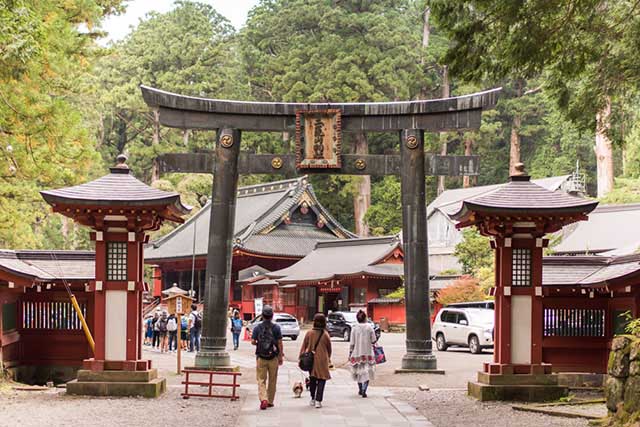 Located in Tochigi Prefecture, in the northern Kanto region of Japan sits Nikko, overflowing with history, culture and some of the most stunning natural sites in all of Japan. Historically Nikko was the heart of Shinto and Buddhist mountain worship for centuries making it one of the best locations for exploring the spiritual history of Japan and visiting some of the nation's most breathtaking shrines. Though there's plenty to do in the area all year round, it's in October during koyo (autumn season) when the area is at its most photogenic as the lush landscape surrounding the town is awash with gold leaves.
Given its spiritual history, the most famous Nikko landmark is arguably Toshogu Shrine, the resting place of Tokugawa Ieyasu, the founder and leader of the Tokugawa Shogunate, a feudal Japanese military government that ruled the nation for over 250 years. Located in the forest, the shrine complex itself actually consists of over a dozen individual buildings that sprawl across the shrine grounds. What's particularly unique about Toshogu is its lavish design, which challenges that commonly held notions of architectural simplicity that are usually followed by most traditional Japanese shrines. Combining both Shinto and Buddhist elements, the shrine was regularly visited by members of both religions up until the Meiji Period when Shinto was intentionally separated from Buddhism.

Beyond Toshogu, Nikko is home to a number of equally fascinating temples and shrines. A little more modest than its neighbor, the Iemitsu Mausoleum (Taiyuinbyo) located not far from Toshogu was built by Ieyasu's grandson and was intentionally designed to not overshadow Ieyasu's legacy. Often regarded as the area's most important temple, Rinno-ji temple is another Nikko landmark. Founded by Shodo Shonin, a Buddhist monk who introduced Buddhism to Nikko in the 8th century, the temple pays homage to Nikko's mountain deities Amida, Senju-Kannon ("Kannon with a thousand arms") and Bato-Kannon ("Kannon with a horse head"). Then there's Futarasan Shrine, the oldest of the aforementioned temples also founded by Shodo Shonin.

For those wanting to explore Japan's stunning natural beauty, a visit to Nikko National Park is a must add to any itinerary given that the area is simply one of Japan's most beautiful nature sites. Home to the famous temples and incredible mountain ranges, the area feels somewhat untouched despite its popularity among tourists. Tucked inside Nikko National Park sits Yumoto, an onsen town whose name literally translates to "origin of hot water". Consisting of traditional ryokans and a number of hot spring baths, the town also boasts Onsen-ji, a Buddhist temple which itself features a small hot spring bath that's open to the public.

Positioned in the northwestern pocket of Nikko is Oku-Nikko region, home to Kegon-no-taki Fall, one of the most famous waterfalls in Japan and koyo hotspot Lake Chuzenji. With an abundance of camping sites, a ski resort, and the fishing ponds it's the perfect place to fully immerse yourself in Japan's natural beauty. Towering over Lake Chuzenji is Mount Nantai, a stunning and sacred volcano responsible for creating Lake Chuzenji following an eruption around 20,000 years ago.

The positioning of Nikko from Tokyo makes is a perfect spot for those wanting a weekend getaway. The easiest way to make the journey is by catching the Tobu Nikko Line express trains, a direct line to Nikko from Asakusa. The trip takes about two hours and costs 2,700 yen each way.