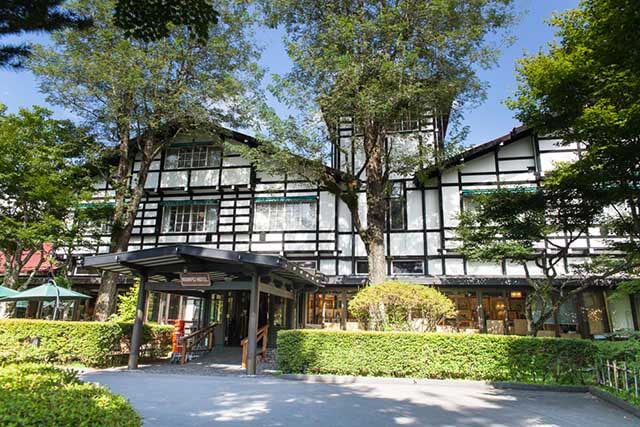 At only 70 minutes by bullet train from Tokyo, Karuizawa is a quaint mountain resort that's rich in nature and a prime leisure destination. From stunning natural landscapes to fun filled man made attractions, there's always something to see and do in the place John Lennon loved to escape to. In this guide, we'll introduce some of the best things to do when you visit, so you can pick what suits you, without the stress.
01

Rent a bike near Karuizawa Station

Rent a bike near Karuizawa Station

In a town with as much to see as Karuizawa, you'll want to quickly get to where you're going without worrying about transit. Bicycles are a great alternative to walking, since you still get an up-close view of the city. There are plenty of rental shops around Karuizawa Station, so pick one you like and off you go.

Read more
Getting Around Karuizawa
The beautiful cool mountain region of Karuizawa is one of Japan's most popular year-round tourist destinations.…

Kumobaike Pond

Karuizawa's nature walks are very popular and are at the top of the list of things to do in this quaint town. Make sure you pack a good pair of walking or hiking shoes as these will be essential to explore the natural beauty of the forests, mountains, and trails of Karuizawa. Not far from Kyu Karuizawa one easy nature walk is the trail around Kumobaike Pond. Nicknamed the "Swan Lake" by the first foreigners who settled here, Kumobaike is perfect for seeing birds chirping, the changing foliage of the trees reflected in the calm waters, and simply to enjoy a refreshing walk through nature without having to go far. For those looking for something more wild and challenging, the Usui Pass Trail and the Wild Bird Sanctuary are other excellent alternatives.

Kumobaike Pond

Nagano Pref. Kitasakugunkaruizawamachi Karuizawa

0267425538

open everyday

View All

03

Stroll around Kyu-Karuizawa Ginza-dori

Stroll around Kyu-Karuizawa Ginza-dori

Ginza-dori in Kyu-Karuizawa is the city's main street and brimming with delicious bakeries, co-zy cafes, and, of course, souvenir shops. This lively thoroughfare is what you make of it and fea-tures all kinds of places, both modern and traditional. It's a great first stop to soak in the town's unique atmosphere.

Read more
The Snacks of Karuizawa
Visiting Karuizawa means enjoying a mix of nature, cultural activities, shopping, fine dining, and personal pampering.…

What to Eat in Karuizawa
Thanks to its reputation as one of the most visitable cosy corners of Nagano Prefecture, Karuizawa is bursting with eating establishments to keep its visitors happy.…

Stroll around Kyu-Karuizawa Ginza-dori

Nagano Pref. Kitasakugunkaruizawamachi Karuizawa

0267425538

Each Depends on establishmen…

View All

04

Remember John Lennon at the Manpei Hotel

Manpei Hotel

This classy establishment was a favorite of John Lennon's and it's easy to see why. Tucked away in its own neat little corner of the forest, this hotel is made for relaxing. Have a seat in the cafe and savor a milk tea recipe that was taught to the staff by John Lennon himself. If the weath-er's nice, the seasonal deck is recommended. You can while a way a couple of hours just…you know, imagining.

Read more
Mampei Hotel
Mampei Hotel can be found at the end of an idyllic country lane which embodies all the charm of the building itself.…

Manpei Hotel

05

Relax amidst the moss of the Muro Saisei Kinenkan Museum

Muro Saisei Kinenkan Museum

This museum dedicated to prominent author Muro Saisei is actually one of his second homes and its atmosphere is more akin to a tranquil hideaway. You can wander through the exhibits and learn more about Muro Saisei's work and life, as well as head out into the gardens to spend time reflecting or relaxing. The trees and moss provide a peaceful place for you to let go of all your trou-bles.

Nagano Pref. Kitasakugunkaruizawamachi Karuizawa 979-3

0267458695

9:00-17:00(Latest entry16:30…

View All

06

Sift through the general stores on Church Street

Church Street

If you're looking for a more upscale vibe for your shopping pleasure, then Church Street is where you want to be. Offering a range of options from gardening goods to handmade souvenirs, the shops here are varied and smart. Pop into one shop, and then the next to find a few surprises and some lovely items that you didn't know you needed. You're on vacation after all.

Church Street

Nagano Pref. Kitasakugunkaruizawamachi Karuizawa 601-1

0267412501

[Sale of Goods] 10:00-18:00[…

View All

07

Appreciate the landmark style of the historic Mikasa Hotel

Former Mikasa Hotel

This former hotel, now a museum, was on the forefront of architectural style back when it was built in 1905. Its Western-style architecture hides a little secret though: everything from the design to the construction was made solely by Japanese hands. It's now a National Treasure and you can see its preserved wonders for yourself.

Former Mikasa Hotel

Nagano Pref. Kitasakugunkaruizawamachi Karuizawa 1339-342

0267458695

9:00-17:00 (until 16:30)

View All

08

Hitting the Golf Course

Hitting the Golf Course

One sport Karuizawa is synonymous with is golf, and for the enthusiast, there are several top courses to choose from. The majority of the golf courses in the town are operated by Prince Hotels & Resorts and the best way for a non-member to tee up is by staying at one of the chain's hotels: The Prince Villa Karuizawa, The Prince Karuizawa, Karuizawa Asama Prince Hotel, Karuizawa Prince Hotel East, and Karuizawa Prince Hotel West. Staying here will get you within a short drive of the best golf courses in town. Karuizawa 72 Golf in particu-lar is set over 6 different courses and 108 holes, letting players choose where to play depending on their level.

Nagano Kitasaku-gun Karuizawamachi Karuizawa 1016

0267428811

View All

Nagano Kitasaku-gun Karuizawamachi Hotchi Minami Karuizawa

0267480072

View All

09

Visit the Karuizawa Shaw Memorial Church

Karuizawa Shaw Memorial Church

In a quiet, forested area atop a hill sits the Shaw Memorial Church. It was built to commemorate Alexander Croft Shaw who was known as the father of Karuizawa. Tours of this tranquil chapel are allowed only during the daytime but it won't take too long to walk through its intimate, wood-furnished interior.

Read more
Karuizawa's Beautiful Churches
The beautiful mountain resort town of Karuizawa is home to a vast array of stunningly built church-es that will surely please the eye and sooth the soul.…

Karuizawa Shaw Memorial Church

Nagano Kitasaku-gun Karuizawamachi Karuizawa 57-1

0267424740

[Opening Hours] 9:00-17:00 (…

View All

10

Buying wine at St. Cousair Winery

St. Cousair Winery

Welcomed into the shop with a free taster of Niagara Blanc wine and we're off to a good start. With their vineyards based in the north of Nagano Prefecture, St. Cousair is a regional favorite that specialises particularly in Chardonnay, howev-er, the shop displays a whole array of delicious duty-free wines including Pinot Noir and Merlot as well as jams, sauces, and cider, which is a rare find in Japan. Head into the back of the store for the in-house restaurant for French inspired snacks, dishes, and desserts all matched perfectly with a glass of St. Cousair's fi-ne wine.

Read more
The Best Shopping Spots in Kyu-Karuizawa
Found in the center of Karuizawa, Kyu-Karuizawa is the most bustling part of the town thanks to its pretty little streets, proximity to some of the city's best accommodation,…

St. Cousair Winery Karuizawa Kyudo

Nagano Kitasaku-gun Karuizawamachi Karuizawa Kyukaruizawa 750-3

0267-41-3903

View All

11

Shopping at Prince Shopping Plaza

Prince Shopping Plaza

For snacks, omiyage, and curios, Kyu Karuizawa Ginza Dori is the place to go during the day, but for serious shopping and to get your hands on the top brands at discount prices, then the Prince Shopping Plaza, Japan's largest outlet shop-ping mall, should not be skipped. This is an open air shopping mall that at times feels more like an amusement park. The mall includes West, Central, and East sections packed with over 200 shops, wide garden areas, and a food court called Aji No Machi which is open until 10pm. Even if you are not looking to shop, it is a great location for hanging out and keeping children entertained. Visit the gar-dens at the centre of the shopping plaza and enjoy the lit up scene. A shuttle bus connects the mall with Karuizawa Station so you can fit in a shopping experience just prior to catching the shinkansen back to Tokyo.

Prince Shopping Plaza

Nagano Pref. Kitasakugunkaruizawamachi Karuizawa

0267425211

10:00-19:00 (Seasonal Subjec…

View All

12

Be awed by the Shiraito Falls

Shiraito Falls

The northern section of Karuizawa, or Kita-Karuizawa, holds much natural beauty and Shiraito Falls is an excellent example. Measuring at about three metres in height, and 70 me-tres wide, the impressive falls make for a great spot to fully appreciate the wonder of Karuizawa's nature. Known as Shiraito no Taki, this name literally translates to 'the waterfall of white threads', due to the multiple streaks of white water which seem to form a white curtain as the water comes crashing down. Shiraito Falls are beautiful year round, with the surrounding forest adding distinct colors each season. If you visit in the winter or summer, then the falls are illuminated at night, offering a particularly enchanting experience.

Shiraito Falls

13

Spiritually recharge at Onioshidashi Park

Onioshidashi Park

Formed from a volcanic eruption, this park features striking scenery of volcanic rock set against sweeping mountain views. It's home to a Buddhist temple that's accessed along a footpath com-plete with arching red bridges. Onioshidashi Park offers visitors a chance to not only take in the scenery but also have serene moments of spirituality in a natural setting. There are also hiking trails and rare species of flora and fauna, so a day trip is recommended for those wanting to see it all.

Read more
Visit to Onioshidashi Park
In 1783, Mount Asama erupted right on the border between Gunma and Nagano Prefectures and formed Onioshidashi Park,…

Onioshidashi Park

14

Visit the Karuizawa Kogen Church

Karuizawa Kogen Church

A landmark of Karuizawa, the Kogen Church is situated on tranquil grounds that are nestled in a forest. While wedding ceremonies are popular here, you might catch a concert or other event on the church grounds. But the candle nights in August and December are nothing short of ethereal. Featuring hundreds of candles in glass housings scattered across the church grounds (and in Christ-mas-tree arrangements), you won't want to miss these magical illuminations.

Karuizawa Kogen Church

Nagano Prefecture Kitasaku-gun Karuizawa Town Hoshino

0267453333

10:00-17:00 (excluding at th…

View All

15

Admire the Stone Church

Stone Church

Officially named Uchimura Kanzo Kinendo, this church is a whirlwind of inspired design in stone and glass. The layered stone ceilings are more reminiscent of contemporary art than a church but the stone archways are meant to complement its natural setting rather than conquer it. In the evening, the church lights make for some stunning pictures.

Stone Church

16

Stay at HOSHINOYA Karuizawa Resort

HOSHINOYA Karuizawa Resort

For those who prefer to be pampered, the HOSHINOYA offers comfortable accommodations amidst its forested grounds. There are riverside rooms (as well as private courtyards) but the real star of the resort is the natural hot spring. Relax surrounded by the quiet forest and enjoy the scenery in any season or try the Meditation Bath that offers calm bathing in a darkened setting. Of course, spa and massage treatments are available too.

Read more
Stay at HOSHINOYA Karuizawa
For the traveler who cherishes comfort, unsurpassed luxury, and dedicated hospitality, HOSH-INOYA Karuizawa is the epitome of all these and the perfect resort village to truly be pampered while staying connected to the natural beauty of Karuizawa.…

HOSHINOYA Karuizawa Resort

星のや軽井沢

長野県長野県軽井沢町星野

0570-073-066

View All

17

Hoshinoya Harunire Terrace

Hoshinoya Harunire Terrace

The pleasant riverside site that is Hoshinoya Harunire Terrace is a wonderful spot to spend a lazy afternoon strolling around and enjoying the enticing mixture of locally owned cafes, restaurants, and shops which are frequented by locals and tourists alike – all of whom enjoy the variety and relaxed feel of the place. A pleasant afternoon stroll along the boardwalk is a surefire crowd-pleaser, as are the various delicious restaurants on offer serving up some great Japanese and in-ternational cuisine, and all making use of the fresh local ingredients of Karuizawa.

Hoshinoya Harunire Terrace

Nagano Pref. Kitasakugunkaruizawamachi Nagakura 2148

0267455853

Depending on the store

View All

18

Karuizawa's Hot Springs

Hoshinoya's Tombo-no-Yu

In Karuizawa, leisure and relaxation go hand in hand with the town's hot spring baths. With so many resorts found in this vacation hot spot, there are several on-sen that will have you bathing in soothing water while contemplating nature at close hand. Hoshinoya's Tombo-no-Yu is probably is at the top of the list for many visitors and rightly so. But if you appreciate an onsen bath all to yourself and a bit off the beaten path, we recommend you head to the bath at Shiotsubo Onsen Hotel. The water here is said to have high wound-healing properties and the view of the rocky garden is very relaxing. Try the onsen between 9pm to 10pm and you are likely to have the bath all to yourself. If you happen to be stay-ing at Koya Backpackers, buy the ticket from the owner at a small discount.

Hoshinoya's Tombo-no-Yu

19

Take a nature tour with Picchio

Take a nature tour with Picchio

Sometimes it's best to have a helping hand from a professional and Picchio offers guided nature tours to help you get the most out of Karuizawa's forests. Team up with a guide who will show you the wonders of Karuizawa's wildlife. Reservations are needed and you can choose from a number of experiences on their website, like the flying squirrel tour or a wildlife night drive.

Official Website : Picchio

Read more
Nature Walks Around Karuizawa
In Karuizawa if you look beyond the cultural and commercial activities and into the forest, you'll be sure to find several trails and hiking options that will get you to imposing viewing points,…

Take a nature tour with Picchio

20

Be "wowed" by the avant-garde exhibits at the Sezon Museum of Modern Art

Sezon Museum

Hidden away in the forests of Naka-Karuizawa, the Sezon Museum of Modern Art mixes the natural and the extraordinary. The collection houses tantalizing works that both challenge and im-press, as well as seasonal exhibits. The museum gardens and cafe can be entered free of charge, so you can wander around the serene forest grounds to encounter the installations and then reflect on your experiences over a hot cup of tea on the terrace.

Sezon Museum

Nagano Pref. Kitasakugunkaruizawamachi Nagakura Serikenzawa 2140

0267462020

[Apr.-Oct.]10:00-18:00(Last …

View All

21

Stay in a 100-year-old guesthouse

Koya Backpackers hostel

The wooden building of Koya Backpackers hostel is 100 years old, although the interior has gone through some renovations to keep the space current. The rooms are outfitted with wooden fur-nishings and offer a taste of a traditional Japanese home, with two of the three rooms having tatami floors and futons. There's also a communal kitchen for those craving a home-cooked meal, plus free Wi-Fi to research your next adventure.

Read more
Stay at Koya Backpackers
Nestled in the forest of Naka-Karuizawa, Koya Backpackers is an excellent alternative to the re-sort-style accommodation that abounds in Japan's "cottage country".…

Koya Backpackers hostel

22

Go curling at the Karuizawa Ice Park

Go curling at the Karuizawa Ice Park

Visiting Minami-Karuizawa gives you a rare opportunity to give curling a go. While the Karuizawa Ice Park is a serious venue that hosts even international curling events, it's also very be-ginner-friendly. You can rent curling shoes, brushes, and sliders, as well as take a curling lesson to get a better handle on your technique. So all you need to do is show up, either by yourself or with a group of friends. All are welcome!

Karuizawa Ice Park

Nagano Kitasaku-gun Karuizawamachi Hotchi 1154-1

0267485555

[Curling Hall] 9:00-22:00[Ou…

View All

23

Kick back at Karuizawa Taliesin

Karuizawa Taliesin

This lakeside resort area has something for everyone. Whether you want to chill out by Lake Shiozawa, visit the Literary Museum of Karuizawa or stroll through an English Rose Garden, Taliesin has you covered. It's a little removed from central Karuizawa but shuttle buses run daily from the city center to the resort, making travel easy. So ride a paddle boat, hop on a go-kart, or play minigolf - resorts are meant for relaxing.

Nagano Pref. Kitasakugunkaruizawamachi Nagakura 217

0267466161

9:00-17:00[Dec.- Jan.]10:00-…

View All

24

Get your Instagram on at the Karuizawa Lake Garden

Karuizawa Lake Garden

This relaxing English garden is beautiful in any season, with various arrangements of flowers and trimmed shrubbery backed by the calm waters of a small lake. There's also a quaint manor house framed by an assortment of blossoms, as well as an airy cafe and a full restaurant for those wanting to pair some food pics with the flowers for their followers.

Karuizawa Lake Garden

Nagano Prefecture Kitasaku-gun Karuizawa-cho Lake New Town

0267481608

9:00-17:00 (Last entry 16:30…

View All

25

Experience the natural art of the Hiroshi Senju Museum

Hiroshi Senju Museum

A museum especially befitting of Minami-Karuizawa's tranquil setting, the Hiroshi Senju Muse-um houses installations and works dedicated to the admiration of nature. Exhibits will inspire, de-light, and instill a sense of awe in the natural world, all enhanced by the museum's avant-garde ar-chitectural style. This is truly a uniquely Karuizawa experience.

Read more
The Museums of Karuizawa
Karuizawa, much like all of Japan, is seeped in a rich history, and thus making it the perfect home for a number of intriguing museums for which to spend the day expanding the mind and hav-ing some fun at the same time.…

Hiroshi Senju Museum

Nagano Pref. Kitasakugunkaruizawamachi Nagakura 815

0267466565

9:30-17:00(Last entry16:30)

View All

26

Go shopping at Tsuruya Karuizawa

Go shopping at Tsuruya Karuizawa

If you're out and about and decide to stop by a supermarket, make it Tsuruya in Karuizawa. Their expansive selection of food items and everyday goods make it a one-stop-shop and you'll be pleasantly surprised by their bakery and seafood options. Everybody loves a good combini but Tsu-ruya delivers in every department.

Go shopping at Tsuruya Karuizawa

Nagano Pref. Kitasakugunkaruizawamachi Nagakura 2707

0267461811

[Normal] 9:30-20:00 [Season…

View All

27

Get your thrills at Sweet Grass Adventure

Sweet Grass Adventure

With a selection of rope courses set amongst the forest, Sweet Grass Adventure is a family-friendly experience that is sure to awaken your inner Indiana Jones. The courses are designed for a variety of age groups, so the little ones can have a go, too. Plus, there are also zip-lines in case you prefer that gravity does the work for you. Tired after all that activity? Enjoy a sit down at the li-brary cafe or peruse the bookstore to ease back into reality.

Sweet Grass Adventure

Sweet Grass Adventure

Gunma Pref. Agatsumagunnaganoharamachi Kitakaruizawa 1984-43

0279-84-3369

View All

28

Sample the brews at the Yoho Brewing Company

Sample the brews at the Yoho Brewing Company

For a limited time during the summer, Yoho Brewing Co. (makers of the popular Yona Yona Ale) open up their brewery for tours. You can see exactly what goes on behind-the-scenes to make their popular beverage, moving from the raw ingredients to the machines that process them. But the main attraction is (you guessed it!) trying some of their brewed beer yourself. Be sure to make a res-ervation on their homepage!

Official Website : Yoho Brewing Company

Sample the brews at the Yoho Brewing Company

ヤッホーブルーイング 佐久醸造所

長野県佐久市小田井1119-1

0120-28-4747

View All

29

Visit the Kumanokotai Shrine

Kumanokotai Shrine

The Kumanokotai Shrine is situated on the border between Nagano Prefecture and Gunma Pre-fecture, making it one of only a handful of such shrines in Japan. As it straddles the prefectural line, the shrine itself is divided equally into two parts, the Kumanokotai Shrine for Nagano Prefecture and the Kumano Shrine for Gunma. It's a bit like the "Four Corners" in the United States. But with a shrine…and trees…and ancient gods. No biggie.

Kumanokotai Shrine

Nagano Pref. Kitasakugunkaruizawamachi Tougemachi 2

0267425749

View All

30

Explore the old post town at Oiwake-juku

Explore the old post town at Oiwake-juku

This area was once a post town with lodging for tired travelers, situated at the intersection of two key pathways between major Edo period cities, and has been refashioned to capture the atmos-phere of the time. Soak up the history as you walk through the restored streets of what was once a bustling intermingling of far away places.

Mount Asama

Ranked as one of Japan's top 100 famous mountains, Mount Asama is a key attraction of Karuizawa, and is known throughout Japan for its majestic beauty. It stands imposingly as a noble guardian to the mountain town, but you'll have to admire from afar, as it is closed to visitors due to its volcanic activity.