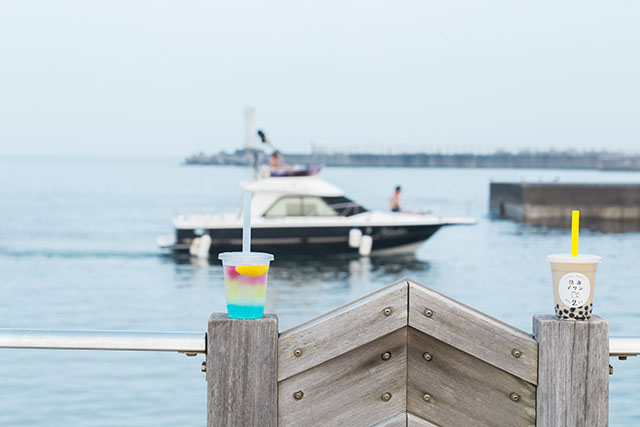 Situated on the picturesque Izu Peninsula, Atami is a seaside city that can easily be visited by Shinkansen from Tokyo or combined with an exploration of Hakone. It's packed with attractions that include a mountaintop ropeway, fine art museum and retro-styled shopping district, as well as outstanding seafood restaurants, speciality sweet stores and an onsen. Combined with its bay cruises, illuminated waterfront and year-round fireworks displays, there are plenty of reasons to visit. In this article, we'll introduce some of the best things to do in Atami to help you plan your trip.
Atami

One of Shizuoka's most famous resort towns, Atami, located in the north-eastern pocket of Izu is well worth exploring. Home to world-class restaurants, stunning natural beauty, and renowned art galleries there's no shortage of things to see and do while you're in town. Back in the 1980s during Japan's economic boom Atami became a popular getaway for business retreats and work related functions and as a result the area blew up massively, resulting in an influx of ryokans and onsen retreats that remain standing to this day. Though in recent more humble economic years, the number of visitors may have dwindled, the city still maintains a healthy flow of visitors keen to check out this popular beachside getaway.

Read More
Atami Overview
Hop on the Tokaido-Sanyo Shinkansen at Tokyo Station and in just 50 minutes you'll find …

Taking the Shinkansen from Tokyo Station is the quickest way of getting to Atami and is included in the JR Pass or costs 3,670 yen (4,190 yen reserved seats) for a one-way fare. But keep in mind that not all of the Hikari stop at Atami Station, so check carefully before selecting your train.

Odoriko Train

Another option is to take the limited express Odoriko train (踊り子号) from Tokyo Station to Izu, which will see you arrive at Atami Station in around 80 minutes (or 90 minutes from Shinjuku Station). Fares cost 3,280 yen for unreserved seats or you can upgrade to the Super View Odoriko, which boasts panoramic windows and observation seats.

If you're after the cheapest option, then the Tokaido Main Line costs just 1,944 yen one way and takes around 100 minutes from Tokyo Station.

03

How to Get Around Atami

Bus Stop

Atami features narrow roads and limited parking, so it's best to explore on foot, by bus or taxi to avoid transportation issues. The sightseeing Yu-Yu-Bus (湯~遊~バス) is a good option if you want to get your bearings and departs from Atami Station, with one-day tickets costing 700 yen. Visitors should also be aware that Atami is situated in the foothills of a mountain as it begins sloping from the sea, so comfortable shoes (rather than high heels) are best for navigating the streets.

04

Visit the MOA Museum of Art

MOA Museum of Art

Recently renovated and reopened to the public, the MOA Museum of Art is renowned for its collection of art from Japan and Asia. It boasts six National Treasures, including Ogata Korin's "Red and White Plum Blossoms" from the Edo period, and a number of objects that have been designated as Important Cultural Properties. Admire the reconstructed 16th-century Golden Tea Room and browse the classical paintings, porcelain and lacquer work on display. You can participate in one of the museum's cultural experiences that include tea ceremonies and ikebana, then soak up the magnificent views across Sagami Bay from the outdoor terrace.

Read More
Atami MOA Museum of Art
If you have a few hours free and you're in Atami you cannot go past the city's incredible Museum of Art. …

4.5

461 Reviews

Shizuoka Pref. Atamishi Momoyamachou 26-2

0557842511

9:30-16:30(Last entry16:00)

View All

05

Take in the views from the tower of Atami Castle

Atami Castle

Overlooking Sagami Bay, the Atami Castle (熱海城) was built as a tourist attraction in 1959 to replicate the appearance of a traditional castle tower. It features an exhibition about Japan's various castles (although Atami never had a castle), as well as offering 360-degree views across the city from the castle tower. There's a jet foot bath on the first-floor balcony where you can soak your feet while enjoying the views, which are particularly magnificent during the cherry blossom season. In addition to an ukiyo-e exhibition, the "castle" also features a gaming center where you can dress up in Edo period costumes and solve Japanese riddles.

Shizuoka Pref. Atamishi Atami 1993

0557816206

9:00-17:00(Last entry16:30)

View All

06

Relax on the palm-lined sands of Atami Sun Beach

Atami Sun Beach

Atami Sun Beach

Backed by swaying palm trees and resort hotels, Sun Beach is one of the most popular stretches of sand in Atami. Arrive at dawn to watch an unforgettable sunset or stay until after dark when the beach is beautifully illuminated and becomes a popular spot for lovers to stroll. In the summertime, the beachfront promenade ignites with blue-purple jacaranda flowers, which create a photogenic scene against the white sands and turquoise waters. You can swim here during the warmer months or just enjoy the waterfront views across the yacht-filled harbor.

Shizuoka Pref. Atamishi Higashikaiganchou Chisaki

0557866218

Free to explore

View All

07

Take in the Pacific Ocean views from the Atami Ropeway

If you want some of the best views of Atami City, board the Atami Ropeway to make the three-minute journey from Sanroku Station near the Atami Port to Sancho Station. From here, it's just a short stroll to the summit of Mount Hachiman, which affords sweeping views of Sagami Bay and the Boso Peninsula. Aside from being within walking distance of Atami Castle, Mount Hachiman is home to numerous attractions itself, including the adult-themed Atami Hihoukan ("House of Hidden Treasures").

Atami Ropeway

Shizuoka Pref. Atamishi Wadahamaminamichou 8-15

0557815800

9:30-17:30 (last uphill 17:0…

View All

08

Explore the adults-only Atami Hihoukan

Atami Hihokan

Hihokan (熱海秘宝館) ("House of Hidden Treasures") were only widely scattered across Japan but this sex museum in Atami is the only one remaining today. It sits atop Mount Hachiman and is only open to visitors who are 18 years or older. There are a variety of amusing displays that are fun to explore, including some that offer an insight into the erotic art and sex culture of Edo-period Japan. It's worth a visit due to its uniqueness and there's always something to chuckle about with friends.

Shizuoka Pref. Atamishi Wadahamaminamichou 8-15

0557815800

9:30-17:30(Last entry17:00)

View All

09

Make your wishes come true at the Kinomiya Shrine

Kinomiya Shrine

Kinomiya Shrine

Founded in 710 AD, the Kinomiya Shrine (來宮神社) is one of Atami's most spiritual destinations. It's home to a 2,000-year-old tree, the Okusu, and it's believed that circling this tree once will extend your life by one year and make your wishes come true (if you don't tell them to anybody else). Many devotees come here to extend their life and pray for good health, as well as sample Raifuku sweets. Offerings of lily bulbs, wheat, oranges and tokoro are also made to the shrine deity. If you visit after dark, the shrine is beautifully illuminated and exudes a special atmosphere.

Read More
Kinomiya Shrine
Surrounded by lush forestation and oozing with fascinating and mysterious history …

4.0

800 Reviews

Shizuoka Pref. Atamishi Nishiyamachou 43-1

0557822241

9:00-17:00 (prayer reception…

View All

10

Smell the flowers at the Akao Herb and Rose Garden

Akao Herb and Rose Garden

Akao Herb and Rose Garden

Sprawling over 66 hectares, this larger flower garden is situated on a hilltop overlooking the sea, with the azure waters of Sagami Bay as its backdrop. It's designed around 12 themed gardens where you can enjoy seasonal blooms of roses, tulips and cherry blossoms, together with a magnificent herb garden that's a feast for the senses. While visiting the Akao Herb & Rose Garden, take time to admire the Coeda House, a coffee shop that was designed by Sakai R&D using layered cypress logs. Enjoy the spectacular views with a coffee and sweet treat, such as their signature rose ice cream.

Rose ice cream.

COEDA HOUSE

Shizuoka Pref. Atamishi Kamitaga 1027-8

0557821221

9:00-17:00(Last entry16:00)

View All

11

Enjoy a leisurely cruise on the Sanremo

Sanremo

If you want to get a different perspective on Atami, board the Sanremo pleasure boat for a leisurely cruise around the bay. It's named after the Italian port city of San Remo (Atami's sister city) and conducts 30-minute cruises for tourists wanting to get out on the water. Take in the views of Atami's city skyline with the peak of Mount Hachiman behind, together with panoramas of the Izu Peninsula stretching into the distance. Head below deck where you can observe the bay's marine life through the underwater viewing windows or enjoy feeding the noisy seagulls on deck.

Shizuoka Pref. Atamishi Nagisachou 2020-36

0557526657

10:00-15:40 [Operating Hour…

View All

12

Photograph the retro-styled Kyu Hyuga Bettei

Kyu Hyuga Bettei

Kyu Hyuga Bettei

Designed by world-renowned architect German Bruno Taut, this detached residence was completed in 1936 for a wealthy businessman. It was envisioned with a Japanese aesthetic inspired by the Katsura Imperial Villa and created after Taut was exiled by the Nazi government and fled to Japan. Intricate carvings by Kahei Sasaki are a highlight of the property, as are the various social rooms and bending bamboo handrails along the stairs. Kyu Hyuga Bettei (旧日向別邸) has been designated as an Important Cultural Property and is open for tours on weekends and holidays.

N.B. The property is closed until March 2022 for renovations, so check the website for updates.

13

Browse the artworks of Ikedamasuo Memorial

Ikedamasuo Memorial

Ikedamasuo Memorial

With its distinct brown and yellow exterior, the Ikedamasuo Memorial (池田満寿夫記念館) is a landmark museum in Atami. It displays works by artist Masuo Ikeda whose diverse talents include oil painting, sculpture, ceramics and film. Around 60 of his works are on display in the interior galleries while the wildflower-filled garden features large-scale sculptures, such as his "Angel Wings". Aside from the highly unique exterior of the building, the gallery also offers ocean views that are equally artistic.

4.0

1 Reviews

Shizuoka Pref. Atamishi Shimotaga 1130-1

0557683258

9:00-16:30

View All

14

Go shopping in Atami Ginza

Atami Ginza

Once the heart and soul of the city, the Atami Ginza Shopping Street (熱海銀座商店街) has retained its nostalgic, Showa-era atmosphere, with old-fashioned coffee shops and produce stores. Many of the buildings that were constructed just after the war remain today, including a long-established confectionary store that survived the Atami Fire of 1950. Admire the Atami Chamber of Commerce building that fronts the entrance to the shopping arcade, then explore the charming stores selling everything from dried fish to local snacks and sweet treats.

15

Soak in the hot spring baths of Nikkotei Oyu

hot spring baths of Nikkotei Oyu

hot spring baths of Nikkotei Oyu

If you're visiting Atami as a day trip, you can stop in at the one-day hot spring of Nikkotei Oyu (日航亭・大湯), a long-established inn and popular local onsen. It features an open-air bath constructed from rocks that's surrounded by peaceful bamboo trees and can accommodate up to 20 people. Alternatively, there's also a smaller bathing room designed for just five people that can be rented among friends or as a family for up to 40 minutes. Nikkotei Oyu is around 15 minutes' walk from Atami Station and it costs 1,000 yen to bathe, with rental towels available for an additional fee.

4.0

43 Reviews

Shizuoka Pref. Atamishi Kamijukuchou 5-26

0557836021

9:00-18:00(Last entry17:00)

View All

16

Experience one of the three major ancient springs in Japan at Hashiriyu

Hashiriyu

Discovered around 1,300 years ago, this cave emits warm steam at what is one of Japan's three major ancient springs. It's believed to have been the hot spring of Izusan Shrine until the Meiji era and takes its name, Hashiriyu (走り湯), from the fact that the hot water runs down to meet the sea. Aside from viewing this historic wonder, you can also visit the mysterious caves that lie around five meters below the earth's surface and are illuminated beautifully by lights.

4.0

75 Reviews

Shizuoka Atami-shi Izusan 604-10

0557812631

While bright out in Sunday

View All

17

Sample the famous Atami Pudding

Atami Pudding Café 2nd

Atami Pudding

In 2018, the second Atami Pudding store opened, selling their famous Atami Puddings (350 yen) in a Japanese bathhouse-inspired space. Tiled walls and bath tubs decorate the store, which is situated in the Atami Ginza shopping district. The Atami Pudding Cafe 2nd is designed more as a sit-down space, with an extensive cafe menu, including chiffon cake, fizzy sodas and bubble tree. But the signature menu item is still their smooth, yet firm Atami Pudding that's served in a retro-styled, Show-era milk bottle!

Atami Pudding

4.0

12 Reviews

Shizuoka Atami-shi Ginzacho 10-22 Sawaguchi Building 1F

0557851112

View All

18

Buy strawberry-inspired treats at Ichigo BonBonBERRY Atami House.

BonBonBERRY Atami House.

BonBonBERRY Atami House.

Specializing in strawberry sweets, this store is just a two-minute walk from Atami Station, making it ideal if you want a sweet treat before your train departs. You can browse their selection of strawberry-themed sweets and souvenirs in the photogenic first-floor retail space or head upstairs to the eat-in cafe where Hot Spring Manju Strawberry Bowls and other creative strawberry-inspired desserts can be enjoyed.

BonBonBERRY Atami House.

BonBonBERRY Atami House.

4.0

5 Reviews

Shizuoka Atami-shi Taharahoncho 3-16

0557559550

View All

19

Grab a gelato at LaDoppietta

LaDoppietta

LaDoppietta

Situated on a corner of the Atami Ginza Shopping Street, LaDoppietta specializes in Italian-style gelato (450 yen for a single scoop or 600 yen for a triple). There are 18 enticing flavors to select from, including green tea, milk and pistachio and strawberry, as well as limited-edition seasonal flavors throughout the year. Traditional Italian recipes are used in their creation, with fresh ingredients purchased directly from Shizuoka farmers.

3.0

1 Reviews

Shizuoka Atami-shi Ginzacho 10-19

0557813330

View All

20

Taste the mackerel sandwiches at Maruya Terrace

Maruya Terrace

Mackerel Sandwiches

Also located on Atami Ginza Shopping Street is Maruya Terrace, a cafe and bar that also functions as a guest house. The speciality here is their mackerel sandwich, which comes in freshly baked bread and is drizzled with lemon juice and olive oil. It's simple but delicious and can be washed down with a good selection of local sake and beer made in Shizuoka.

Shizuoka Pref. Atamishi Ginzachou 7-8

0557810808

[Weekday]15:00-22:00(L.O.21:…

View All

21

Dine on fresh fish for lunch at Shogyo

Shogyo

Shogyo

If you're craving fish, head to Shogyo (笑ぎょ), which is located near the southern cape of Ajiro Bay. Freshly-caught fish are served in a variety of styles here, including raw and cooked, accompanied by sweeping ocean views. There's something special about dining on seafood while looking out across the exact waters from where they were caught!

4.0

24 Reviews

Shizuoka Pref. Atamishi Ajiro 55-8

0557680663

11:00-15:00(L.O.14:30)17:00-…

View All

22

Get an American hamburger fix at Bonnet

Bonnet

Bonnet

Established in 1952 (during the US-led Allied occupation following World War II), this retro cafe was renowned as a favorite of legendary writers, such as Yukio Mishima and Junichiro Tanizaki. Bonnet is famed for its hamburgers (500 yen), each of which are made to order and can be accompanied by coffee for an additional 300 yen. With its Showa-era nostalgia, it's the perfect place to relax over lunch while exploring Atami.

Bonnet

23

Try the local seafood specialties at Kimuraya

Kimuraya

Kimuraya

Situated on Hatsushima Island (a 30-minute boat ride from Atami Port), Kimuraya (木村屋) is a popular local restaurant that's renowned for its outstanding seafood. Feast on specialties such as Ise shrimp and sea urchins or if you can't decide what to order, opt for the Island Set Meal (2,600 yen). It comes with fish of the day, sazae (horned turban) and squid sashimi, giving you a little taste of everything.

24

Enjoy the plum trees and autumn leaves at Atami Baien

Atami Baien

Atami Baien

Famed for having the first blossoming plum trees each season, the Atami Baien (熱海梅園) ("Plum Garden") first opened to visitors in 1886. It features 472 different varieties of ume ("plum") trees, with more than 50 trees that are over 100 years old. A Plum Festival is held here from the middle of January to the start of March each year to coincide with the plum blossoms being in full bloom. In addition, the garden is a popular destination to admire the changing leaves in autumn, with the Momiji Festival held from late November to December when the colorful leaves are illuminated.

25

Experience the year-round Atami Fireworks Festival

Atami Fireworks Festival

While most fireworks festivals take place once during the year, the Atami Fireworks Festival explodes above the city's skyline 20 times throughout the year. The reflections in the waters of Sagami Bay make this firework display particularly impressive, with most people gathering at Sun Beach, the Water Park or Atami Castle to watch it. Alternatively, the Sanremo pleasure boat also hosts a special fireworks cruise if you want to view this spectacle from the water.

26

Witness the nighttime illuminations along the waterfront

Nighttime at Atami

Nighttime at Atami

A highlight of staying in Atami after the sun sets is to experience its illuminated beachfront walk, which extends from Sun Beach to Moon Terrace and Shinsui Park. It was created by the world-renowned lighting designer Motoko Ishii and exudes an undeniably romantic atmosphere that attracts couples and families alike. The illuminations are held from sunset each evening until 10 pm, with a soft glow cast across the beach that appears as if it's being lit by the moon.

27

Make a day trip to Hatsushima

Hatsushima

Hatsushima

A 30-minute boat ride from Atami Port takes you to Hatsushima Island (初島), which can easily be explored as a day trip. Feast on kaisendon at one of the fishermen-owned restaurants clustered in the harbor, then enjoy the vacation atmosphere while swimming in the island resort's pool, lazing in a hammock or soaking in the open-air bath. If you're feeling more active, Hatsushima is also home to the Hatsushima Adventure Sarutobi, a challenging ropes course that's elevated high above the ground.