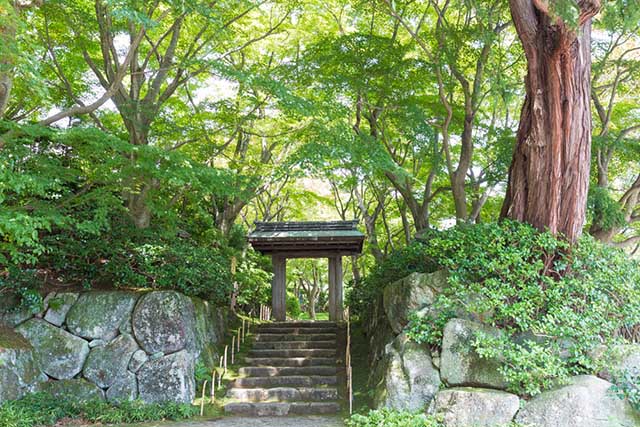 Izu is nothing if not diverse. From world-class art galleries, beautiful natural sites, incredible fresh seafood and wonderfully strange tourist attractions. No matter how long you stay there will always be something new to see, eat and explore. The hardest bit about Izu is deciding what to do given its incredible variety. Here are some places you might want to add to your list during your next visit to the peninsula.
MOA Museum of Art

Sitting atop a stunning hill overlooking Atami, the Museum of Art or more commonly known as the MOA is home to some of the most impressive collections of work in the whole country. The gallery hosts 3,500 individual pieces, three of which are National Treasures as well as a number focusing on the cultural importance of East Asian art. Opening in 1982, the gallery has continued to be a champion in transmitting, sharing, and exposing the Japanese art to the wider community. As well as constant exhibitions, the MOA is also home to 'aesthetic education' activities for children, making it a fantastic place to learn and explore no matter your age. The best way to get there from Atami Station is to take the bus bound for MOA Museum of Art from bus stop number eight. If you're travelling by car there's also free parking available for museum guests. The gallery is open from 9:30am until 4:30pm every day except Thursday and entry is 1,600 yen for adults, 1,000 for high school and college age students, and free for children under high school age.

4.5

461 Reviews

Shizuoka Pref. Atamishi Momoyamachou 26-2

0557842511

9:30-16:30(Last entry16:00)

View All

Nagisa Park

Located near the popular Orange Beach, just over the gulf of Ito sitting where the Matsukawa River and ocean meet, Nagisa Park is a spacious oasis and home to some impressive local sculptures. Crafted by famous local sculptor Kenji Shigeoka, the bronze pieces were made in 1977 to commemorate the 30th anniversary and to wish peace and the happiness for the people of Ito. Wandering through the city, chances are you'll stumble upon more of Shigeoka's iconic works, but Nagisa Park boasts one of the largest collection of his pieces in one spot. Though it's quite humble in size, the park is a fantastic vantage point to explore the city's beautiful bayside and take a little break.

Atami Castle

Atami Castle is definitely an unmissable stop off during your Izu visit. Not because it's one of the area's most historic castles, but actually because it's technically not a castle at all. Built in 1959 to be a tourist attraction, this castle-shaped concrete structure is a museum dedicated to all the different castles of Japan. If you climb to the top floor of the castle you'll be privy to some of the best panoramic views of Atami city you can find. To get to the castle take the Yuyu Sightseeing Loop Bus, which takes about 15 minutes from Atami Station, and will cost you 250 yen per ride. The bus stops off at most of the city's sightseeing spots so if you're so inclined you can check out a number of locations for a 700 yen one day pass.

Shizuoka Pref. Atamishi Atami 1993

0557816206

9:00-17:00(Last entry16:30)

View All

Cactus Park

Part botanical garden, part zoo, part desert wonderland, the Izu Cactus Park, also known as Izu Shaboten Kōen is a very unique local experience. Sitting under the iconic Omuro Mountain, the park is home to more than a thousand different varieties of cactus, each from different locations across the world. As well as cacti, the garden is also home to some absolutely fascinating Mexican statues and a large collection of animals including rodents, birds, peacocks, pelicans, kangaroos and monkeys. If that wasn't enough, they also host chimpanzee and dog shows held several times a day. To get there via public transport from Ito Station grab the bus for Shaboten Koen which will take about 40 minutes, and cost 710 yen one way. If you're coming from Izu Kogen Station the ride is about 20 minutes, and will cost 360 yen one way. The park is open from 9am until 5pm throughout the year (though it closes at 4pm from November to February and entry is 2300 yen.

4.0

611 Reviews

Shizuoka Pref. Itoushi Futo 1317-13

0557511111

[Mar.- Oct.]9:00-17:00[Nov.-…

View All

Suruga-wan

Sitting on the Pacific coast of Shizuoka Prefecture, is Suruga-wan also known as Suruga Bay, the deepest bay in Japan. Spanning a massive 2,300 square kilometers and going deep an even more impressive 2,500 meters it was formed from a chain of underwater volcanoes. As the tectonic plates under current day Izu shifted and collided the bay was formed. From traditional fresh seafood restaurants to the Numazu Deep-Sea Aquarium around the bay's port there are plenty of things to see, do, and of course eat. The most scenic way to get to the bay is via a 65-minute boat trip to the port of Toi on the west coast of the Izu Peninsula, on the Suruga Bay Ferry which leaves from Shimizu Port.