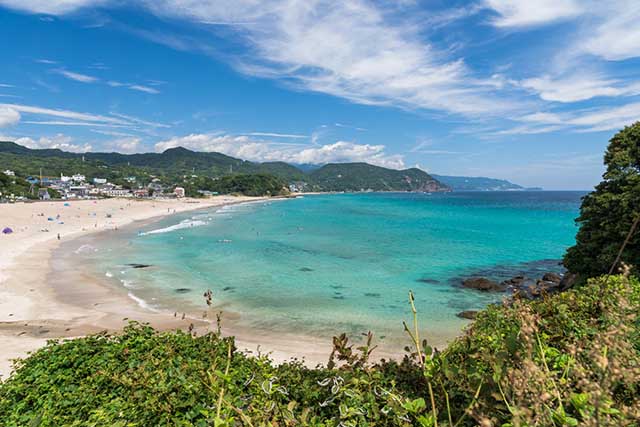 Located a few hours to the west of Tokyo in the Shizuoka Prefecture sits Izu Peninsula. Famous for its stunning rugged coastlines and scenic mountainous surrounds, the area is a summer favorite for those wanting to escape the sweltering Tokyo heat. Given that the area is situated just 50kms from Mount Fuji and 100kms from Tokyo it's a well-connected and well-preserved slice of Japanese beach life. Beyond its natural beauty, the area has a rich history that's definitely worth exploring.

Beyond its crystal clear beaches Izu attracts swarms of visitors wanting to experience the area's world-renowned natural onsens. Dotted across the peninsula's hilly grounds sits a vast selection of natural hot springs ready and waiting for visitors to soak their weary bodies. Some of the more famous stop offs throughout the area are Shuzenji Onsen named after Shuzenji Temple situated in the top of central Izu and Ito Onsen which houses a number of indoor and outdoor, baths. That said there are plenty of smaller, more localized onsens if you're willing to search.

The peninsula is separated into four major city hubs: Izu, Ito, Atami, and Shimoda. Beyond them there are a number of other small towns including Numazu, Higashi Izu, Matsuzaki, Minami Izu, and Nishi Izu each with their own unique flavors and highlights, but if you're only around for a short time, visits to Izu, Ito, Atami, and Shimoda will give you an excellent insight into this stunning area of Japan.

Located at the top of the Izu peninsula sits Atami, a town built on volcanic hills overlooking the sea. Thanks to its collection of impressive hot springs, ryokans, fresh seafood restaurants, and cultural heritage sites it's become one of the most loved holiday destinations for Tokyo locals during the sweltering summer months.

Heading about half an hour south via the eastern shoreline from Atami you'll get to Ito, arguably the Izu area's most famous hot spring hub. The local spring pumps an impressive 32,000 liters per minute, making it one of the largest hot springs in the Kanto region. Beyond hot springs though Ito has plenty to offer. With jetskis, and an impressive water park on offer, the vibrant yet chilled out Orange Beach is the perfect summer resort escape for anyone who loves a little seaside action. If you're more of a hiking sort the town is also home to the rugged Jogasaki Coast, one of the most stunning coastlines in the area.

Sitting an hour away from Ito by train is Shimoda, one of the most diverse towns in the area. Known for its busy port, the town's historic American influence makes it a fascinating hybrid of cultures. Shimoda was actually the original home to Japan's end of isolation, and the start of diplomatic relations between the US and Japan when in 1854, the US navy led by Commodore Perry landed in the area. Today this history is still seen via the likes of Perry Street and the town's MOB (Museum of Black Ships).