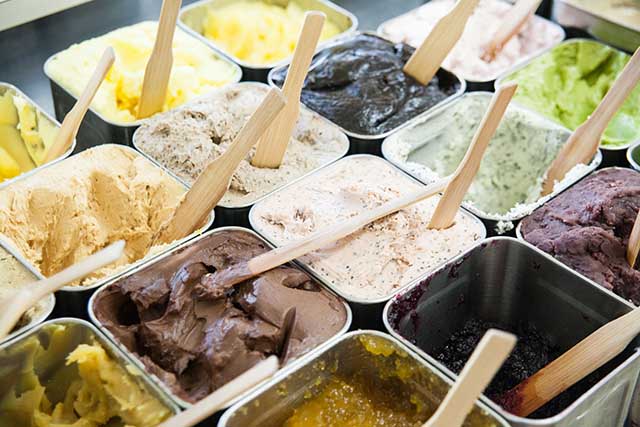 Known for its icy winters, much of Morioka's local cuisine consists of wholesome dishes designed to warm your cockles when the snow's falling fast outside your window. The Iwate capital's most iconic dishes are undoubtedly the "3 Great Noodles of Morioka", which refers to the all-you-can-eat wanko soba, flavorsome miso jajamen, and reimen, the region's summer take on noodles. However, the city overflows with shops, cafes, and restaurants where you can get your hands on anything from pumpkin seed senbei crackers to Japanese-Western fusion food.
01

Local dishes at the farmers market

Local dishes at the farmers market

Checking out a local market is always a good way of getting a feel for the place you're visiting. Predominantly frequented by locals picking up fruit and veg at bargain prices, the Morioka Mikoda farmers market is one for the early risers as it only runs between 6am and 8am. After feasting your eyes on the colorful array of fresh locally grown produce, it's time for a well-deserved breakfast from one of the food stalls in the market. Our pick of the bunch is Uwasa no Hittsumi, an unassuming stall that serves up improbably tasty fat noodles with veggies and tofu for a reasonable 400 yen.

Jajamen noodles

One of the "3 Great Noodles of Morioka", jajamen may be the most affordable of the three noodle dishes but is varied and filling enough to leave you perfectly satisfied. One of Morioka's favorite jajamen joints is Pairon where you're served up a bed of thick udon-like noodles topped with a generous dose of minced meat miso and sprinkled with cucumber and green onion with an optional addition of grated ginger and hot pepper sauce to give your dish that extra kick. The real magic happens when the ingredients are well mixed, releasing all those delicious flavors.

But the jajamen experience doesn't finish there! If you've still got some room left in your belly and a little soup left in your bowl, ask the staff for a chitantan a finishing dish which is cooked up with a raw egg and the leftover soup.

Wanko soba

If there's one of the "3 Great Noodles of Morioka" that shouldn't be skipped it's wanko soba. Much more than just a tasty noodle dish, a trip to a wanko soba restaurant is an experience you're unlikely to forget any time soon. Pay for the all-you-can-eat deal and you'll be served a mouthful sized bowl of soba noodles in soup that the staff will continue to fill up until you can physically eat no more, signalled by replacing the lid on your bowl. Azumaya restaurant in Morioka is worth a visit for the buzzing atmosphere and the wooden plaque you're rewarded at the end recording how many bowls you gulped down, whether it's 30 or 300.

Iwate Pref. Moriokashi Nakanohashidori 1-8-3

0196222252

11:00-15:00/17:00-20:00(L.O.…

View All

Fukuda Pan

It doesn't take long in Japan to discover that bakeries are all the rage right now. With most breadmakers taking inspiration from the popular patisseries of Paris, Fukuda Pan has come up with a new concept for baked goods where customers can create their own sweet and savory sandwiches. Found in a relatively residential area of Morioka, visitors and locals alike will go out of their way to get their mits on one of the store's trademark fluffy bread rolls. With a choice of over 30 fillings from matcha and anko bean paste to sesame and salad, it's not hard to see why one trip to this quirky bakery just doesn't feel like enough.

4.0

215 Reviews

Iwate Pref. Moriokashi Nagatachou 12-11

0196225896

7:00-17:00

View All

Hamburgers from Belle

While a hamburger might not be the first thing on your list of things to eat in Japan, this isn't the type of burger you'd pick up at a McDonald's drive through. Morioka's Belle restaurant serves up delicious bun-free burgers with a gravy sauce to give the meat that extra juicy flavor. Run by the popular chain Bikkuri Donkey, this store aims to offer a more unique experience to your standard burger joint winning extra points for the super friendly doorman and the additional Japanese-style floor seating.