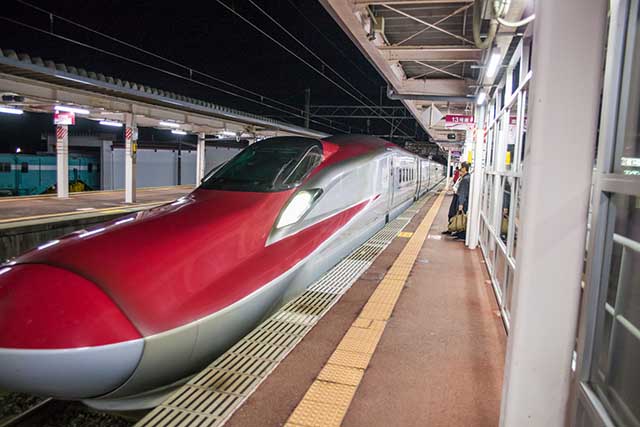 Found up in the northeastern part of Japan's main island Honshu, Iwate is a large prefecture that looks out onto the Pacific Ocean to the east with cedar-coated mountains, natural hot springs, and several culture-packed cities further inland. With Hanamaki Iwate Airport in the center of the prefecture, flying into Iwate is one option, however, the prefecture is most commonly accessed via the Tohoku or Akita Shinkansen (bullet trains) which stop at both Ichinoseki in south Iwate and Morioka in the middle.
The JR Pass is sure to come in handy if you're planning on making it all the way up to Iwate Prefecture. Not only will this cover the two hour train ride up the country but the majority of the trains between the prefecture's cities and are run by JR which offers you a wallet-friendly way of seeing as much of Iwate as possible. The JR East Pass (Tohoku Area) covers everywhere from Tokyo up to the very top of Honshu so if you're focusing your trip around the areas north of Tokyo this 5-day anytime use pass for 19,000 yen (9,500 yen for children) is a worthwhile investment.

Getting Around Iwate

Getting Around Iwate

The capital of Iwate, Morioka is one of the most accessible and recommended of the prefecture's cities. The visitor-friendly Morioka has well-connected, affordable buses around the city including the snail covered Den-Den-Mushi Bus which stops off at the main tourist spots for just 100 yen a ride. While many of the main cities can be visited by bus, some other smaller cities can prove a little harder to navigate making it necessary to walk, cycle, or hire a car. Hiraizumi's answer to the tourist bus is the white Runrun bus which will have you hopping between temples and parks in no time.

Getting Around Iwate

Getting Around Iwate

It goes without saying that renting a car can not only save you time but also offers the freedom to take your trip wherever there is a road, meaning you're more likely to discover hidden gems off the beaten track. In order to hire a car in Japan, you will need either an international driver's license or a Japanese license which can be applied for in most major cities around Japan (this involves paperwork, an eye test, and in some cases a driving test). Once you have your license, it's possible to hire a car from the majority of car rental companies. However, there are a lot less companies who offer their services in English. Companies with English websites include but are not limited to Toyota Rentacar, Orix Rentacar, Times Car Rental, and Nippon Rentacar. Sat navs are not always available in English, so be sure to check when you're booking.

Getting Around Iwate

Renting a bike is one of the best ways of getting to know a new city. With the freedom to make your own itinerary you can pedal around the sights at speed and discover less visited pockets by letting yourself get lost down little streets. The majority of Iwate's towns and cities are home to bike rental shops which often stock both your standard pedal bike and the popular electric bikes for a more leisurely ride. Prices vary but are rarely more than 2,000 yen for a full day's rental.