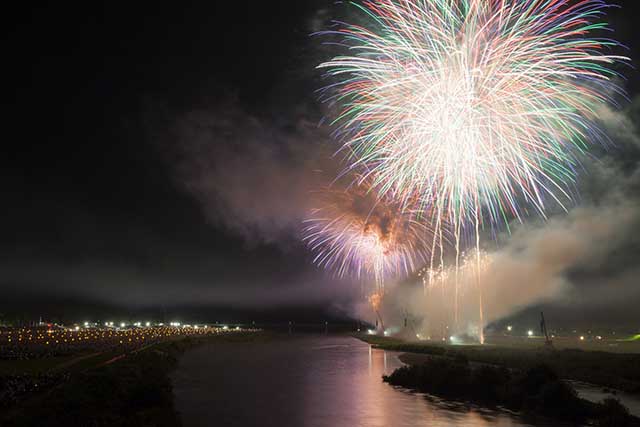 Omagari fireworks is one of the three largest fireworks festivals in Japan and has a very long history, dating back to 1910.

The Omagari fireworks are one of the Tohoku region's biggest firework displays, and for this reason the crowds can get quite massive. The fireworks bring in a whopping estimate of 760,000 spectators annually – an astonishingly large number when you take into account the fact that the total population of Akita is just under 1.1 million people.
The 2023 fireworks display will be held on August 26.
These aren't just your ordinary run of the mill fireworks, oh no, the Omagari fireworks are a matter of pride for many as fireworks teams from across Japan trek to Omagari to showcase their prowess and stake a claim at being the best in the nationwide fireworks competition.

Omagari Fireworks Festival

Omagari Fireworks Festival

Every year, approximately 18,000 fireworks are shot into the night sky. Every year, many spectators come early to watch the fireworks from special seats on the Omagari-Yumonogawa riverside, and some even pay a high price to secure reserved seats to avoid the stress of large crowds and battles for places. It is also a good idea to get there early and enjoy a relaxing picnic by the river.

Omagari Fireworks Festival

Fireworks, known as hanabi, have a long history in Japan as a spectacular tool to ward off evil spirits. No Japanese summer is complete without some hanabi, with thousands of fireworks displays throughout the country occurring year round, but mainly in the summer months. These displays range in size, with some events being quite intimate affairs, whilst others turn into large displays that are revered throughout the world, attracting gatherings of hundreds of thousands. The Omagari fireworks are some of Japan's best and are not to be missed, with many in Japan considering it the nation's best fireworks show.

Omagari Fireworks Festival

The grand fireworks of Omagari have a long and proud history dating back all the way back to year 43 of the Meiji Era, enjoying a tradition that has gone on strong to the present day, when it is held with ever growing enthusiasm on the fourth Saturday of August annually.

Omagari Fireworks Festival

The riverside can be reached via a 30-minute walk from JR Akita Shinkansen Omagari Station. Although do keep in mind that the crowds for this event can become quite excessive. For this reason, getting to the riverside, and subsequently making your way to a pleasant enough viewing area, can take a great deal longer than anticipated. So plan ahead, and get there early. But most of all, enjoy the atmosphere and bask in one of Japan's greatest fireworks displays.

Omagari Fireworks Festival