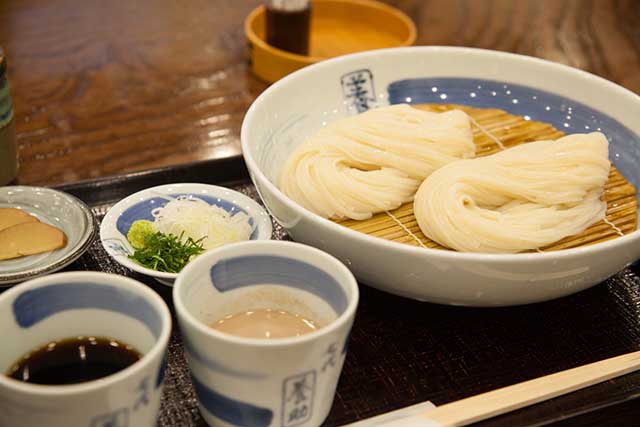 Akita is home to a broad selection of culinary delights, thanks to their production of miso and rich history of soba production Akita has become a must visit destination for food lovers across the world. From classic sweets to new takes on international classics, no matter your taste you'll find something to satisfy your needs in this diverse city.
01

Hinai Chicken Oyakodon at Mount Kampu Revolving Observatory

Hinai Chicken Oyakodon

One unique meal experience you can only have in Akita is enjoying a plate of freshly made Hinai Chicken Oyakodon on the Kanpusan Observation Deck. Located at the Oga Peninsula on the west side of Akita, the deck sits atop of the grass-covered Mount Kanpu and does a 360 degree rotation every 13 minutes. Located inside the deck is a restaurant where you can sample some of the area's best cuisine while taking in the scenery of the city. Given that Mount Kanpu sits at 355 meters tall, the view is second to none. The deck is a 10-min taxi ride from JR Wakimoto Station and is open from 8:30 until 5pm.

3.5

13 Reviews

Akita Pref. Ogashi Wakimototominaga Kampuzan 62

0185253055

8:30-17:00(depending on the …

View All

02

Kiritanpo at Akita Kiritanpoya

Kiritanpo

One of Akita's most famous foods, it's essentially a crime to visit the area and not try kiritanpo. This a unique twist on the more classic style of dango-mochi. It's cooked rice cakes that have been formed into cylinders and toasted by an open fire. One of the best places to try it is at Akita Kiritanpoya. Here you can try a lunch set which features kiritanpo, often in a soup (nabe) or a sweet chewy dessert, like the aforementioned dango.

03

Miso Pizza from Domanin

Miso Pizza

Though pizza may not be the first food that comes to mind when thinking about delicious Japanese dishes, maybe it should be. Taking the classic pizza and giving it a tasty little Akita twist is the team at Domanin Kakunodate. Here you can try the local specialty that is the miso pizza. Given that Akita is known for its production of miso and soy sauce, thanks to the nearby Ando Brewery there's really no better place to try this rather individual dish. Topped with Japanese green onion, this miso pizza may be a once in a lifetime type culinary experience so don't miss out.

角館わいわい酒蔵 土間人

秋田県仙北市角館町下中町30

0187521703

View All

04

Inaniwa Udon at Sato Yosuke

Inaniwa Udon

Akita is home to Inaniwa udon, which is in fact one of the most popular types of udon in the country. Carefully handcrafted, what makes Inaniwa udon so unique is the fact that it's a little thinner and smoother than its other noodle dish contemporaries, almost like a Vietnamese pho. It's said that the recipe of this iconic local dish was passed down the Sato Yosuke family line for generations and generations during which time it gained a loyal following. The best place to try it out is at Sato Yousuke, where you can also learn about the noodle's history during one of the regular Inaniwa Soba factory tours.

七代 佐藤養助 秋田店

秋田県秋田市中通2-6-1 西武秋田B1

0188341720

View All

05

Beer Curry at Orae Lake Tazawa

Beer Curry

Sitting on the Tazawa lakeside with a hot curry and ice cold beer is the best place to be when watching the Akita day roll deep into the evening. The best place to enjoy a beer and the view of the stunning Lake Tazawa is at Orae, situated at the resort town of Shirahama Beach. The only lakeside restaurant that's open to the public, it features floor to ceiling windows allowing guests to really immerse themselves in the stunning surroundings. Featuring a vast selection of items made with locally sourced produce the menu at Orae is just as impressive as it's lake view. If you're in town and want to enjoy the best Akita has to offer you can't go past this impressive local hangout.