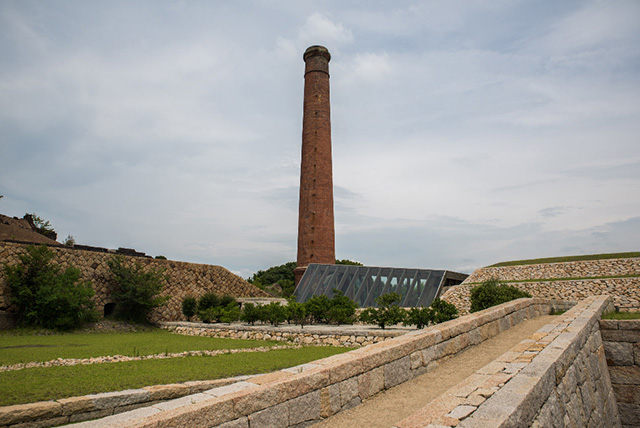 Inujima is one of the smaller "art islands" in the Seto Inland Sea, but its relative inaccessibility makes it one that is often overlooked. This tiny island has fewer than 100 inhabitants yet it houses some very impressive art installations.
Inujima, literally translated to "Dog Island" is a tiny island located near the coast of Okayama Prefecture. In the early 20th century a copper refinery opened on the island, and although it was only in use until 1919, the structure was never demolished. In 2008, the ruin of the refinery was used to form the basis of a massive art project. Today, it is part of the larger Art Site Naoshima project. The old refinery is today called the "Inujima Seirensho Art Museum", and consists of a handful of very impressive art installations made by contemporary Japanese artists and architects.

Much of the original structure has been preserved, including the smokestack, making the entire structure ventilated only by the forces of nature. The museum is open from 10:00am to 4:30pm, and is closed on Tuesdays. During the winter months, the opening hours are very limited, so we recommend that you check their official website beforehand. The entrance fee is 2,060 yen, which includes admission to the six art houses on the island as well.

When the refinery was in use, the population of the island exploded, and at most around 1,500 people resided on this island. The number has been dwindling since then however, and the official figure in 2017 is that only 47 people remain, with most left well past retirement age. Everywhere on the island, abandoned houses stand like silent witnesses to this demographic crisis. Many of the empty houses and plots of land have been turned into artworks, in a similar manner as on Naoshima.

The recent push to turn the island into an art project seems to have been somewhat successful though, on the day of our visit, the combined cafeteria and ticket counter was full of visitors.
Inujima is small, and most of it can be explored on foot during the course of a few hours. There are a few lodging options, as well as a couple of cafes and restaurants on the island as well.
The island is served by three daily ferries from Naoshima during the summer. The ride takes between 40 to 60 minutes and costs 1,850 yen. There's also a ferry connecting Inujima with Houden on the mainland. The ride takes 10 minutes and costs 300 yen. Some of the ferries also stop at Teshima on their way to Inujima.