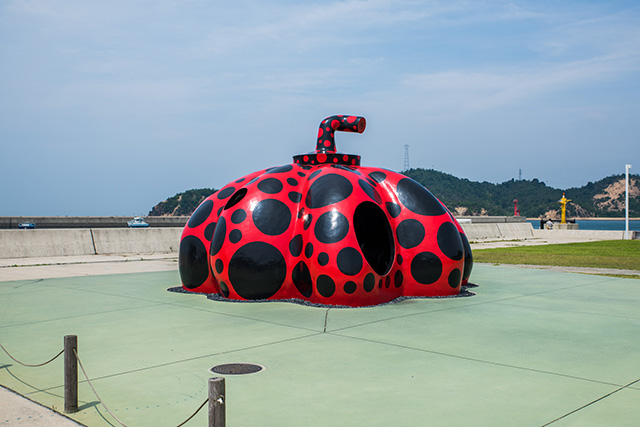 Naoshima is the most famous as well as the most established "Art Island" in the Seto Inland Sea. In fact, there is so much to see and do on this island, that it might be a little overwhelming for a first-time visitor. Here's our guide on how to spend a day at this fascinating place.
1. You'll most likely arrive at Miyanoura port, located on the western shore of the island. This part of Naoshima has plenty of charming cafés and restaurants, so we suggest that you have a look around for a while. Make sure not to miss "I love Yu", an eclectic place that isn't just an art installation, but also the only bathhouse on the island.

2. Since Naoshima is best experienced on an electric bike, we suggest that you head to one of the many rental shops located near the port and pick one up. Expect to pay between 1,000 to 1,500 yen for a full days rental, and make sure to check that the battery is fully charged before you set off to our next stop…

3. Honmura is located on the other side of Naoshima, and besides a plethora of restaurants and cafés, it's also where you'll find most of the "Art Houses" on the island. These are abandoned buildings that have been turned into permanent art installations. Grab a ticket that gives you access to all of them, as they're all worth experiencing.

4. Proceed along the coast, towards the south, and you'll eventually reach the biggest beach on the island. If the weather permits, we highly recommend that you go for a swim. This is also where the most iconic public artwork of them all is located – The black and yellow pumpkin by Yayoi Kusama.

5. Head the steep hill (this is why you wanted to get an electrical assisted bicycle), and you will get to the most scenic part of the entire island, where you can enjoy a bird's eye view of the beach and the pumpkin far below. Continue straight ahead and you'll eventually reach the Chichu Art Museum. This place is the crown jewel of the art museums on Naoshima and showcases art from masters such as James Turrell and Claude Monet, in an underground structure entirely illuminated by natural light.