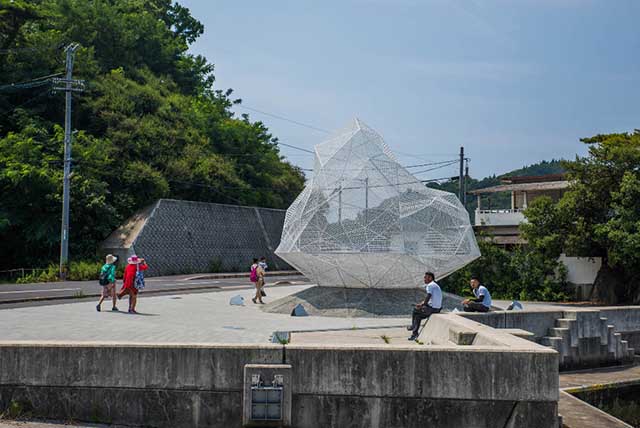 Naoshima is an island in the Seto Inland Sea with about 3,000 inhabitants. It is mostly known for its many museums and public art scattered around the island.
This island may at first sight not seem that different than many other islands in the Seto Inland Sea. It's serene and beautiful, home to a large industrial facility, and has a population which has been in decline for at least the last 20 years. It has, however, been the subject of a massive project undertaken by Benesse Corporation to turn it into a world class destination for art lovers that began back in the 1980's. The process has been going on constantly since then; even today there are new pieces of art added to the island on a regular basis.

And the project seems to have worked out well. When we visited the island, on a hot July weekend in 2017, accommodation was quite difficult to come by, and we bumped into international visitors seemingly more often than we happened to come across any of the islands 3,000 or so permanent residents.

Although the island is small, a mere about 14 sq km in total, it is not small enough to be easily explored on foot. One of the most enjoyable ways of getting around is on two wheels, and there are plenty of different shops offering rental bicycles. Since parts of the island have quite steep hills, we highly recommend that you go for an electric-assisted bike. Other means of getting around this island are by bus, but the number of services is quite limited with departures once per hour at most. The bus lines also only connect the main settlements on the island, so if you're planning to go somewhere other than this, you'll most likely be out of luck.

If you are staying at Benesse House, the most upscale hotel on the island, there's a shuttle bus service between the hotel area and most of the major sightseeing spots on the island. Some friendly minshuku or hostel owners also offer a pick-up service from the port, but don't take it for granted.

ベネッセハウス <直島>

香川県香川郡直島町琴弾地

0878923223

View All

There's only one convenience store located on the island. It is located about five minutes from Miyanoura port and has an ATM that accepts most international credit and debit cards.

Naoshima is connected by ferry from either Uno Port near Okayama and Kurashiki, or from Takamatsu in Shikoku. There are two ports on the island. The biggest port is Miyanoura, located near the smaller settlement with the same name on the west side of the island. The larger Honmura village on the east side of the island has a ferry connection to Uno as well, but the number of departures is significantly lower.