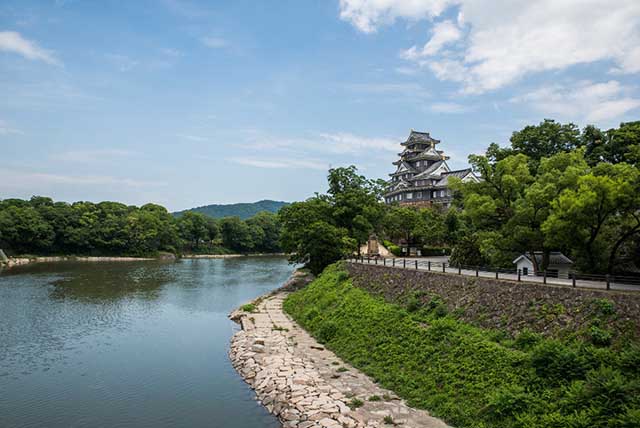 Okayama is a big, sprawling city with an abundance of places to see and things to do. If you're a first time visitor, here's a few places that should not be missed.
Okayama Castle

One of Okayamas most striking features is its castle, situated in a lush green area also made up by the Korakuen garden. The castle itself was originally completed in 1597, but unfortunately the original building was destroyed in an air raid towards the end of World War II. It was rebuilt in the mid 1960s and the current replica houses a museum dedicated to the history of the castle and its surroundings. The entrance fee for the museum is 300 yen, and discount tickets which include both the entrance to the Korakuen Garden and the Castle also available. The area surrounding the castle can be entered for free. It is open from 9:00am to 5:30pm, and the nearest tram stop is Shiroshita on the Higashiyama Tram line.

4.0

1163 Reviews

Okayama Pref. Okayamashi Kita-ku Marunouchi 2-3-1

0862252096

9:00-17:30(Latest entry17:00…

View All

Ikeda Zoo

This is the only zoo in Okayama Prefecture, and is therefore a popular destination for families who want to treat their kids to some animal fun. In total, over one hundred kinds of animals are on display here, including everything from bears to penguins and many kind of monkeys. The zoo offers an area where children can get a hands-on experience with smaller animals like chickens and rabbits. The entrance fee is 1080 yen for adults and 648 yen for middle school aged children or younger.

03

Handayama Botanical Garden

Handayama Botanical Garden

This massive botanical garden is located on a hill in the outskirts of Okayama and offers splendid views of the central city. It was founded in the 1950s and currently contains over 3,000 different kinds of plants and flowers, including several greenhouses with tropical vegetation, and several exotic species of cacti. The garden is located about 15 minutes on foot from JR Hokaiin Station. There is also a bus stop located just a few minutes from the main entrance. The entrance fee is 308 yen for adults, and it is open until 4:30pm, with last admission at 4:00pm.

Okayama Pref. Okayamashi Kita-ku Houkain 3-1

0862524183

9:00-16:30(Last entry16:00)

View All

Orient Museum

A museum that, as the name implies, focuses on relics and antiquities from the orient. The building itself is worth a mention, as it combines impressive architecture with a good use of natural light. The museum opened in 1980, and contains both a permanent exhibition as well as timed special exhibitions. The museum also organizes lectures and other activities aimed at educate the general public about the history, art and culture of the orient. The museum is closed on Mondays, open from 9:00am to 5:00pm (last admission 4:30pm), and the entrance fee is 300 yen.

4.0

69 Reviews

Okayama Pref. Okayamashi Kita-ku Tenjinchou 9-31

0862323636

9:00-17:00(Last entry16:30)

View All

Omotecho

Omotecho is one of the biggest commercial centers of Okayama. Aside from a long shopping arcade filled with everything from small local shops to international high-end brands, it also hosts an abundance of establishments offering food, drinks and entertainment. Near Omotecho you will also find Tenmaya, one of the oldest and biggest department stores in Okayama, as well as the Tenmaya bus terminal, one of the biggest public transportation hubs in the city. Omotecho is located about 15 minutes on foot from JR Okayama station, not far from Okayama Castle and Korakuen, as well as many other popular sightseeing spots.